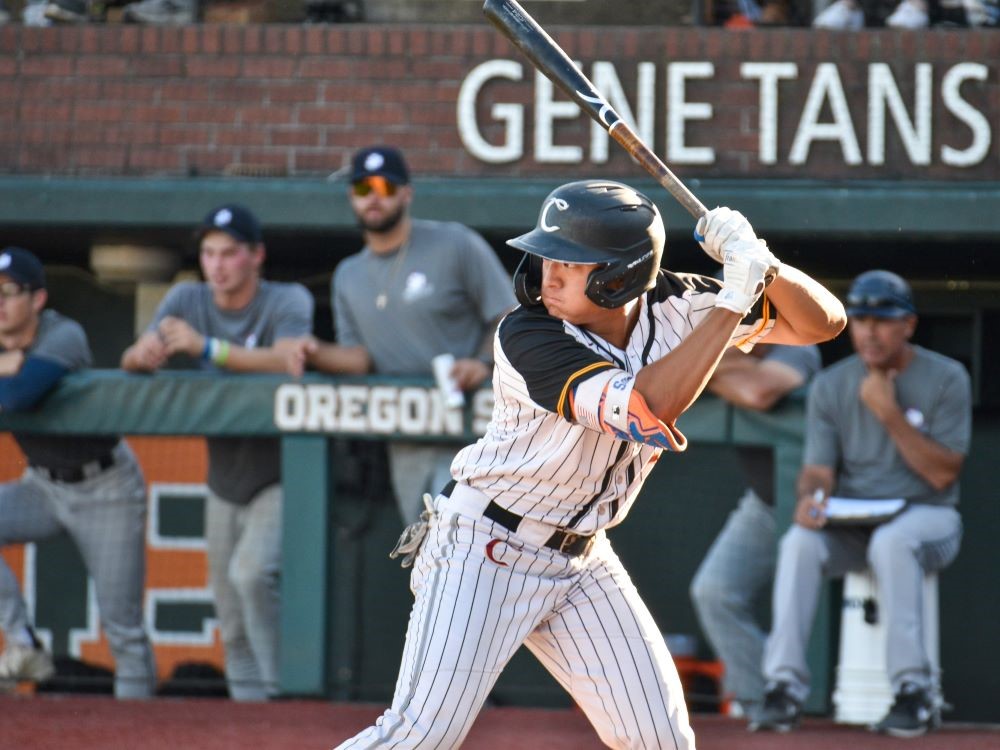 Ng, Stem lead offensive attack in 11-4 romp over Kelowna Falcons
Tuesday, July 18, Corvallis, Ore.  – Corvallis won round 1 of a showdown of divisional leaders with an 11-4 victory over Kelowna before 1,414 fans on a pleasant night at Goss Stadium.
Left fielder JC Ng (Pomona-Pitzer, pictured above) singled, doubled, tripled, scored once and drove in two to pace an 11-hit attack, earning him Washington Park Advisors Player of the Game honors.
Right fielder Sam Stem (Gonzaga) doubled twice, singled, hit a sacrifice fly, scored three times and drove in two. The Knights had seven extra-base hits, highlighted by a season-best six doubles.
Catcher Anson Aroz (Oregon) singled, doubled and drove in two to help the Knights remain in first place in the South Division's second-half pennant race. Corvallis (29-12, 25-12, 8-2 second half) also won its eighth game in a row and remained unbeaten five games through a seven-game homestand.
The Knights began the game with a statistical rarity, three sacrifice flies in the bottom of the first. Here's how it happened:
With Ng at third and Tyler Quinn (Utah) at second, Blake Avila (Grand Canyon) hit a fly ball to right field that is dropped for an error. Ng scored, Quinn went to third and Avila hustled into second with a sacrifice fly/error, an RBI, and no time at bat.
Ethan Hedges (Stanford) followed with a sacrifice fly to center field, scoring Quinn and moving Avila to third. Stem also flew out to scenter, scoring Avila on the third sacrifice fly of the inning.
Relievers Neil Feist (CSU Northridge), Sean Wiese and Jonathan Stone (George Fox) combined to limit the Falcons to one run two hits over the final 6.1 innings. Wiese earned the win as the most erective reliever with three strikeouts over 2.1 perfect innings.
It was Wiese's third solid effort in a row, a span in which he's allowed one run and three hits over 10.1 innings, with 12 strikeouts. He's lowered his ERA from 6.00 to 3.63 in the process.
Stone has also been effective of late with only one run and three hits allowed over 8.2 innings in five relief appearances. His ERA has declined from 6.75 to 3.46.
The series resumes at 6:35 p.m. Wednesday, matching Cal Poly's Jakob Wright (1-1, 4.05) for the Knights vs. Jaxon Byrd (0-3, 6.62) of Sacramento State. Thursday's finale pits Miles Gosztola (0-1, 3.37) of Gonzaga vs. Griffin Naess (2-0, 1.63) of Cal Poly.
Tuesday's crowd of 1,414 raised the season's attendance to 39,330 in 23 dates.