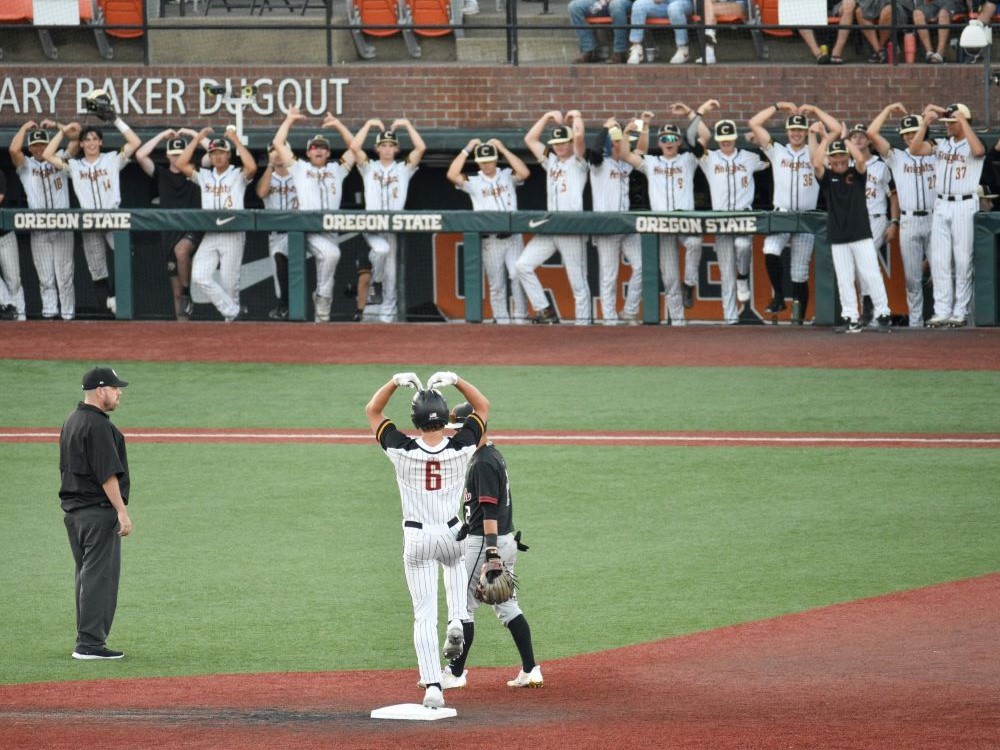 Knights conclude nonleague slate by making the Dudes abide
Monday, July 17, Corvallis, Ore.  – Corvallis concluded its nonleague season with a 12-2 victory over the Redmond Dudes of the Pacific International League before a crowd of 1,462 on a comfortable evening at Goss Stadium.
It was their final nonleague game of the summer; they went 4-0 in such contests. Corvallis (28-12, 24-12 WCL, 7-2 second half) is 4-0 on its current homestand and has won seven games in a row.
The Dudes play in the Pacific International League. Their players primarily compete for Northwest junior colleges and Division III schools.
Phoenix Call (UCLA, pictured above) shifted to center field from his customary shortstop position and went 2-for-4 with two doubles, three RBIs and three runs scored. Catcher Tyler Howard (Portland) was 3-for-5 with two runs and an RBI.
DH Merit Jones was 2-for-3 with two runs and an RBI and earned Washington Park Advisors Player of the Game honors. Third baseman Mason Le (CSU Northridge) was 2-for-4 with a double, two runs and an RBI.
A walk, doubles by Le and Call and a single by Ty Yukumoto (Pacific) scored three runs in the second inning. Jones had an RBI single in the third and Blake Avila (Grand Canyon) added an RBI groundout in the fourth to extend the Knights' lead to 6-0.
They scored six more times over the next two innings to put the game away, sparked by Call's two-run double to the left-field corner. Five Knights pitchers combined to keep the Dudes scoreless until two outs in the ninth.
The current homestand concludes this Tuesday-Thursday with three 6:35 p.m. games against Kelowna. The Knights hope to settle the score with the Falcons, who won 2 of 3 in a July 3-5 series in British Columbia.
Tuesday's scheduled starters are Sam Stuhr (2-0, 1.74) for the Knights vs. Mt. Hood's Amane Kondo (0-0, 20.25); Wednesday night matches Cal Poly's Jakob Wright (1-1, 4.05) for the Knights vs. Jaxon Byrd (0-3, 6.62) of Sacramento State. Thursday's finale pits Miles Gosztola (0-1, 3.37) of Gonzaga vs. Griffin Naess (2-0, 1.63) of Cal Poly.
Monday's crowd of 1,462 raised the season's attendance to 37,916 in 22 dates.