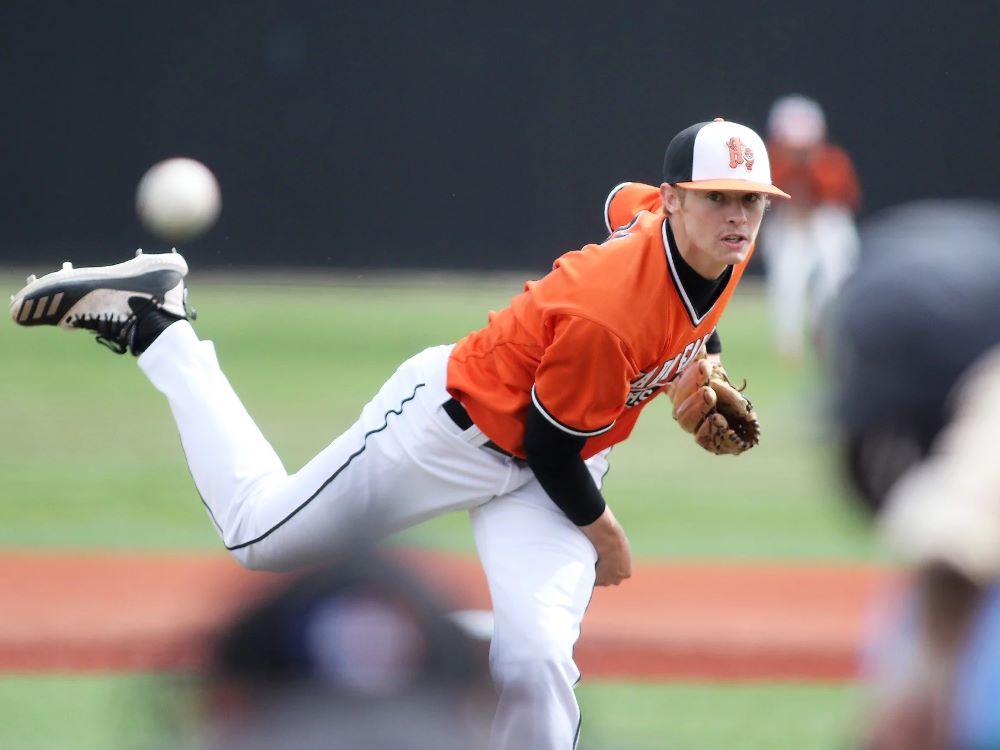 Knights blanked 1-0 in initial game with Kamloops NorthPaws
Friday, June 9, Kamloops, B.C. – Corvallis fell 1-0 to Kamloops at Norbrock Stadium in the first-ever game between the two West Coast League teams.
The Knights (6-2 all, 5-2 WCL) were stymied on three hits in their first start after posting 32 hits and 19 runs against Yakima Valley in the final two games of that series on June 7 and June 8. It was the first win of the season for the NorthPaws; they joined the league in 2022 but did not play Corvallis.
Utah right-hander Merit Jones (pictured, above) turned in a quality start, allowing just one run on two hits over five innings. He struck out eight, walked only two and took a tough-luck loss.
Reliever Neil Feist (Cal State Northridge) added two strikeouts in two scoreless innings and Bransen Kuehl (Utah) threw a perfect eighth inning, striking out one.
The Knights had numerous scoring chances against four NorthPaw pitchers, but were unable to cash in.
Tyler Quinn (Pacific) led off the sixth with a double but was stranded. They left two runners on in the seventh; Quinn reached third with one out in the eighth after a HBP, a steal and a groundout, but was stranded again when the Knights left the bases loaded.
Corvallis again had the tying run at third base with two outs in the ninth, but a fly out ended the game. The Knights left 11 runners on base overall and nine in their final four at-bats, three at third base.
Game 2 of the series is set for 6:35 p.m. Saturday; projected starters have not been announced. Ethan Collins of Pomona-Pitzer (0-0, 0.00) is the scheduled starter for the Knights in Sunday's 1:05 p.m. contest, the finale of a season-opening nine-game road trip.
The Knights home opener is June 15 vs. the Bend Elks. Corvallis has won the last six WCL championships.