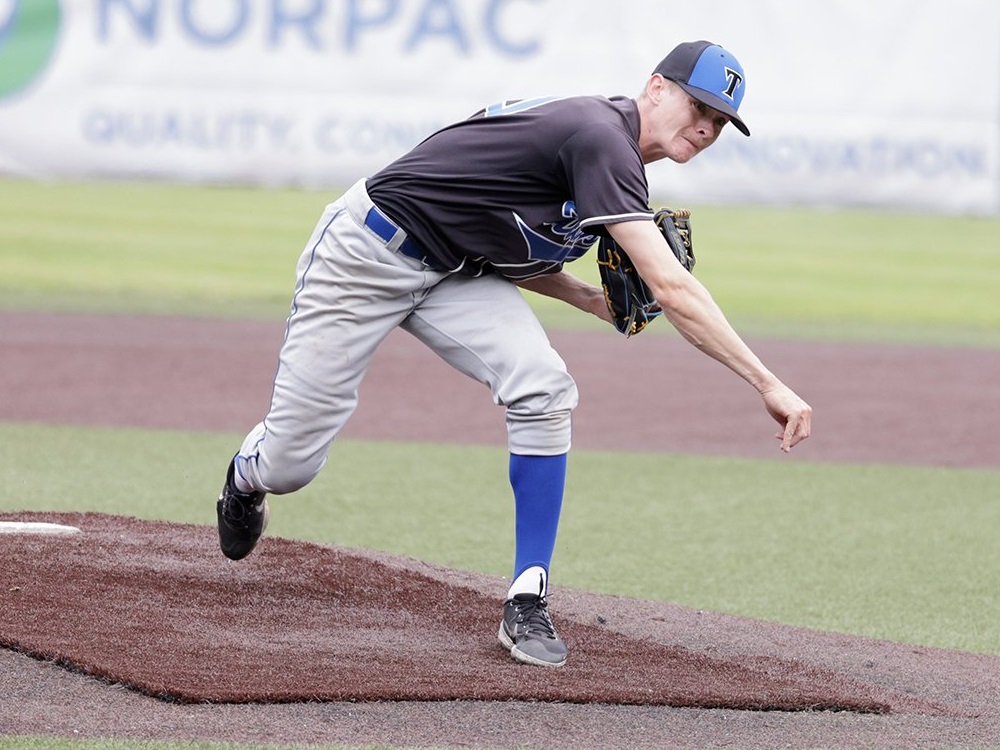 Marshall returns to form, leads Knights to 8-1 win over Pippins
Thursday, June 8, Yakima, Wash. – Corvallis starter Nathan Marshall rebounded from a poor outing earlier in the series by pitching five scoreless innings in an 8-1 victory over Yakima Valley at Yakima County Stadium.
The win enabled the Knights (6-1 all, 5-1 WCL) to capture the West Coast League series and remain in a tie for first place in the South Division with Portland and Springfield.
Brought on in the ninth inning in the June 6 series opener to protect a 3-1 lead, Marshall instead was rocked for three runs in one-third of an inning and took the loss in the 4-3 setback.
The rising sophomore at Lane CC (pictured, above), a West Albany graduate, returned to form on Thursday. He allowed only three hits in his five-inning stint, did not issue a walk, and struck out five while lowering his ERA from 11.59 to 3.68. He faced only three batters over the 5-inning minimum and threw 42 strikes in 60 pitches.
Tyler Quinn (Pacific), Ethan Hedges (USC), Blake Avila (Grand Canyon in 2023), Cameron Rowe (Utah Valley) and Ty Yukumoto (Pacific) had two hits apiece for the Knights, who banged out 14 safeties after having 18 in an 11-4 win in Game 2 on June 7.
Quinn, Ng and Sam Stem (Gonzaga) drove in two runs each, Hedges and Avila one apiece. Hedges finished the series with six hits and four RBIs.
The Knights scored twice in the third, fourth, fifth innings and eighth innings. Hedges and Avila had RBI singles in the third to break open a scoreless game. Quinn's two-run single in the fourth made it 4-0, Ng's two-run single in the fifth increased the margin to 6-0 and Stem ended the scoring with a two-run single in the eighth.
The nine-game road trip continues at Kamloops, B.C., at 6:35 p.m. Friday at Norbrock Stadium. Saturday's game also begins at 6:35 p.m.; Sunday's finale is at 1:05 p.m. They will be the first games between the teams; Kamloops joined the WCL in 2022 but the clubs did not meet.
The Knights home opener is June 15 vs. the Bend Elks. Corvallis has won the last six WCL championships.
The Knights also made a player move on Thursday. They added left-handed pitcher Jakob Wright of Cal Poly, a 6-foot, 175-pounder from Paso Robles, Calif. He was 2-1, 6.27 in eight games in 2023 as a redshirt freshman, with 30 strikeouts in 18.2 innings.
He replaces Michael Freund of Umpqua CC, who had to return home for personal reasons. Freund was 2-0, 0.00 in two games, with five strikeouts in 4.2 innings.