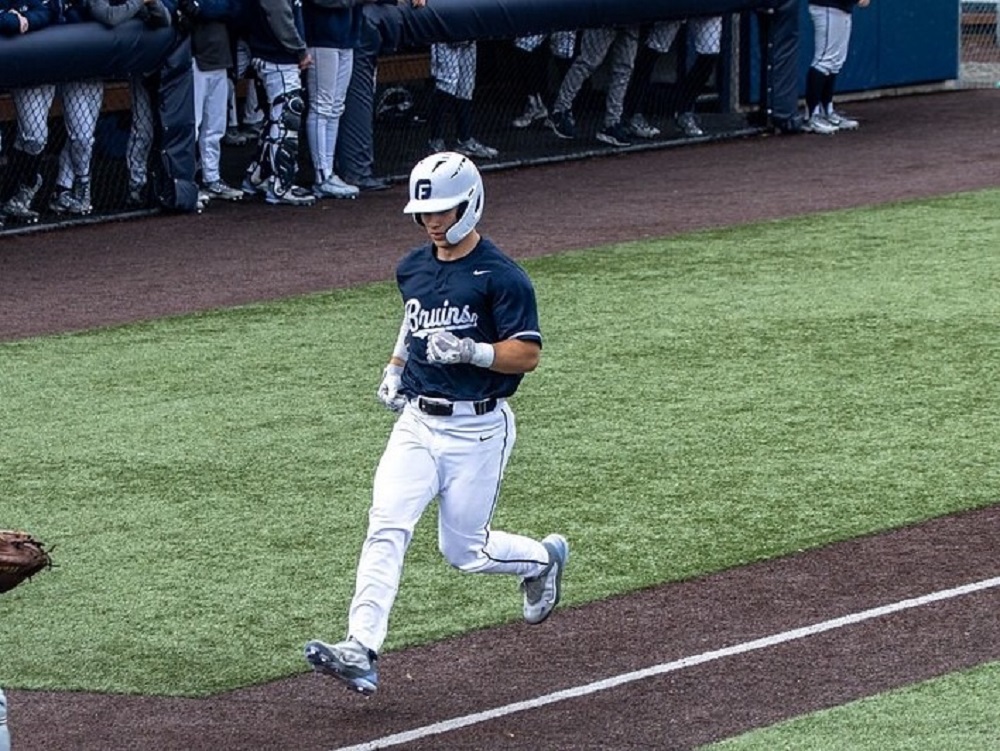 Schoppe, Hedges, Quinn lead Knights to 11-4 rout of Pippins
Wednesday, June 7, Yakima, Wash. –Corvallis rebounded from a tough defeat in the June 6 series opener to pound Yakima Valley 11- 4 at Yakima County Stadium.
The Knights (5-1 all, 4-1 WCL) blew a 3-1, ninth-inning lead and lost 4-3 in Game 1 of the West Coast League series. But they erupted for six doubles and 18 hits in Game 2, built a 9-1 lead and coasted home from there to even the series at a game apiece.
Left fielder Stanley Schoppe (George Fox, pictured above) led the hit parade with two doubles, a single, two runs and two RBIs. Ethan Hedges (USC) doubled, singled twice and drove in three runs and Tyler Quinn (Pacific) had three hits, three runs and an RBI.
Sam Stem (Gonzaga) doubled twice, giving him four two-baggers on the young season. Tyler Howard (Portland), J.C. Ng (Pomona Pitzer) and Ty Yukumoto (Pacific) had two hits apiece. Ng scored three times.
Portland right-hander Zach Johnson made his starting debut and went five solid innings, allowing one run on four hits, with four strikeouts. He threw 44 strikes in 66 pitches.
Reliever Jonathan Stone (George Fox) got a key double play to end a sixth-inning Pippin uprising and added another scoreless frame before giving way to Max Debiec (Texas A&M).
Debiec blanked Yakima Valley over the final two innings to close out the game. He struck out the side in the ninth and finished with four strikeouts overall.
Thursday's 6:35 p.m. finale features a matchup of right-handers. Nathan Marshall (0-1, 11.59) is scheduled to go for Corvallis; Simpson University's Jaydon Tomas (0-0, 3.85) is the anticipated starter for the Pippins.
The road trip continues at Kamloops, B.C., this Friday-Sunday. The Knights home opener is Thursday, June 15 vs. the Bend Elks. Corvallis is the six-time defending WCL champion.