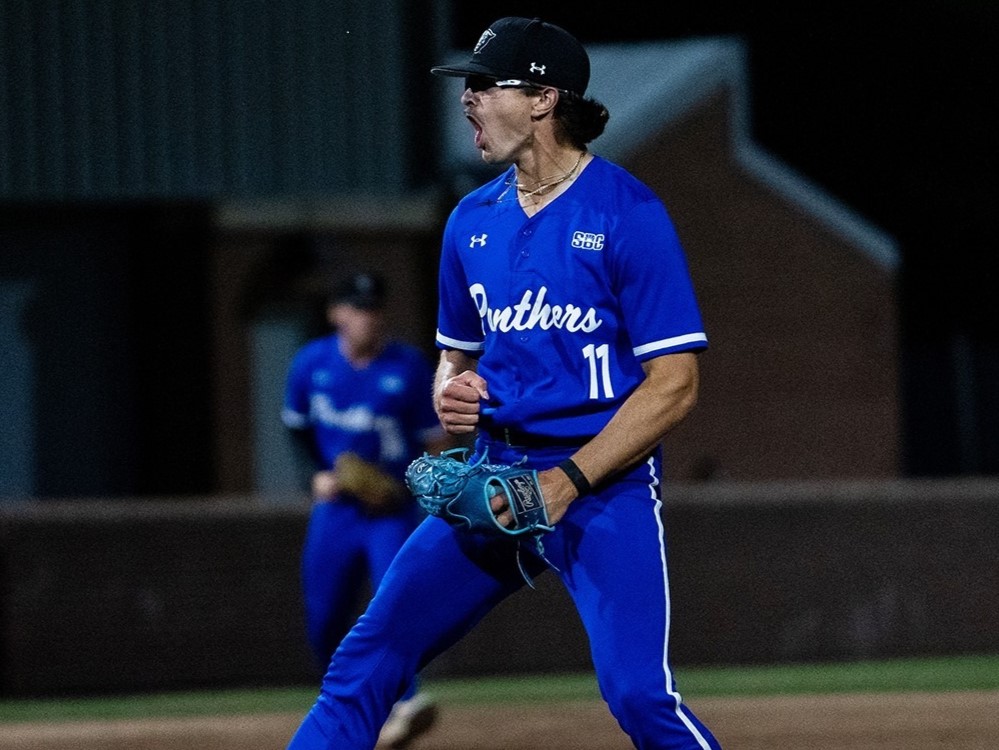 Jones shines in first start but Knights falter late in 4-3 loss
Tuesday, June 6, Yakima, Wash. –Yakima Valley scored three times in its final at-bat to defeat Corvallis 4-3 in a West Coast League game before an opening-night crowd of 2,267 at Yakima County Stadium.
The Knights (4-1 all, 3-1 WCL) took a 3-1 lead into the last of the ninth. But the Pippins used a single, a double, an RBI groundout, a walk, a stolen base, a sacrifice fly and a two-out base hit to finish the comeback.
Georgia State right-hander Brady Jones (pictured, above) was brilliant in his first start. He allowed no runs and only two hits in four innings, with five strikeouts, no walks and a pickoff. He also pitched a scoreless inning at Ridgefield this past weekend and has a 0.00 ERA in five innings.
Reliever Chance Wallace (Pacific) allowed a run in the fifth inning and was replaced by returnee Neil Feist (Cal State Northridge) to start the sixth. He tacked on three scoreless innings, allowed just one hit and fanning one and left with a 3-1 lead his successors could not protect.
Corvallis broke a scoreless tie with two runs in the fifth. J.G. Ng (Pomona Pitzer) singled and Cameron Rowe (Utah Valley) doubled him to third. Ng scored and Rowe moved to third on Stanley Schoppe's (George Fox) sacrifice fly; Rowe scored on Ty Yukumoto's (Pacific) ground out.
The Knights added a third run to restore a two-run lead in the sixth on a walk, an error and a wild pitch.
Game 2 is set for 6:35 p.m. Wednesday. Portland righty Zach Johnson (0-0, 9.00) will start for the Knights, opposed by Spokane Falls CC lefty Evan Hamberger (0-0, 3.85).
Probables for Thursday's 6:35 p.m. finale features a matchup of right-handers. Lane CC's Nathan Marshall (0-1, 11.59) is scheduled to go for Corvallis; Simpson University's Jaydon Tomas (0-0, 3.85) is the anticipated starter for the Pippins.
The road trip continues at Kamloops, B.C., this Friday-Sunday. The Knights home opener is June 15 vs. the Bend Elks. Corvallis is the six-time defending WCL champion.