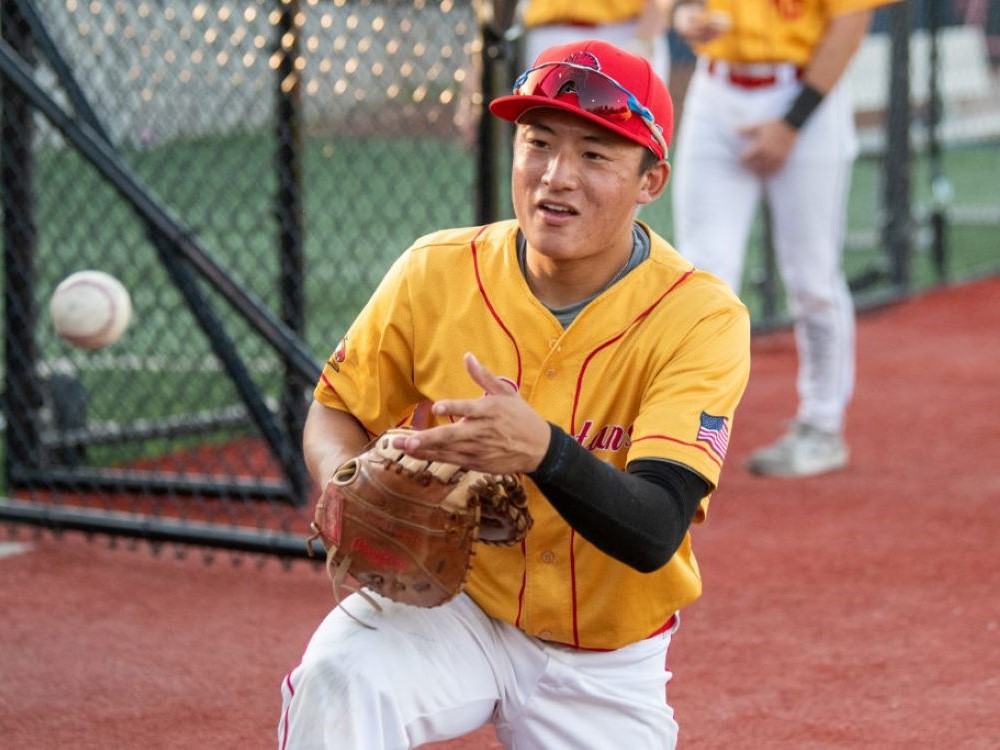 Knights prevail 6-2, complete sweep of season-opening series
Sunday, June 4, Ridgefield, Wash. –The Knights scored four times in their final two at-bats to defeat Ridgefield 6-2 at the Ridgefield Outdoor Recreation Complex.
The Knights (4-0 all, 3-0 WCL) thus completed a sweep of the season-opening West Coast League series. They are tied with Springfield atop the South Division standings; the host Drifters swept Port Angeles this weekend.
The Knights overcame 2-0 deficits in all three games and stretched their dominance of the Raptors to four straight games over the past two seasons. The streak started when they defeated Ridgefield 5-2 last August 13 in a one-game South Division playoff showdown to advance to the WCL Championship Series.
Corvallis broke a 2-2 deadlock in the seventh inning on an RBI single by J.C. Ng (Pomona-Pitzer, pictured above). It scored Purdue-bound Luke Thiele (Central Arizona), who led off the frame with a ground-rule double.
The Knights tacked on three big insurance runs in the ninth. Grand Canyon-bound Blake Avila (Central Arizona) had a two-run single and Camden Christenson (LBCC) had an RBI groundout. Avila also had two RBIs in an 11-3 win on June 3, and hit .600 (6-10) on the weekend.
Ridgefield scored single runs in the first and second innings but the Knights drew even at 2-2 by scoring twice with two outs in the sixth. A walk, a single and an error made it 2-1 and Stanley Schoppe (George Fox) slashed an RBI single to even the game.
Morgan Codron (Portland) started for Corvallis but four walks helped lead to an early hook after two innings. Reliever Kellen Segel (LBCC in 2023-24) allowed one hit and struck out four in three innings before going way to Jonathan Stone (George Fox) for a scoreless sixth.
Michael Freund (Umpqua CC) induced an inning-ending, bases-loaded, 6-4-3 double play to escape a jam in the seventh, preserving the 2-2 tie. Luke Kovach (Allan Hancock) whiffed two in a scoreless eighth and Brady Jones (Georgia State) went the ninth, ending the game on a 4-6-3 double play.
For the series, Knights relievers allowed just one run in 19 combined innings, a 0.47 ERA. They teamed up for 27 strikeouts and only nine hits allowed.
The Knights are idle on Monday and then open successive three-game series at Yakima Valley on Tuesday (June 6-8) and at Kamloops on Friday (June 9-11). Their rotation for the Yakima Valley series has not been determined.
Their home opener is June 15 vs. the Bend Elks. The Knights are six-time defending WCL champions.