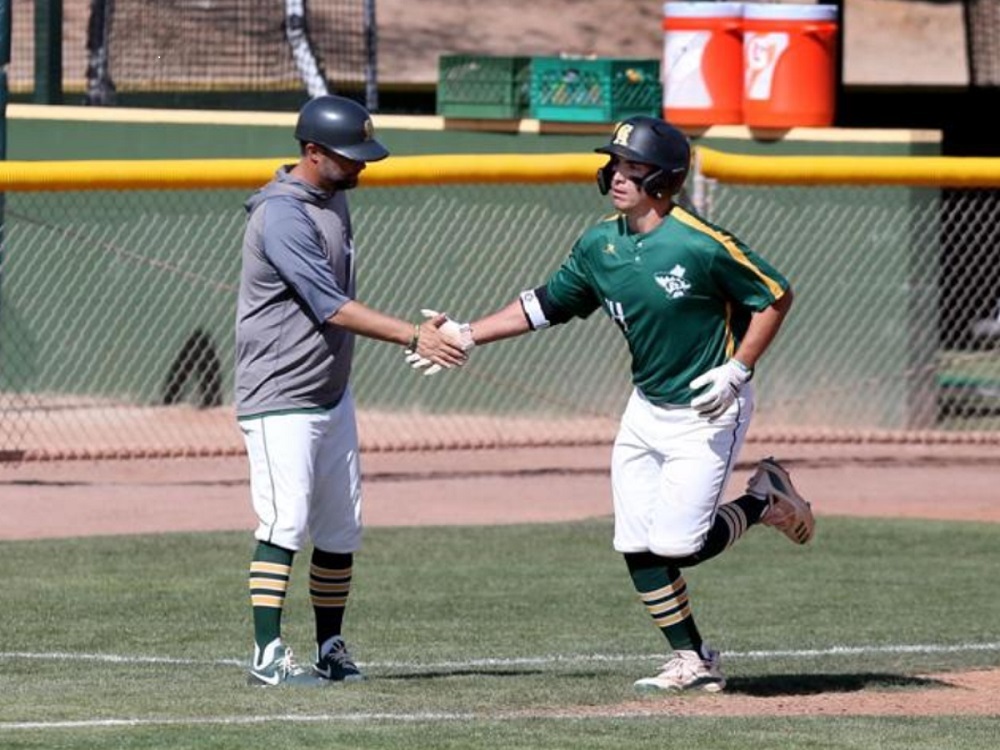 Avila's big night at Ridgefield leads Knights to series victory
Saturday, June 3, Ridgefield, Wash. – Blake Avila had a huge game as the Corvallis Knights defeated Ridgefield 11-3 in Game 2 of their three-game series at the Ridgefield Outdoor Recreation Complex.
A rising junior first baseman at Grand Canyon University, Avila (Central Arizona) homered, doubled, singled twice, drove in two runs and scored twice to give the Knights (3-0 all, 2-0 WCL) the series win in their first weekend of West Coast League action.
Catcher Cameron Rowe (Utah Valley) had two hits and two RBIs and returning 2022 team MVP Tyler Quinn (Pacific) scored twice and added a hit and an RBI. Sam Stem (Gonzaga) added an RBI double in the ninth inning, his first hit of the summer.
Solid relief pitching was a decisive factor for Corvallis. Starter Sean Wiese (Hawaii) was touched for three runs in two-plus innings but the bullpen shut the Raptors down the rest of the way.
Returnee Neil Feist (Cal State Northridge) replaced Wiese with no outs and a runner on first in the third inning. He spaced three hits over three scoreless frames, with three strikeouts, and the Knights extended their lead to 6-3 while he was pitching.
Kaleb Woltz (San Francisco) followed and fanned five in 1.2 scoreless innings. Then Bransen Kuehl (Utah) and Chance Wallace (Pacific) finished the final 2.1 innings, combining for four strikeouts.
It was the second consecutive brilliant night for the bullpen. Ethan Collins (Pomona Pitzer), Nathan Marshall (Lane CC) and Zach Johnson (Portland) combined to hold the Raptors to one run and one hit over the final five innings in a 6-3 opening-night victory on June 2.
Portland righty Morgan Codron is the Knights' probable for Sunday's 1:05 p.m. series finale. Ridgefield's starter is TBA.
The Knights are idle on Monday and then open successive three-game series at Yakima Valley (June 6-8) and Kamloops (June 9-11). Their home opener is Thursday, June 15 vs. the Bend Elks.