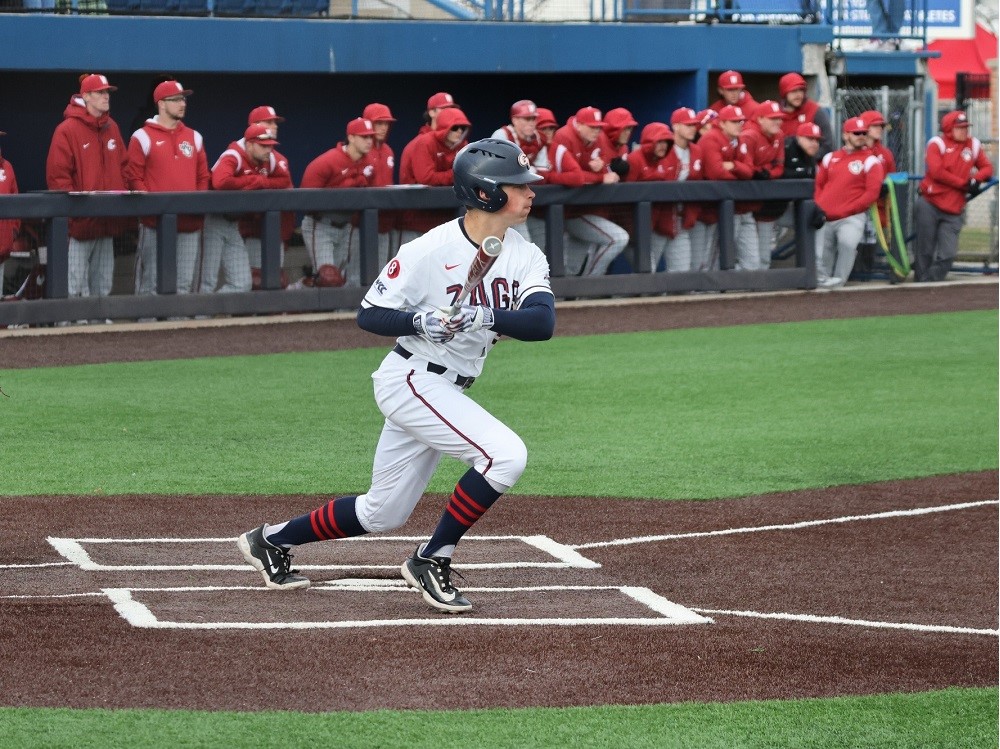 Stem sparks Knights 9-0 victory over Kamloops in series finale
Sunday, June 11, Kamloops, B.C. – Corvallis exploded out of a two-game slump to blast Kamloops 9-0 in Game 2 of their West Coast League doubleheader at Norbrock Stadium.
Corvallis lost the opener 2-0 despite giving up only one hit. Both games were seven innings.
Shut out in their previous two games, the Knights (7-3 all, 6-3 WCL) broke loose in Game 2 to salvage the series finale and end a nine-game road trip through Washington and British Columbia on a high note.
Catcher Tyler Howard (Portland) doubled, singled twice, drove in three runs and raised his average to .348 to pace the Knights in their initial victory over the NorthPaws. Kamloops joined the WCL in 2021 but the Canadian teams did not play. In its expansion season in 2022, the NorthPaws made the WCL playoffs.
Right fielder Sam Stem (Gonzaga, picture, above) went 4-for-5, scored twice and drove in two runs while upping his average a whopping 76 points to .238. Tyler Quinn (Pacific) and Jonathan Stone (George Fox) had two hits each and J.C. Ng (Pomona-Pitzer) had two RBIs.
Corvallis scored once in the first to snap a 17-inning scoreless streak.  Howard added a two-run single in the third and two-run singles by Stem and Ng and Howard's RBI double capped a six-run sixth that broke the game open.
Starter Ethan Collins (Pomona-Pitzer) and relievers Chance Wallace (Pacific), Max Debiec (Texas A&M) and Bransen Kuehl (Utah) combined on a two-hit shutout.
Corvallis allowed only one hit in the opener but had just four itself and left eight runners on base. Kamloops scored twice in the fifth without a hit, on two walks, a hit batsman, a wild pitch and a sacrifice fly.
Kamloops won the series opener 1-0 on June 9. The June 10 game was rained out and rescheduled for Sunday.
The Knights returned home after the games to prepare for their home opener. They will begin their 16th season at Goss Stadium at 6:35 p.m. Thursday against South Division rival Bend.
It's the first of 11 consecutive home games for Corvallis, which has won the last six WCL championships.