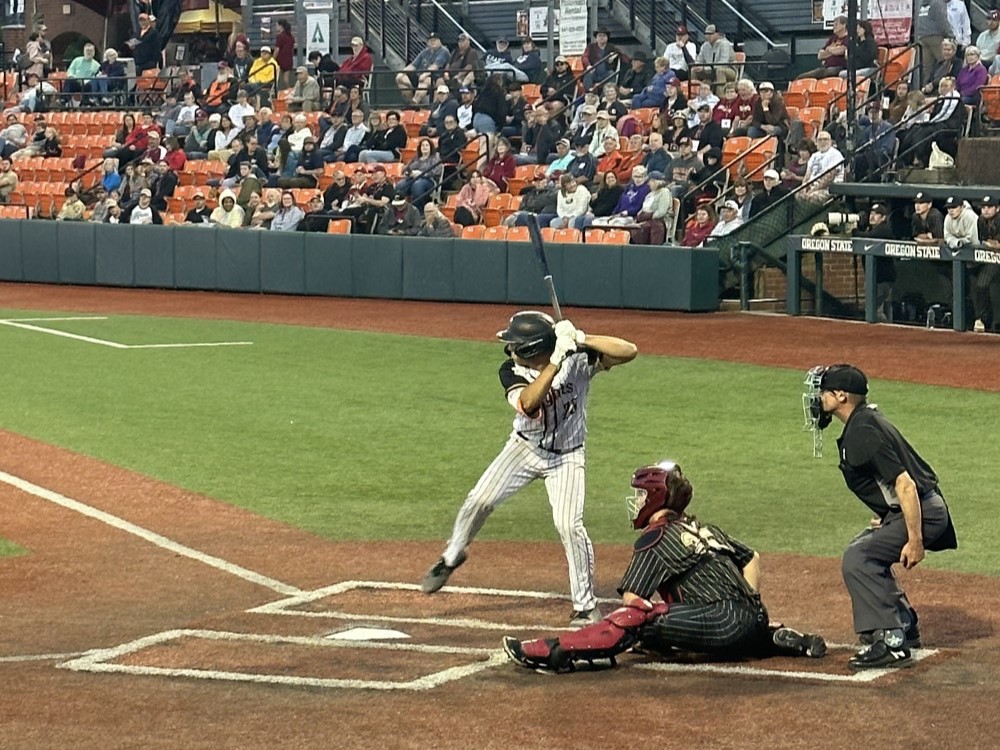 Knights corral Bend Elks 9-1, capture their home opener
Thursday, June 15, Corvallis, Ore.  – Corvallis thrilled an opening-night crowd of 1,744 with a 9-1 victory over longtime South Division rival Bend in a West Coast League game at Goss Stadium.
The Knights (8-3 all, 7-3 WCL) took advantage of wildness by the Bend pitching staff to score nine times despite having only five hits. Four Elks pitchers combined for 10 walks and six hit batters.
Sam Stem's (Gonzaga) sacrifice fly put the Knights on the board in the third and JC Ng (Pomona-Pitzer, pictured above) doubled and then scored on a wild pitch to make it 2-0 in the fourth.
Corvallis exploded for five runs in fifth, parlaying three walks, two hit batsmen and Ty Yukumoto's (Pacific) two-run single to score five times, upping the margin to 7-0.
Ng was 2-for-5 with two runs, an RBI and a double, the Knights' lone extra-base hit. He was the only player with more than one hit. Ethan Hott (Stanford) reached safely in all five plate appearances; he walked three times, was hit twice and scored twice.
Nathan Marshall (Lane CC) threw four scoreless innings, allowing one hit and striking out two. Neil Feist (Cal State Northridge) went the fifth and sixth and Sean Wiese authored a perfect seventh and eighth innings.
Wiese earned the win as the most effective reliever, as Marshall did not go the required five innings to earn the decision as required for the starter.
The Knights bolstered their pitching staff on Thursday by signing San Jose State lefty Ethan Ross, a two-year veteran (2022, 2021). He is a 6-foot-2, 195-pounder from El Centro, Calif., who was 3-1, 8.55 for the Spartans in 2023, with 37 strikeouts in 36.2 innings over 13 games.
He pitched the ninth inning on Thursday and struck out the side on 13 pitches. He was selected as the Washington Park Advisors Player of the Game by broadcaster Mike Parker, an honor he shared with Hott who reached base five times.
Ross was second-team all-WCL in 2021, when he was 5-1, 2.80 in 16 games, with a save and 60 strikeouts in 45 innings. He was 2-1, 2.31 in 2022, with a save and 30 strikeouts in 23.1 innings over 12 appearances.
Game 2 and Game 3 of the series are Friday. Game 2 starts at 1:05 p.m.; Georgia State righty Brady Jones (0-0, 0.00) is the Knights projected starter in the opener.  Merit Jones of Utah (0-1, 3.00) goes in the 6:35 p.m. second game.
The doubleheader will conclude the series with the Elks. They are the first three of an 11-game homestand for Corvallis, which has won the last six WCL championships.