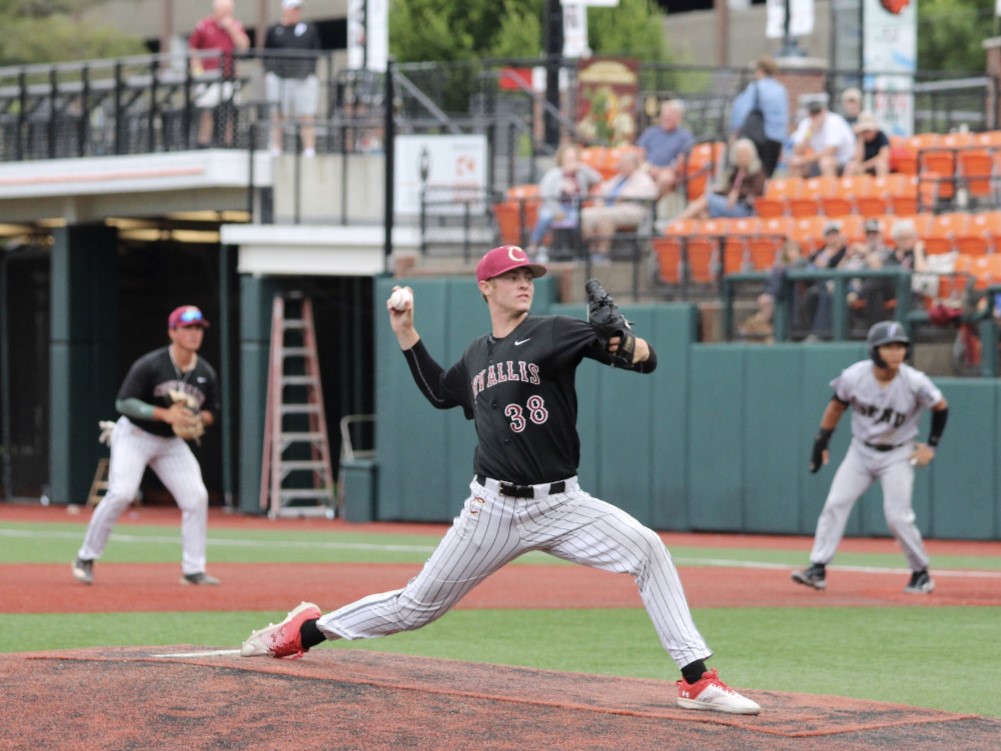 Knights blow out Elks to split doubleheader, capture series
Friday, June 16, Corvallis, Ore.  – The Knights bounced back from a tough loss to defeat Bend 15-3 to split a day-night doubleheader with their longtime South Division rivals.
The Knights (9-4 all, 8-4 WCL) blew a 6-5, ninth-inning lead in the afternoon opener and fell 7-6. They still won the series, however, as they prevailed 9-1 in Thursday night's first game.
Corvallis starter Merit Jones (Utah, pictured above) went 4.1 solid innings, allowing one run on two hits. He escaped unscathed from a bases-loaded, no-out jam in the second inning and finished with four strikeouts.
Washington Park Advisors Player of the Game Ethan Hedges (USC) tripled, singled, had a sacrifice fly, stole a base, walked and scored three times to lead the offense. Corvallis scored five times in its first two at-bats to take a 5-0 lead and cruised home from there, blowing the game wide-open with six runs in the eighth inning.
Sam Stem (Gonzaga) tripled, doubled and scored twice. Ty Yukumoto (Pacific), Ethan Hott (Stanford) and Blake Avila (Grand Canyon) had two hits each. Yukumoto had five hits on the day, Stem four; Yukumoto scored three times in the nightcap and six times on the day.
In the opener, Corvallis squandered a 5-3 lead in the eighth and a 6-5 lead in the ninth and left 12 runners on base. The Elks scored twice in each of their final two at-bats to even the series.
Stem had two hits and three RBIs, Hott drove in two and Yukumoto doubled, singled twice and scored three times. Stem was named the Washington Park Advisors Player of the Game.
Oregon State right-hander Joey Mundt will join the team on Saturday. He has missed the past two seasons with an arm injury. Mundt is 2-3, 3.88 in 36 career games, with three saves and 46 strikeouts in 44.1 career appearances.
Mundt is a 6-foot-2, 218-pounder who will be a redshirt senior this fall. He is from Central Catholic High School in Hughson, Calif.
The Knights open a three-game series with the Walla Walla Sweets at 6:35 p.m. Saturday. Corvallis has won the last six WCL championships.