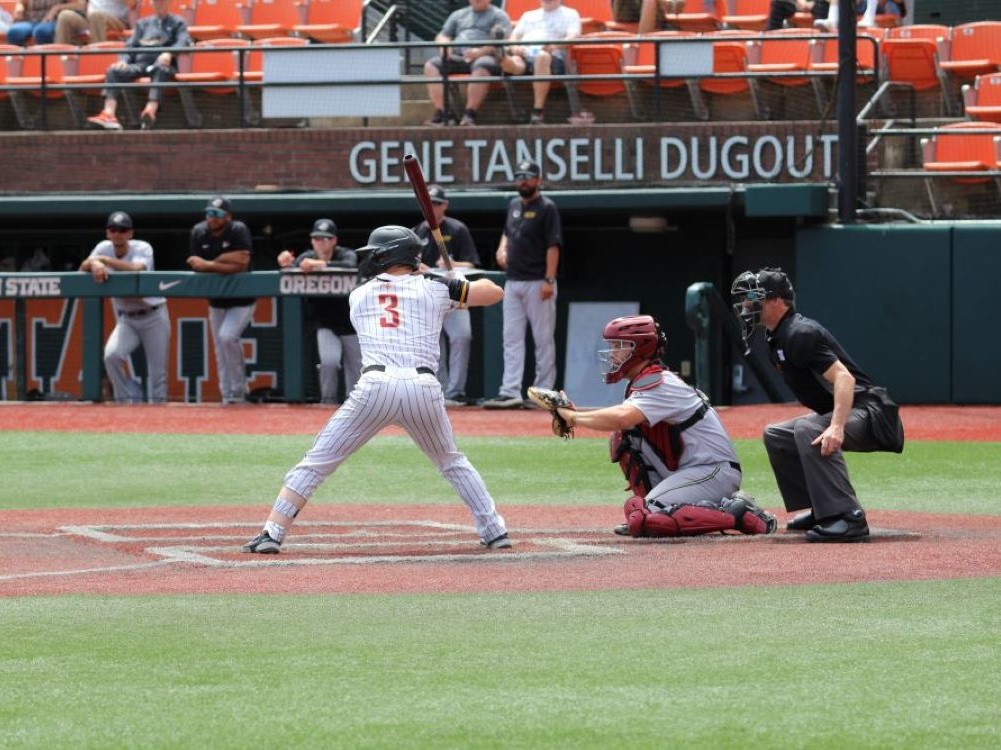 Knights nightmare inning gives Sweets series-opening victory
Saturday, June 17, Corvallis, Ore.  – A nightmarish sixth inning enabled Walla Walla to defeat the Knights 8-4 in the opener of their West Coast League series before a crowd of 1,967 on a cool, breezy evening at Goss Stadium.
The Knights (9-5 all, 8-5 WCL) led 3-0 before the epic collapse. Three relievers combined to walk six batters and hit another, and all seven eventually scored. An error led to another score and prolonged an inning in which the Sweets were gifted all eight of their runs on only two base hits.
Corvallis left fielder Ethan Hott (Stanford, pictured above) was 2-for-4 with two RBIs and a fine diving catch. He has eight RBIs in only four games since joining the club on June 15 and is batting a robust .500 (6-12).
Center fielder JC Ng (Pomona-Pitzer) ripped an RBI double, the only extra-base hit of the night, to earn the Washington Park Advisors Player of the Game honor. Second baseman Tate Shimao (Cal Poly) added a sacrifice fly in his season debut.
Corvallis starter Zach Johnson (Portland) stranded five Sweets in three scoreless innings, striking out three. Sean Wiese (Hawaii) added two more scoreless frames, allowing one hit and striking out two, preserving a 3-0 lead until the roof caved in in the sixth.
Neil Feist (Cal State Northridge) got the final two outs of the sixth inning and shut the Sweets down the rest of the way.
The series resumes at 1:05 p.m. Sunday; right-hander Ethan Collins of Pomona-Pitzer (0-0, 0.00) is the projected starter for Corvallis, opposed by Phoenix College lefty Heitaro Hayashi (1-1, 2.07).
The finale is set for 6:35 p.m. Monday, with Portland righty Morgan Codron (0-0, 9.00) listed as the probable starter for Corvallis, opposed by Columbia Basin CC righty Francisco Lopez (0-1, 10.12).
The Knights are idle on Tuesday and Wednesday and resume action on Thursday with a 6:35 p.m. nonleague game against the Corvallis Gerding Construction American Legion team.
Corvallis has won the last six WCL championships. Saturday's crowd lifted the season attendance to 9,496 in five openings.