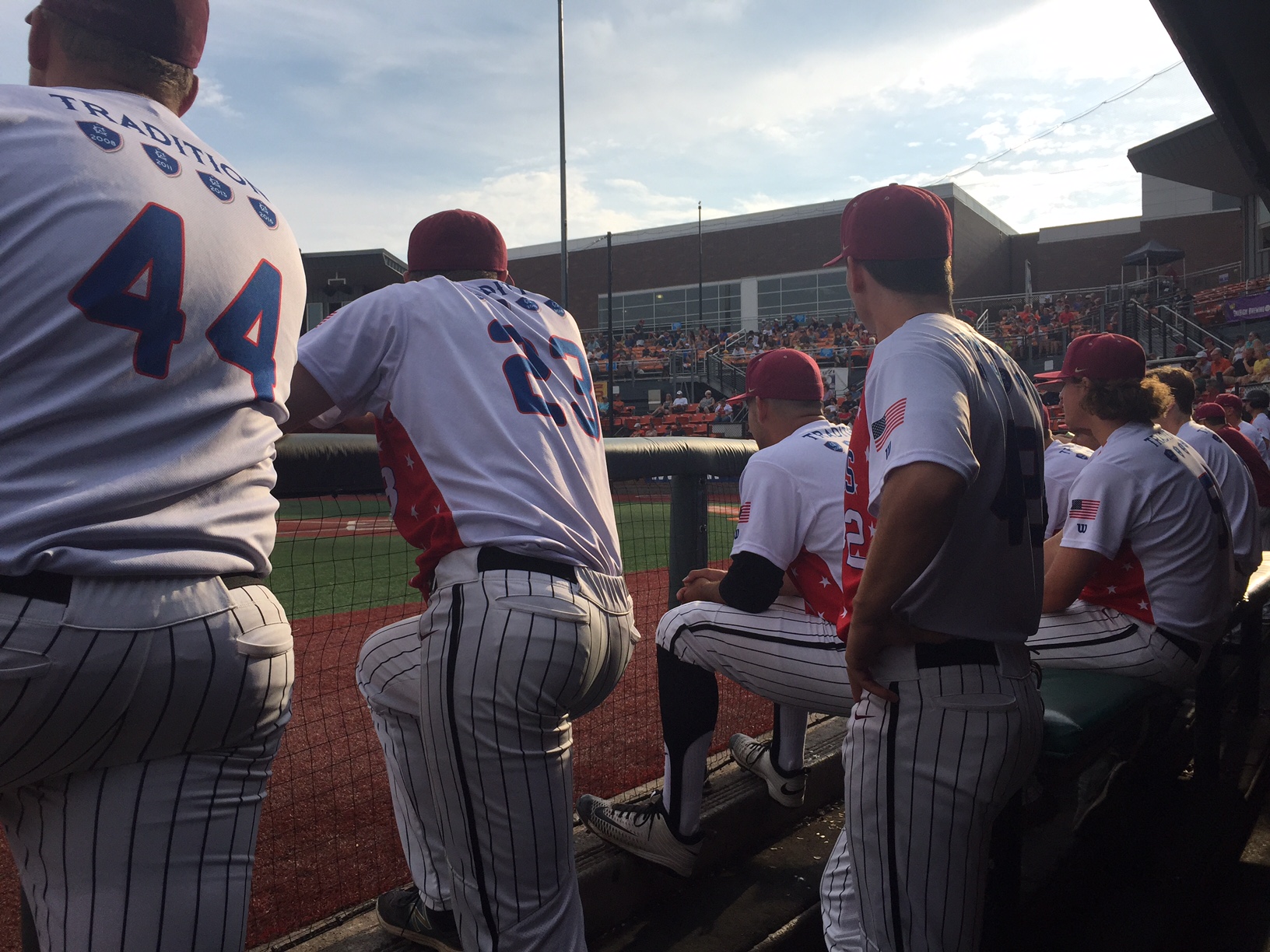 Corvallis Knights vs. Yakima Valley Pippins Playoff Preview
The Corvallis Knights open postseason play tonight versus the Yakima Valley Pippins at Yakima County Stadium. It is the 11th consecutive season the Knights have qualified for the playoffs.
This regular season, Corvallis captured both the first-half and second-half South titles and posted the league's top record at 34-20.
While the WCL South Divisional Series opens in Yakima, it moves to Corvallis on Wednesday for game two at Goss Stadium. If a third game is necessary, it will be played at OSU's Goss Stadium on Thursday.
Both games at Goss Stadium are set to start at 6:40 pm; gates open at 6 pm.
This year's edition of the Knights used power, defense and pitching to earn a playoff spot. Corvallis hit a team record 43 homers, but did not lead a single WCL offensive category and finished 10th in hitting with a .254 batting average.
The pitching staff posted the league's second lowest ERA – a single-season club high of 4.30 – and led the WCL in strikeouts with 451 and allowed the fewest runs at 257.
Yakima Valley finished the regular season with a 28-26 mark. Corvallis went 4-2 versus the Pippins. Yakima Valley hit .284 for the season and their team ERA was 4.69.
Corvallis was led this summer by two-way star Jordan Qsar of Pepperdine. The left-handed hitting senior-to-be set new Knights single-season marks in homers with 13, doubles with 21 and RBIs with 49. For the regular season, he hit .304, played steady defense in right field and led the league in doubles and total bases (115).
Two Portland Pilots solidified the middle infield for the Knights, as frosh-to-be Chad Stevens and junior-to-be Matt Kelly played stellar defense at shortstop and second base, respectively.
Kelly, a returnee from last year's championship club, followed up an excellent spring offensively with an outstanding summer as the right-handed hitter from West Linn hit .298 with 5 homers and 32 RBIs while leading the team in runs scored with 44 and stolen bases with 15.
Stevens came on offensively, as he ended the season batting .261 with 8 doubles and 6 stolen bases.
Up-the-middle defense was a strength, with Stevens' and Kelly's solid glove work, three-year Knight Emilio Alcantar's spectacular play in center field and the Oregon State tandem of Troy Claunch and Zak Taylor combining to shine at catcher.
Taylor, a junior-to-be at OSU, also was a force with the bat, hitting .301 with 6 doubles, 3 homers and 21 RBIs.
The Knights offense is also led by sophomore-to-be first baseman Dillan Shrum of Nevada-Reno who led the league in hit-by-pitch with 17 and hit .290 with 12 doubles, 7 homers and 29 RBIs.
Corvallis closer Chase Kaplan, a senior-to-be at Kansas and three-year Knight, led a staff that featured key contributions from all the team's pitchers.
Kaplan finished with 16 appearances, 6 saves and a 3-1 record. He struck out 31 over 22.1 innings pitched and posted a 2.41 ERA.
Coach Knight has named sophomore-to-be Cole Spear of UC Irvine as his probable starter for tonight's game. Cole went 3-1, posted a 4.72 ERA and struck out 33 over 8 appearances, 4 starts and 26.2 innings pitched.
Junior-to-be Trenton Toplikar of UC Riverside gets the ball in game two. The right-hander went 2-0 over 6 appearances and 5 starts while walking only 1 and striking out 26 over 26.2 innings pitched.
If necessary, sophomore-to-be Connor Redmond of Cal Poly is scheduled to start game three. He went 1-2 with a 3.72 ERA over 6 appearances, 5 starts and 29 innings while walking 5 and striking out 22.
Skipper Brooke Knight is likely to leverage returnees from last year's championship team southpaw Jacob Fricke of Western Oregon (3-1, 34.1 IP), righty Tanner Howell of Dixie State (18 app, 32 K), lefty Hazahel Quijada of UC Riverside (2-3, 3.64) and right-hander Cameron Richman of Portland (14 app, 3.78) out of the bullpen this postseason.
Yakima Valley is led by tonight's starter, future Cal Poly Mustang Taylor Dollard. He finished tied for the league lead in wins, as he posted a perfect 6-0 record. In his last outing, Dollard shutout Cowlitz for 8 innings while walking none and striking out 9 to earn the 1-0 win. The right-hander has posted a 1.92 ERA over 7 appearances and 5 starts.
The Pippins bullpen features arguably the league's top closer, future Portland Pilots right-hander Connor Moore. The junior-to-be has registered 11 saves over 22 relief appearances, and he's struck out 32 over 24 innings pitched.
Offensively, Yakima Valley is one of the better hitting teams in the league; and are led by first baseman Lucas Denney of Seattle and Brad Beesley of Cal Poly. Denney leads the Pippins in hitting (.338), doubles (15), homers (8) and RBIs (34). Beesley finished the regular season batting .300 with 7 homers and 28 RBIs.
The Pippins run well, with all three outfielders – San Diego's Tora Otsuka (12), Oregon's Jonny DeLuca (11) and St. Martin's Steve Sordahl (10) – stealing 10 bases or more.
You can listen to tonight's game on the Knights flagship station – KEJO 1240 AM. The voice of the Knights, Mike Parker, calls all the action. First pitch is 7:05 pm.