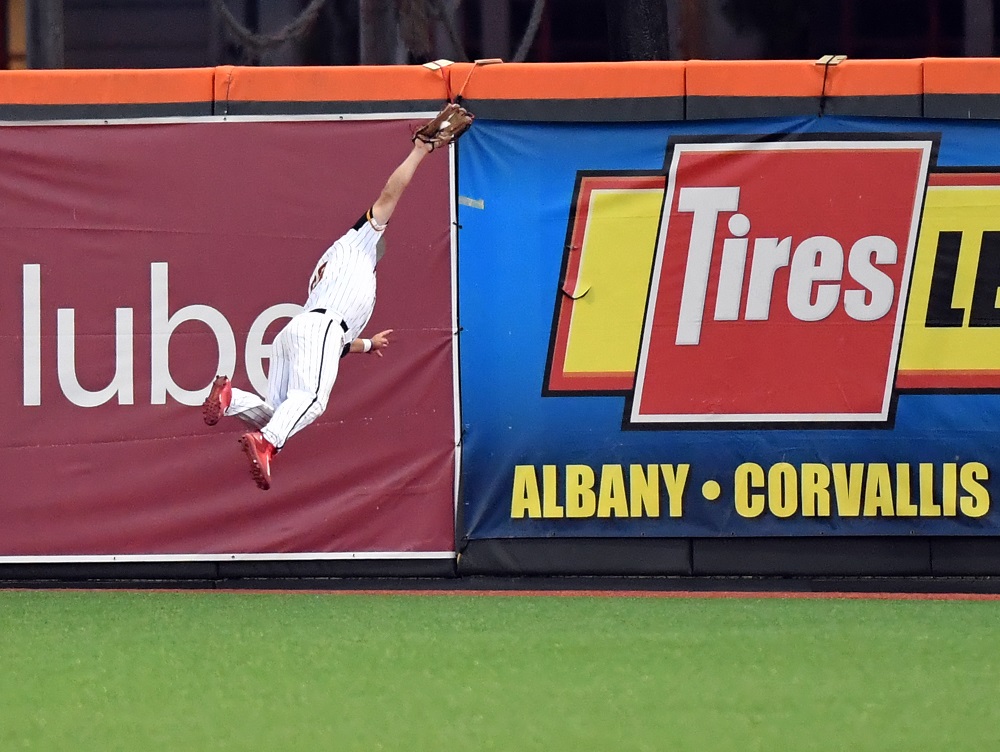 Pitching, Defense, Late Rally Help Knights Force Game 3
CORVALLIS, Ore. –  With their backs against the wall, the Knights responded again.
Facing elimination for the third time in the West Coast League playoffs, the Knights erupted for six runs in the last of the eighth inning to defeat Victoria 6-0 in Game 2 of the Championship Series before a loud crowd of 1,655 at Goss Stadium.
The victory evened the finals 1-1 and sets up a winner-take-all Game 3 at 6:40 p.m. Tuesday at Goss Stadium. Trenton Toplikar (UC Riverside) is the scheduled starter for the Knights; they are seeking their fifth championship, the HarbourCats their first.
Corvallis also won two elimination games against Yakima Valley in the South Division series after losing the opener on the road. Victoria won the Finals opener, 5-4 in Victoria on Aug. 12.
"I think it's a big advantage to have that championship experience for those of us who are back," said Knights' third baseman/catcher Zak Taylor, an Oregon Stater who was one of four players from the 2016 title team on the field in the ninth inning.
"We know what it takes to get there. We know what it's like. We feel we have a little edge right now. We're excited.
"We're going to take this momentum into tomorrow. This year has been very similar to [2016]. If anything, I think we are a little bit closer; we have great team chemistry right now."
Brilliant pitching by starter Dakota Donovan (OSU) and Kolby Somers (Oregon) and an incredible running, back-to-the-plate catch by Lewis-Clark State's Emilio Alcantar (pictured, above) in deepest center field kept the Knights in position to win with their rally.
Donovan (6.1) and Somers (2.2) combined for a two-hit shutout and faced just four batters over the minimum. They teamed up for six strikeouts and only one walk.
Corvallis' decisive rally broke open a tense 0-0 pitching duel. Taylor Travess (Oregon) reached on an error, then motored all the way to third on Matt Kelly's (Portland) sacrifice bunt.
Jordan Qsar (Pepperdine) was walked intentionally. A single by Dillan Shrum (Nevada-Reno) scored Travess, and a single Taylor tallied Qsar for a 2-0 advantage.
Elliot Willy (OSU) then blasted a triple to right-center, scoring Shrum. Taylor was thrown out at the plate for the second out, but Cole Johnson (Pacific Lutheran) singled to make it 4-0, keeping the rally alive.
Pinch-runner Jace Duty (San Jose State) stole second and scored on Emilio Alcantar's (Lewis-Clark State) double. Chad Stevens (Portland) then blooped a single into short right field, scoring Alcantar with the final run.
Donovan retired the first 14 HarbourCats in order. He faced just two batters over the minimum and had a no-hitter through 6.1 innings before an infield single and a hit batsman led to his being relieved by Somers.
Somers retired the side with no damage, then added two more scoreless innings to claim the victory.
Donovan struck out five, allowed one hit, one walk and one hit batter in his longest, and best, outing of the summer.
Somers, who saved a 3-2 win over Yakima Valley in Game 3 of the South Division playoff series, allowed one hit and had one strikeout. He is 1-0, 0.00 in the playoffs, with a win, a save, and four strikeouts and just one hit allowed in 4.2 innings.
Alcantar robbed Ethan Lopez of a possible triple with one out in the eighth with a spectacular back-to-the-plate diving catch just short of the warning track in deep right-center field. It ranks among the greatest catches in Knights' history, and earned two standing ovations – one after the catch and another as he ran off the field into a mob of celebrating teammates after the third out.
Taylor had three hits, Shrum, Johnson and Stevens two each. The Knights stranded six runners and hit into two double plays before finally breaking loose in the eighth.
"I felt good," Taylor said. "They kind of had my number last game so I changed up my approach a bit. I was trying work with what they gave me."
It is the ninth championship appearance in 11 seasons for the Knights, who are 4-4 all-time in the finals. Victoria is making its first finals appearance.