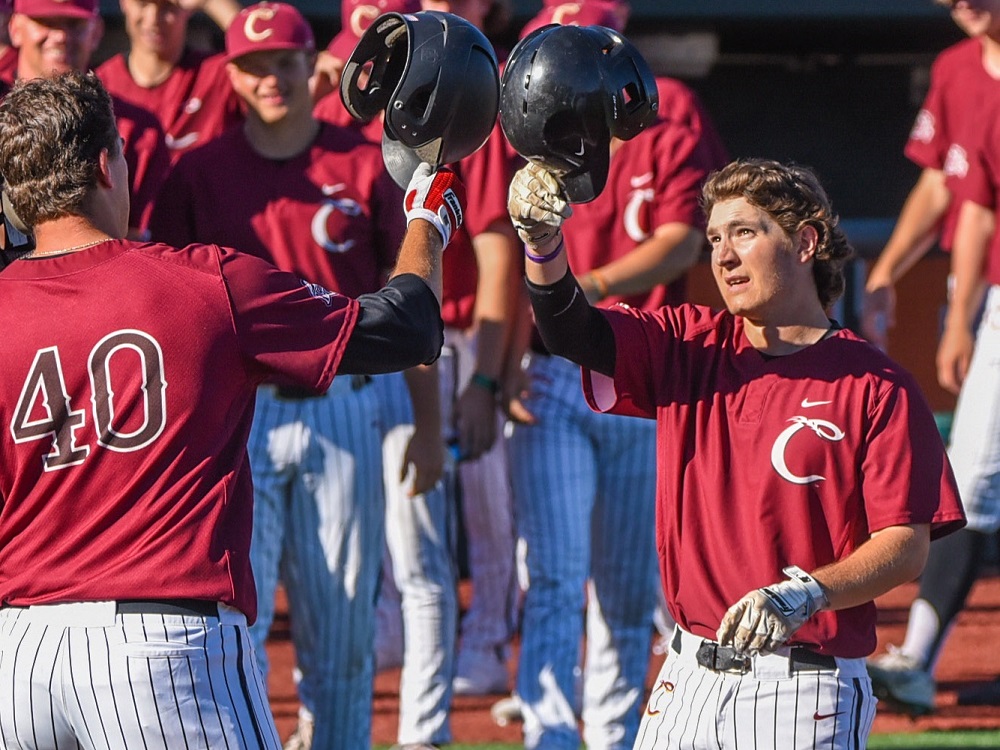 Cole Johnson Drives in Four, Knights Take Series Over Lefties
PORT ANGELES, Wash. –  Designated hitter Cole Johnson (pictured at right, above) drove in four runs and the Corvallis Knights rocked Port Angeles 11-2 in a West Coast League game at Civic Field.
Johnson (Pacific Lutheran) doubled, singled and walked to lead a 14-hit Corvallis attack and now has seven RBIs in his last five games, and 10 on the summer. The Knights (30-12 all, 26-12 WCL, 9-2 WCL second half) scored in their first six at-bats and thus won the series; they also prevailed 6-5 in 10 innings in Friday's opener.
First baseman Dillan Shrum (Nevada-Reno), shortstop Chad Stevens (Portland), catcher Troy Claunch (Oregon State) and third baseman Zak Taylor (OSU) added two hits apiece. Taylor also drove in two runs.
Right fielder Jordan Qsar (Pepperdine) had an RBI double, his 16th of the season, and a bases-loaded walk to assume the WCL lead in RBIs with 41. He also leads the league with 11 homers.
Lefty Ross Massey (Tulane) allowed two runs and five hits and struck out four in five innings to record his first win of the summer. Relievers Jacob Fricke (Western Oregon), Darren Nelson (Cal Poly) and Tanner Cantwell (Treasure Valley CC) allowed one hit and no runs over the final four innings.
The series concludes at 5:05 p.m. Sunday; UC Irvine righty Cole Spear (2-1, 3.68) is the projected starter for the Knights.
Closer all-star Chase Kaplan (Kansas) was suspended for the final two games of the series by the WCL for interacting with fans following the emotional 6-5, 10-inning win over the Lefties on Friday night. He is 3-0, 1.55, with a team-leading five saves.
The Knights are idle Monday and Tuesday during the WCL all-star break. They resume WCL action at Walla Walla on Wednesday.