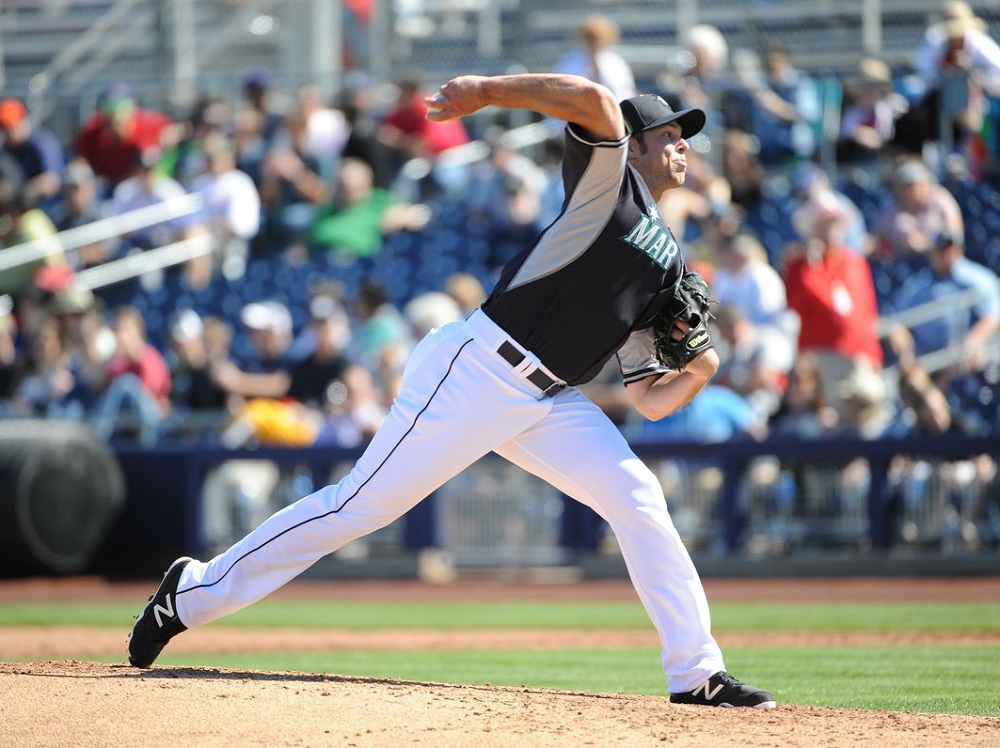 Brooks Hatch Blog: Outstanding First Start for Sam Gaviglio
Happy Friday everyone, from the world-wide headquarters (WWHQ) of your Corvallis Knights, the 2016 West Coast League champions!
——————-
Great job by alum Sam Gaviglio (2009) on Thursday night in his debut as a major-league starting pitcher. The former Oregon State star pitched five shutout innings against the Chicago White Sox and had two strikeouts and only one walk.
Sammy G left with a 4-0 lead and was in position to earn his first big-league win in his second game in the majors. However, the bullpen imploded, enabling the White Sox to tie, and he got a no-decision.
Here's a report on Sam, from reporter Bob Dutton of the Tacoma News-Tribune:
"Gaviglio impresses: Gaviglio is a seven-year pro who pretty much defines organizational depth. He spent most of 2015 at Triple-A Tacoma but pitched much of last season at Double-A and appeared ticketed to return this year to Double-A.
"Injuries then created an opportunity for Gaviglio to start the season at Tacoma and, as injuries mounted, he got promoted, for the first time in his career, to the big leagues.
"He made his debut May 11 by pitching two innings of mop-up relief at Toronto before working five scoreless innings Thursday against the White Sox.
"Gaviglio efficiently pitched to contact while stranding runners in four of his five innings. He exited after 75 pitches because of a limited workload over the last two weeks created concerns regarding his endurance.
"It's just another baseball game," he said. "That's the way you have to look at it. The distance from the home plate to the mound is the same. You've just got to remember that."
"Maybe it was a fluke. Gaviglio's stuff doesn't dazzle in an eye-test examination. But five scoreless innings means he'll get at least one more start as the Mariners continue to patch their rotation while awaiting the return of their injured starters."
Congrats to Sam.
——————-
The Knights will wear a new set of Nike pinstripe jerseys this season. Please click here for more information on that development.
———————
The Knights have announced our 2017 promotional schedule. It features three  fireworks nights; the Wilson Motors Buyout the Ballpark Night; Cowbell and Cap Nights, a $1,000 Kids Dash for Cash  and many other promotional highlights.
Please click here for complete details. Lots of good stuff.
And remember, 2017 season tickets are now on sale. To check out your many options and to purchase a season-ticket package, please click here.
—————–
Montgomery (AA Southern, Rays) outfielder Cade Gotta (2011) was 2-for-4 with a homer, a double, a walk and two RBIs in an 11-6 loss to Jackson on Thursday to earn Corvallis Knights Minor League Player of the Day honors. He played at San Diego Christian.
Honorable mention goes to:
Lake Elsinore (A California, Padres) second baseman Peter Van Gansen (2013) was 1-for-3 with an RBI in a 2-1 win over Rancho Cucamonga.
————-
Time to update the stats (through Thursday) of our incoming pitchers. We will do the position players on Tuesday.
DOM BAKER: The Corban righty was 2-2, 5.68 in 11 games, with 20 strikeouts in 25.1 innings. His season is over. He is a 10-day signee.
TANNER CANTWELL: The Treasure Valley CC lefty is 3-2, 3.23 in 11 games, with 50 strikeouts in 55.2 innings.
LOUIS CROW: The San Diego righty, a returnee from 2016, is 2-2, 3.88 in 20 games, with two saves and 37 strikeouts in 46.1 innings.
AUSTIN CROWSON: The Lane CC lefty is 4-2, 2.24 in 12 games, with 67 strikeouts in 56.1 innings.
CASON CUNNINGHAM: The Linfield lefty is 5-1, 1.92 in 14 games, with 100 strikeouts in 79.2 innings.
JACOB FRICKE: The Western Oregon lefty, a returnee from 2016, is 0-0, 6.11 in 10 games, with two saves and 11 strikeouts in 17.2 innings.
MILES GLAZIER: The lefty from UC Irvine is 0-0, 6.20 in 18 games, with 12 strikeouts in 20.1 innings.
GRANT GOODMAN: The San Francisco righty, a returnee from 2016, is 4-4, 4.84 in 13 games, with 47 strikeouts in 74.1 innings.
JORDAN HERAK: The Portland lefty is 2-7, 5.75 in 21 games, with 41 strikeouts in 56.1 innings.
TANNER HOWELL: The Dixie State righty, a returnee from 2016, was 2-2, 3.72 in 15 games, with two saves and 19 strikeouts in 19.1 innings.
CHASE KAPLAN: The Kansas lefty, a returnee from 2016, is 3-0, 2.88 in 21 games, with seven strikeouts in 19 innings.
COLE JOHNSON: The Pacific Lutheran lefty was 4-1, 4.82 in 13 games, with one save and 37 strikeouts in 65.1 innings. He season is over.
DILLON LARSEN: The Central Washington lefty is 0-3, 6.38 in 11 games, with a save and 17 strikeouts in 18.1 innings. He is a 10-day signee.
ROSS MASSEY: The Tulane lefty is 0-8, 9.68, with 21 strikeouts in 35.1 innings.
HAZAHEL QUIJADA: The UC Riverside lefty, a returnee from 2016, is 2-5, with a 6.87 ERA in 18 games, with 36 strikeouts in 38 innings.
CONNOR REDMOND: The Cal Poly righty is 0-1, 9.64 in seven games, with three strikeouts in 9.1 innings.
CAMERON RICHMAN: The Portland righty, a returnee from 2016, is 0-0, 8.25 in eight games, with 11 strikeouts in 12 innings.
COLE SPEAR: The UC Irvine righty is 4-4, 5.94 in 15 games, with 27 strikeouts in 53 innings.
TRENTON TOPLIKAR: The UC Riverside righty is 2-3, 6.75 in 15 games, with 22 strikeouts in 26.2 innings.
TREVOR WELLS: The Linn-Benton righty is 0-0, 0.00 in 14 appearances, with 11 saves and 23 strikeouts in 18.1 innings.
———
That is all for today. Have a great weekend, try to make it to the ballpark, as the Beavers host Washington State, and we will see you again on Tuesday.