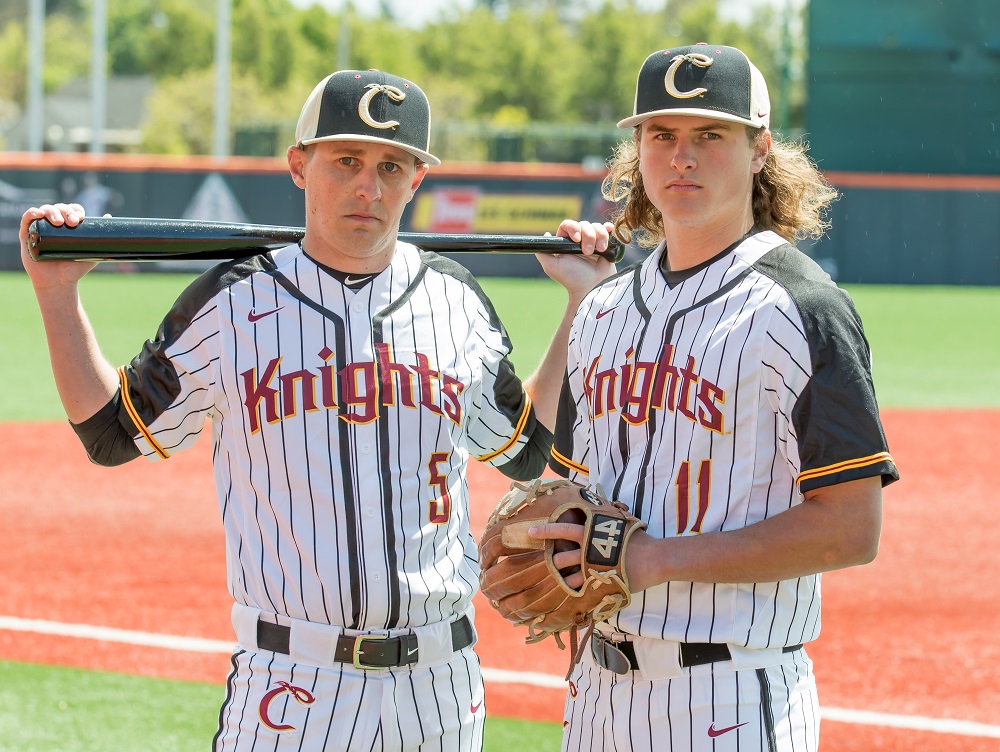 Knights Unveil New Set of Uniforms for 2017 Season
The Corvallis Knights love pinstripes. The hometown team has won all four of its WCL titles at home, in their classic pinstripe uniforms that were introduced in 2004. In a nod to the club's tradition, the Knights are introducing a new set of Nike pinstripe jerseys this season – as modeled by new assistant coach Alex Bailey and incoming pitcher Trevor Wells of Linn-Benton CC (pictured, l-r) – that are sure to be popular with both players and fans.
"Pinstripes are old school, and a traditionalist's favorite," said Knights Baseball Club CEO Dan Segel. "With that said, I love these new uniforms. And so do all the young people we've polled. I keep hearing comments like sick, dope, off-the-hook that lead me to believe these uniforms are definitely modern, cool and well suited for our young players and fans."
"Once again, Scott Lounsbury at Nike has done a fantastic job guiding us here; delivering first-class, great looking uniforms."
The jerseys are Nike's hottest style, the Digital Vapor Pro, and feature vibrant Nike team colors. The Knights will introduce their new uniforms on Opening Night; Wednesday, June 14 at Goss Stadium vs. the Port Angeles Lefties.
Photo credit: Paul Rentz.