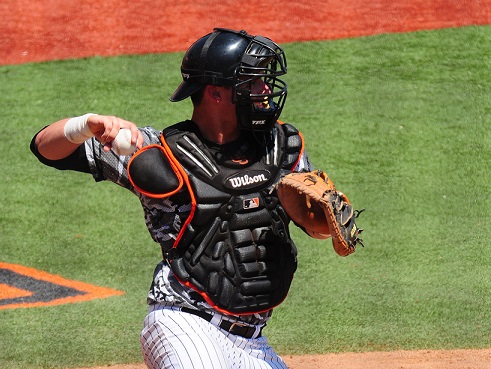 Brooks Hatch Blog: Orioles Designate Andrew Susac for Assignment
Happy Wednesday, everyone, from the world-wide headquarters (WWHQ) of the Corvallis Knights, your 2016-2017 and 2018 West Coast League champions!
————–
The Baltimore Orioles designed alum Andrew Susac (2009, pictured above) for assignment on Jan. 11. The former Oregon State catcher, originally drafted by San Francisco in 2011, has a career .221 batting average in 113 major-league games, with seven homers and 35 RBIs.
Andrew spent last season with Baltimore and with Norfolk in the triple-A International League. Hex hit .256 with six homers and 26 RBIs in 42 games for Norfolk.
When a player's contract is designated for assignment (DFA), he is immediately removed from his club's 40-man roster. Within seven days of the transaction he can either be traded or placed on irrevocable outright waivers.
If he is claimed off said waivers by another club, he is immediately added to that team's 40-man roster, at which point he can be optioned to the minor leagues (if he has options remaining) or assigned to his new team's 25-man roster. If the player clears waivers, he may be sent outright to the minor leagues or released.
Players with more than three years of MLB service time or who have been previously outrighted may reject the outright assignment in favor of free agency.
————–
We have signed UC Riverside freshman pitcher Trevor Bateson for the 2019 season. He is a 6-foot, 180-pound right-hander from Paloma Valley High School in Menifee, Calif. He also played shortstop in high school but projects as a pitcher in college.
Bateson was 6-3, 2.09 for Paloma Valley in 2018, with 64 strikeouts in 53.2 innings. He was a first-team Sunbelt League all-star. He will join sophomore right-hander Abbott Haffar of UCR on the Knights this summer.
Welcome to the Knights, Trevor!
————–
Former Knights' pitcher Jorge Perez (2012-13, 2015) is pitching for the Adelaide Bite in the Australian Baseball League. He is 1-1 with a 3.74 ERA in 16 games, with a save and 21 strikeouts in 21.2 innings. Please click here for more news about the ABL.
————–
More honors for alum Adley Rutschman (2016), a junior catcher at Oregon State.
Adley received the Richard "Dick" W. Case Award, given annually to USA Baseball's top player in honor of the organization's founding Executive Director and CEO. Past collegiate team recipients include major leaguers Ryan Zimmerman (2005), Stephen Strasburg (2008) and Carlos Rodon (2013).
Rutschman, who reported to Team USA days after being named the Most Outstanding Player at the College World Series, batted .355 with five doubles in nine games with the club.
Rutschman hit .408 as a sophomore, the third-best single-season average in school history. He broke OSU's season records for hits (102) and RBIs (83), and the College World Series record for most hits in one year (17).
Congrats to Adley. For more information, please click here.
————–
We are thrilled to announce our 2019 regular-season schedule. Next summer's slate features 32 home dates and gets started at 10 a.m. on Wednesday, May 29, with our eighth annual Science, Engineering & Art Day game at Goss Stadium.
After a nonleague series at the Humboldt Crabs, we open the West Coast League schedule at Walla Walla on June 4. We host the Haysville Hammers at Linn-Benton on June 12 in a non-league game; our WCL home opener is June 14, against the Cowlitz Black Bears.
Like last season, start times for Monday-Saturday games is 6:30 p.m. Sunday games will start at 3 pm. Fireworks games will have special start times, either 7:15 p.m. or 7:05 p.m.
The Knights 2019 home schedule features six Thursday games, six Friday games, five Saturday games, five Sunday games, one Monday game, four Tuesday games and five Wednesday games.
Reserve the best seats in the house for the 2019 season now by emailing [email protected] or by calling (541) 752-5656. Purchase your 2019 season tickets before Dec. 31, 2018 to get 2018 prices.
Next year's new season ticket prices will be announced the first week in January.
The schedule:
MAY: 29, Portland Sea Dogs. 31, at Humboldt Crabs.
JUNE: 1-2, at Humboldt Crabs. 4-6, at Walla Walla. 7-9, at Victoria. 12, Hayesville Hammers (@ LBCC). 14-16, Cowlitz. 18-20, Bellingham. 21, Gerding Construction. 22-24, at Yakima Valley. 25-27, Ridgefield. 28-30, Yakima Valley.
JULY: 1, Hayesville Hammers. 2-3: Portland. 4, at Portland. 5-7, at Ridgefield. 8-10, at Port Angeles. 11, Mid-Valley Southpaws. 12-14, Kelowna. 18, Chaffey Baseball. 19-21, Walla Walla. 22-23, All-Star Game, at Bend. 24, at Portland. 25, Portland. 26, at Portland. 27-29, at Bend. 30-31, Bend.
AUGUST: 1, Bend. 2-4, at Cowlitz. 6-8, at Bellingham. 9-11: Wenatchee.
————–
The Walla Walla Sweets have announced that longtime play-by-play commentator Roy Elia has been hired to be their lead broadcaster and media relations director. Elia, 55, is currently calling Walla Walla High School boys and girls basketball for 1320 AM and 92.9 FM KGDC, a role he has held since the 2016-17 season.
He has been the voice of DeSales High School football since 2016. Please click here for more details, from Our Sports Central.
Bellingham has signed Justin Armbruester, a right-handed pitcher from Pacific Lutheran, and Dusty Stroup, an infielder from Missouri Western, will return to the team in 2019 after helping the 2018 squad to the West Coast League playoffs.
Armbruester was a 2018 WCL All-Star and second team All-WCL selection.
Please click here for more details, from Our Sports Central.
Bellingham has also named Dylan Tyrer as its "Voice of the Bells" for the 2019 season. Tyrer, pronounced like "tire," will provide play-by-play commentary for all 56 games.
Tyrer comes to the Pacific Northwest with four years of collegiate play-by-play experience, and is currently an announcer for Big Ten Network Plus's coverage of Ohio State University baseball, basketball, hockey, volleyball, soccer and wrestling.
Please click here for more details, from Our Sports Central.
————–
That's all for today. Have a great week and we will see you on Jan. 23!