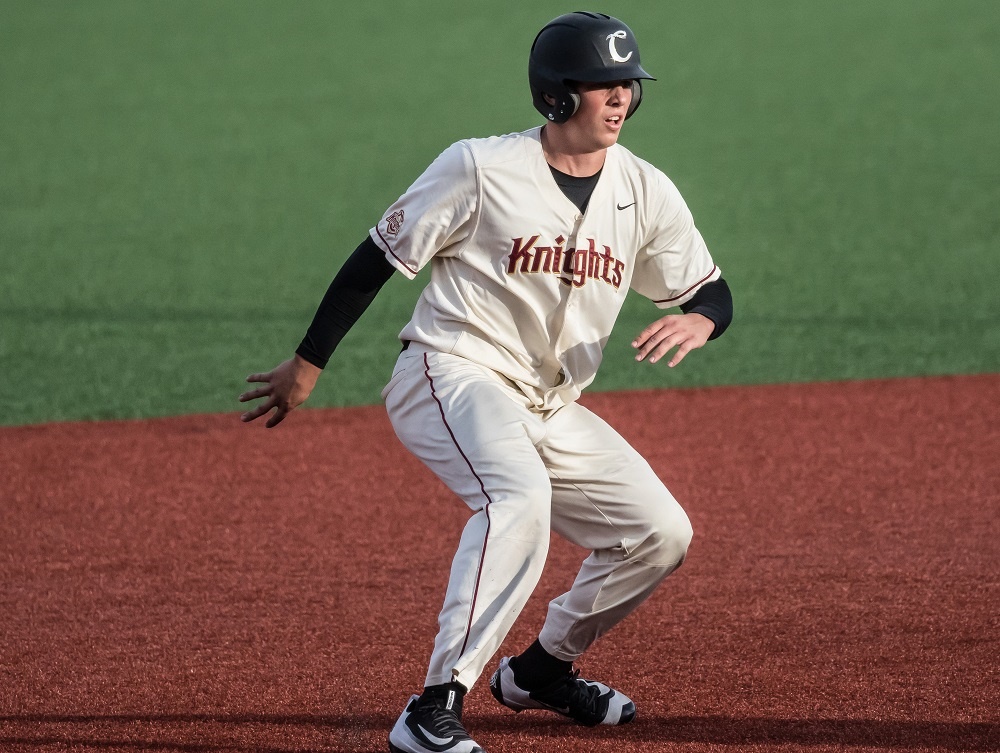 Brooks Hatch Blog: More Preseason Honors for Adley Rutschman
Happy Wednesday, everyone, from the world-wide headquarters (WWHQ) of the Corvallis Knights, your 2016-2017 and 2018 West Coast League champions!
————–
Alum Adley Rutschman (2016, pictured above), now a junior at Oregon State, was named a first-team preseason All-American by Perfect Game USA earlier this week. It's his second honor so far; he was also named a first-team preseason All-American by Collegiate Baseball in December.
Rutschman hit .408 with a school-record 102 hits and 83 RBIs while helping lead the Beavers to the 2018 NCAA championship. He hit nine home runs, had 22 doubles and walked 53 times.
Congrats to Adley, whose dad, Randy Rutschman, is a former Knights' player and coach and a member of our Board of Directors.
Please click here for more details.
————–
We have signed pitcher Tanner Van Lith of Big Bend (Wash.) Community College to a 10-day contract for the 2019 season.
Van Lith is a 6-foot-1, 190-pound freshman right-hander from Cashmere High School in Cashmere, Wash. He redshirted at Big Bend in 2018 because of a thumb injury but did play briefly for the Highline Bears in the Seattle-based Pacific International League. He also played briefly for Kelowna and Bellingham in the West Coast League in 2017.
A left-handed batter, Van Lith was a first-team 1A all-state selection at Cashmere as a senior in 2017. He hit .385 with 15 RBIs as a position player and went 1-1 with a 1.53 ERA as a pitcher for a team that advanced to the semifinals of the state 1A playoffs.
Welcome to the Knights, Tanner!
————–
Former Knights' pitcher Jorge Perez (2012-13, 2015) is pitching for the Adelaide Bite in the Australian Baseball League. He is 1-0 with a 3.48 ERA in 15 games, with a save and 20 strikeouts in 20.2 innings. Please click here for more news about the ABL.
————–
We recently added two full-time employees to our front office and promoted  current director of ticketing & operations Korey Kozaryn to assistant general manager.
Familiar faces are filling two key positions. Former part-time employees Jennifer Beaumont and Derek Buchheit started their new jobs on Jan. 2. Beaumont is our new director of hospitality and will manage the team's food and beverage operations and assist with group sales.
Buchheit is our first box office and facilities manager. He will be responsible for office management and lending ticketing support in addition to his roles as box office manager and facilities manager.
Jennifer and Derek both worked with the Knights last summer. Beaumont assisted with catering for a second season and Buchheit managed the Goss Stadium box office in his first year with the Knights.
For more details, please click here.
————–
We are thrilled to announce our 2019 regular-season schedule. This summer's slate features 32 home dates and gets started at 10 a.m. on Wednesday, May 29, with our eighth annual Science, Engineering & Art Day game at Goss Stadium.
After a nonleague series at the Humboldt Crabs, we open the West Coast League schedule at Walla Walla on June 4. We host the Haysville Hammers at Linn-Benton on June 12 in a non-league game; our WCL home opener is June 14, against the Cowlitz Black Bears.
Like last season, start times for Monday-Saturday games is 6:30 p.m. Sunday games will start at 3 pm. Fireworks games will have special start times, either 7:15 p.m. or 7:05 p.m.
The Knights 2019 home schedule features six Thursday games, six Friday games, five Saturday games, five Sunday games, one Monday game, four Tuesday games and five Wednesday games.
Reserve the best seats in the house for the 2019 season now by emailing [email protected] or by calling (541) 752-5656. Purchase your 2019 season tickets before Dec. 31, 2018 to get 2018 prices.
This  year's new season ticket prices will be announced soon.
The schedule:
MAY: 29, Portland Sea Dogs. 31, at Humboldt Crabs.
JUNE: 1-2, at Humboldt Crabs. 4-6, at Walla Walla. 7-9, at Victoria. 12, Hayesville Hammers (@ LBCC). 14-16, Cowlitz. 18-20, Bellingham. 21, Gerding Construction. 22-24, at Yakima Valley. 25-27, Ridgefield. 28-30, Yakima Valley.
JULY: 1, Hayesville Hammers. 2-3: Portland. 4, at Portland. 5-7, at Ridgefield. 8-10, at Port Angeles. 11, Mid-Valley Southpaws. 12-14, Kelowna. 18, Chaffey Baseball. 19-21, Walla Walla. 22-23, All-Star Game, at Bend. 24, at Portland. 25, Portland. 26, at Portland. 27-29, at Bend. 30-31, Bend.
AUGUST: 1, Bend. 2-4, at Cowlitz. 6-8, at Bellingham. 9-11: Wenatchee.
————–
That's all for today. Have a great week and we will see you on Jan. 16!