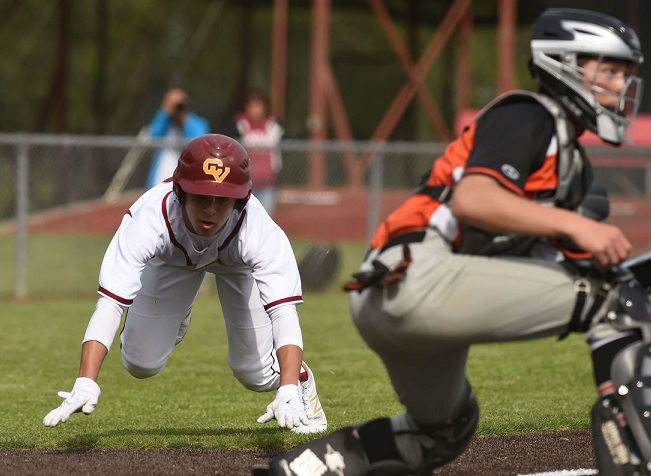 Brooks Hatch Blog: Little, Nousen Sign 10-Day Contracts
Happy Friday, everyone, from the world-wide headquarters (WWHQ) of the Corvallis Knights, your 2016-2017 West Coast League champions!
—————
Willamette University freshman infielder Sean Little (pictured, above) has signed a 10-day contract  for the 2018 season, coach Brooke Knight announced.
He is a 2017 Crescent Valley High School graduate who earned 5A first-team all-state honors as a senior and second-team honors as a junior. The 5-foot-9, 150-pound middle infielder lettered three times in baseball, was a two-time Mid-Willamette Conference all-star, and played in the Daimler Oregon All-Star Series.
He is the fourth player with CV ties to sign with the Knights for the 2018 season. Eastern Kentucky infielder Corey Conklin and future Utah catcher Briley Knight have been added as full-time players; Little and Western Oregon first baseman James Anderson signed 10-day deals.
————–
Oregon Institute of Technology junior pitcher Logan Nousen has signed a 10-day contract for the 2018 season.
He is a 6-foot, 200-pound right-hander from Harrisburg who played at Harrisburg High and Southwest Oregon Community College before transferring to OIT for his final two seasons.
Nousen was 1-2, 5.02 in 25 games in two seasons at SWOCC, with 30 strikeouts in 37.2 innings. He was a PacWest Conference all-star as a senior at HHS; he was 6-5, 3.89 in 14 games as a pitcher, with 61 strikeouts in 59.1 innings, and hit .408 (26-91), with two homers and 28 RBIs.
—————
Our 2018 season tickets are now on sale! You can save $10 when you renew or purchase new tickets by Dec. 31. For more details or to order your tickets online, please click here.
Tickets may also be purchased by calling us at 541-752-5656 or by visiting our office at 4th Street and Jefferson Avenue in downtown Corvallis. See you at the ballpark in 2018!
—————
We are now hiring our 2018 interns. The positions will begin in January and run through August. Available positions include:
Community events and youth programs
Box office operations and ticket sales
Marketing strategy and advertising operations
Promotions, in-game entertainment and social media
Partnership marketing and account management
Digital content and video production
Stadium DJ, videoboard operator and digital content creation
Hospitality and concessions operations
Stadium operations and Kid Zone management
Merchandise operations and sales
Statistician and press box leader
The deadline to apply is today. For more information, please click here.
—————
That's all for today. Have a great weekend, and we will see you on Tuesday.