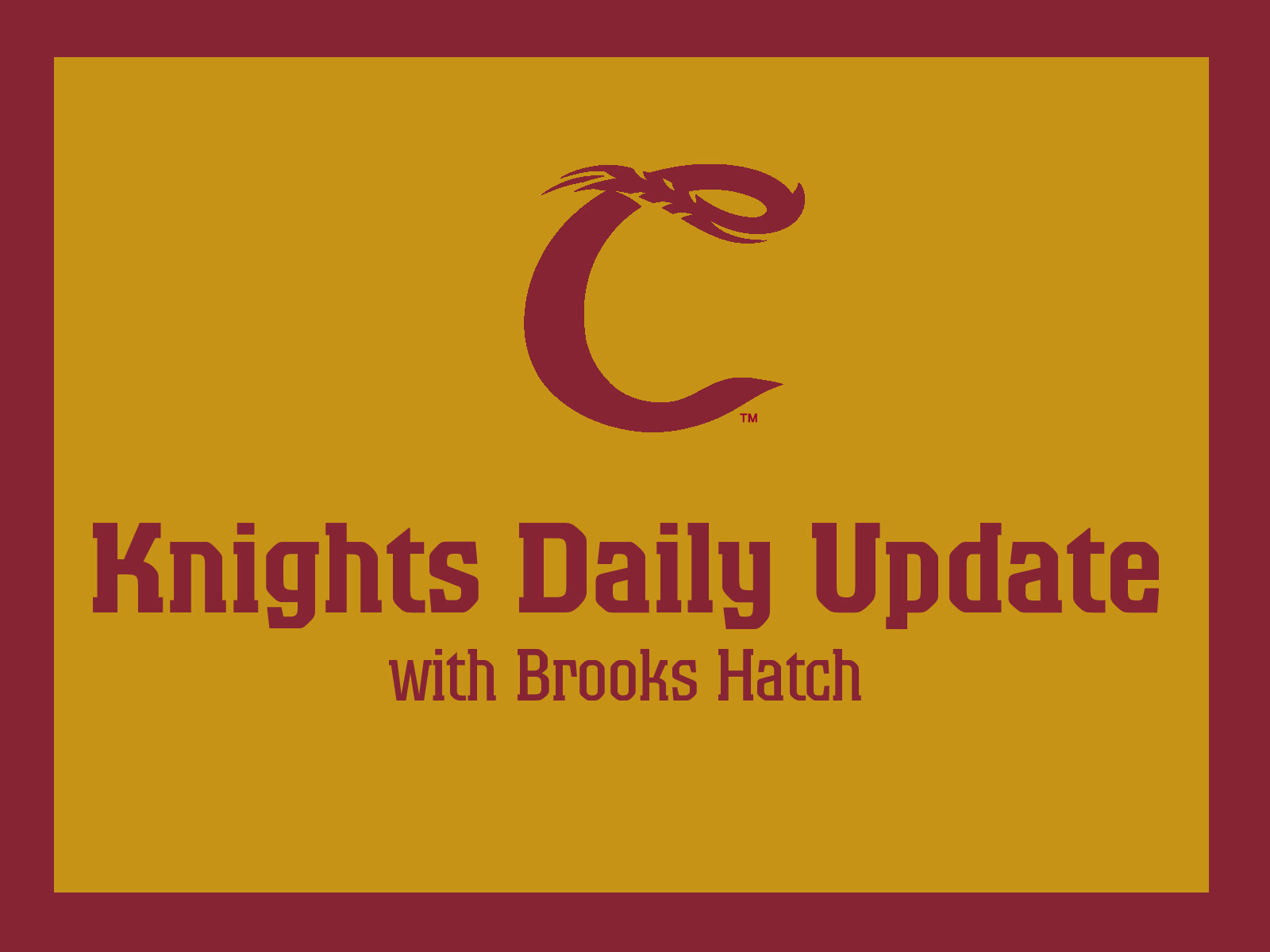 Brooks Hatch Blog: Knights Start Playoffs Tonight at Yakima Valley
Happy Tuesday, everyone, from the world-wide headquarters (WWHQ) of the Corvallis Knights, your 2016 West Coast League champions!
—————
We crushed Wenatchee 12-1 on Monday night in a makeup game at Paul Thomas Sr. Stadium that concluded our regular season. We clinched the outright second-half South Division title with the victory; we also won the first half with an identical 17-10 record, and led the WCL with 34 total victories.
The outcome also determined the North Division's final second-half standings. Victoria won the second-half title in a tiebreaker with Bellingham, and earned a playoff berth. Had Wenatchee won, it would have created a three-way tie with Victoria and Bellingham and the Bells would have advanced.
We now open the best-of-3 South Division playoff series against Yakima Valley at 7:05 tonight at Yakima County Stadium. UC Irvine righty Cole Spear (3-1, 4.66) is our projected starter.
We will host Game 2 on Wednesday and Game 3 (if needed) on Thursday. UC Riverside's Trenton Toplikar (2-0, 5.06) is the scheduled starter on Wednesday; Cal Poly's Connor Redmond (1-2, 3.72) will pitch on Thursday, if necessary. Both games begin at 6:40 p.m.
Please click here for a preview of the playoffs, from Corvallis Gazette-Times sportswriter Stephen Wilson, who has covered us for much of the summer.
The best-of-3 WCL Championship Series starts on Saturday. If we advance to the finals, we will have the home-field advantage and host Game 2 on Monday and Game 3 on Tuesday.
Tickets for Wednesday night's WCL Divisional Series home playoff game set for are now available. The WCL playoffs are powered by Pioneer. For tickets, click here; for more information, click here.
—————
Outfielder Jordan Qsar, a senior-to-be at Pepperdine, had an RBI single in the seventh inning of the 12-1 win at Wenatchee on Monday to break the franchise record for season RBIs with 49. The old mark was 48, set by Kevin Kline of Dixie State in 2014. Qsar also set season records for homers (13) and doubles (21) this summer.
—————
Sunday night's regular-season home finale drew 2,254, raising our season total to 48,190. a decrease of 919 fans from last year's attendance through a corresponding number of home dates. However, it raised our season average to 1,506 for 32 home dates,
We will have at least one more home game, on Wednesday night. We drew a franchise-record 53,803 fans in 35 home dates in 2016.
—————
Aberdeen (A New York-Penn, Orioles) pitcher Cameron Bishop (2015-16) allowed one run on three hits and had five strikeouts in five innings in a 4-3 loss to Tri-City on Monday night to earn Corvallis Knights Minor League Player of the Day honors. He lowered his ERA to 0.77, and got a no-decision. He played at UC Irvine.
Honorable mention goes to:
El Paso (AAA Pacific Coast, Padres) catcher Rocky Gale (2007, 2009) was 1-for-5 with a homer and two RBIs in a 14-9 win over Fresno. Teammate Peter Van Gansen (2013) was 1-for-4 with two runs, a double and a walk.
Birmingham (AA Southern, White Sox) reliever Jace Fry (2011) had one strikeouts in 1.1 scoreless innings and lowered his ERA to 3.26 in a 3-2 loss to Jacksonville.
Montgomery (AA Southern, Rays) first baseman Dalton Kelly (2014) was 2-for-5 with a run and a walk in an 8-7 win over Mobile. Mobile's Greg Mahle (2012) had two strikeouts in 2.1 scoreless innings of relief. They both played at UC Santa Barbara.
Lake County (A Midwest, Indians) catcher Logan Ice (2014) was 3-for-5 with two runs in a 9-5 loss to Western Michigan. He played at Oregon State.
—————
Cal Baptist freshman first baseman John Glenn of the Walla Walla Sweets and Cal Poly incoming freshman pitcher Taylor Dollard of the Yakima Valley Pippins were named the West Coast League Player of the Week and Pitcher of the Week for July 31-Aug. 6.
Glenn wrapped his regular season on Aug. 6 with a 5-hit game and went 18-for-29 for the week with eight runs scored, six doubles, a homer and nine RBIs. He hit .316 on the season, with 11 doubles, two home runs and 29 RBIs.
Dollard tossed eight shutout innings at Cowlitz on Aug. 1. He walked none, struck out 9 and only allowed two hits to earn the 1-0 win. He was 6-0 (tied for the league lead in wins) in seven appearances, with a 1.92 ERA and 24 strikeouts in 32.2 innings.
He is the likely probable starter for the Pippins in tonight's Game 1 of the WCL South Divisional playoff series.
—————
That's all for today. See you back here on Thursday with some news on the 2018 WCL All-Star Game, and at Goss Stadium on Wednesday for our playoff opener.