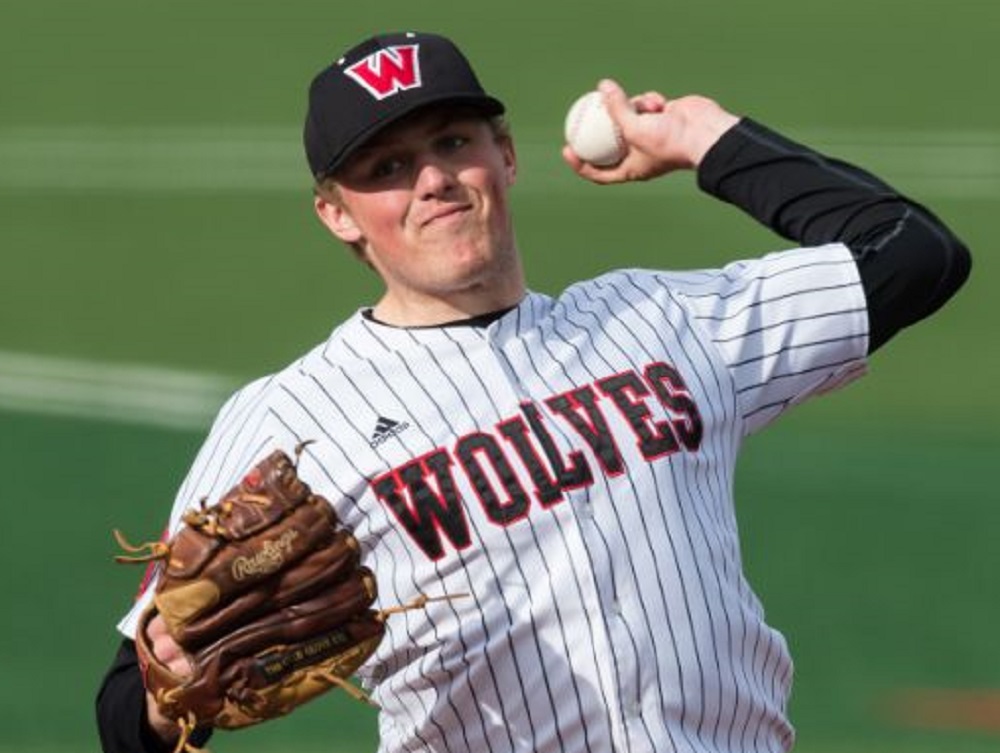 Brooks Hatch Blog: Knights Sign WOU Lefty Kolbe Bales
Happy Tuesday/Wednesday, everyone, from the world-wide headquarters (WWHQ) of the Corvallis Knights, your 2016-2017 and 2018 West Coast League champions!
————–
We have signed Western Oregon University sophomore left-hander Kolbe Bales (pictured, above) for the 2019 season.
A 6-foot, 200-pounder from Dufur High School in Dufur, Ore., Bales earned Great Northwest Athletic Conference Freshman of the Year honors after going 5-0 with a 1.12 ERA in 14 games in 2018, with 16 strikeouts in 24 innings.
His five wins tied him for third in the GNAC. He held opponents scoreless in 11 of 14 appearances, did not allow more than one run in any outing, and compiled an outstanding 0.9518 WHIP.
Bales was a four-time letterwinner in baseball at Dufur and earned Special District 7 Conference Player of the Year, first-team all-state and Oregon 1A/2A Player of the Year honors as a senior. He also played for back-to-back state football champions and was the 2016 1A/2A Player of the Year as a tight end/defensive end.
Welcome to the team, Kolbe!
We will have more signings to announce in the near future.
————–
Time to update the stats of our alums in the Arizona Fall League, for games played through Oct. 29.
Pitcher Stephen Nogosek (2013) of Scottsdale is 0-0, 1.42 in six games, with five strikeouts in 6.1 innings. The Oregon product is in the Mets' organization.
Pitcher Chase Johnson (2011) of Scottsdale is 0-0, 5.79 in five games, with five strikeouts in 4.2 innings. The Cal Poly product is in the Dodgers' organization.
Pitcher Ben (Wetzler) Holmes (2011) of Glendale is 1-1, 3.07 in four games, with 17 strikeouts in 14.2 innings. The Oregon State product is in the Dodgers' organization.
Please click here for more info on the AFL.
————–
The Texas Rangers have released outfielder Nick Torres (2012), a former Cal Poly standout. Torres signed with the Rangers in 2018 after starting the season with Kansas City in the independent American Association following his release by San Diego.
Torres hit .195 (23-118) in 35 games at Round Rock in the triple-A Pacific Coast League in 2018. He is a .280 hitter in 456 career minor-league games, with 31 homers and 222 RBIs.
He was originally selected by San Diego in the fourth round of the 2014 draft. He reached triple-A El Paso with the Padres in 2016 but was sent back to double-A for the 2017 season, then released.
————–
Our Aug. 16 championship-night crowd of 1,286 upped the 2018 season's final total aattendance to 48,622 in 33 events, an average of 1,473 per opening.
We will welcome our 500,000th fan at some point next season. The Knights have drawn 467,789 fans since moving to Corvallis for the 2007 season.
————–
Walla Walla general manager J.C. Biagi announced on Oct. 25 that manager Frank Mutz will return to skipper the club in 2019. Please click here for more on that story.
————–
That's all for today. Have a great week and we will see you on Nov. 6.