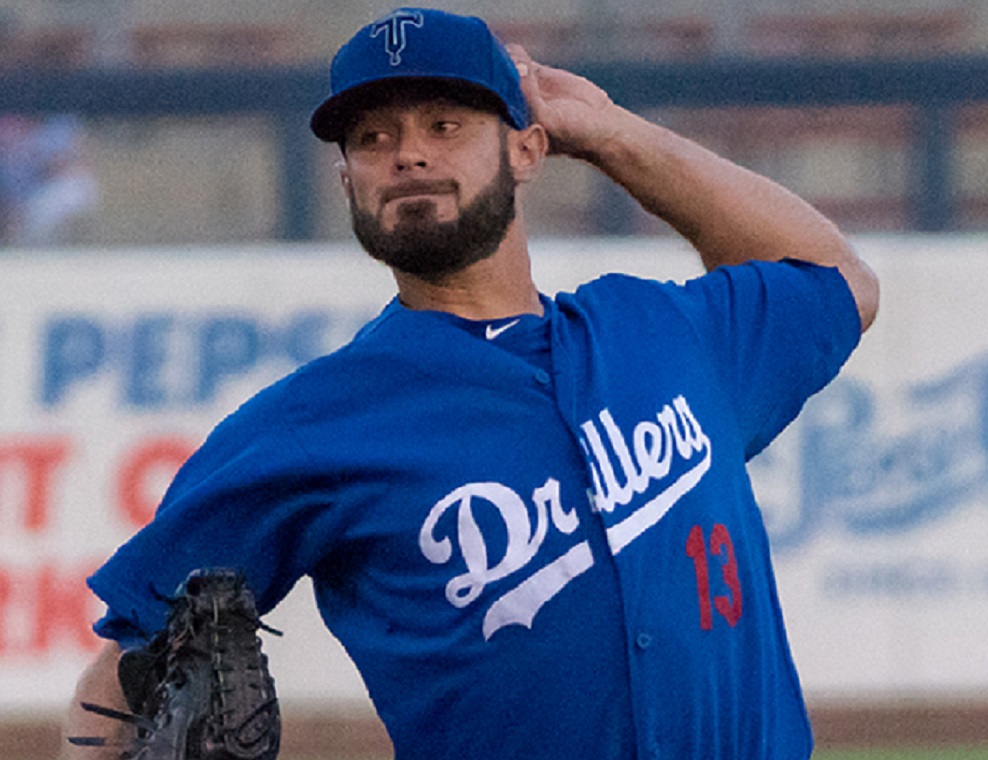 Brooks Hatch Blog: Alum Ben Holmes Earns AFL Honors
Happy Tuesday/Wednesday, everyone, from the world-wide headquarters (WWHQ) of the Corvallis Knights, your 2016-2017 and 2018 West Coast League champions!
————–
Alum Ben (Wetzler) Holmes (2011, pictured above pitching for Tulsa in 2018), a lefty in the Los Angeles Dodgers' system who played at Oregon State, has been named the Arizona Fall League Pitcher of the Week for Oct. 28-Nov. 4.
In Holmes' lone outing, he pitched five innings of one-hit, no-run baseball and fanned six in the process. The outing, which was his fifth start this Fall league, brought his ERA down to 2.29.
He is currently tied for the league lead in strikeouts (23) and is fourth in innings pitched (19.2). Please click here for more details.
Congrats to Ben!
————–
We have pretty much finalized our 2019 schedule! A few nonleague opponents still must be confirmed, but the dates for the projected 32-game home slate are good.
We start the season at 10 a.m. May 29 with our eighth annual Science, Engineering & Art Day game at Goss Stadium. We open the West Coast League season at Walla Walla on June 4 and begin the WCL home season on June 14 against the Cowlitz Black Bears.
Please click here for the entire WCL schedule. We'll release our entire schedule in the very near future.
Like last season, start times for Monday-Saturday games will be 6:30 p.m. Sunday games will start at 3 p.m. Fireworks games will have special start times, either 7:05 p.m. or 7:05 p.m.
Our 2019 home schedule features six Thursday games, six Friday games, five Saturday games, five Sunday games, one Monday game, four Tuesday games and five Wednesday games.
You can reserve the best seats in the house for the 2019 season now by emailing [email protected] or by calling (541) 752-5656. If you purchase your 2019 season tickets before Dec. 31, 2018, you will pay 2018 prices; next year's new season ticket prices will be announced the first week in January.
See you at Goss!
————–
Utility Briley Knight and pitcher Trevor Wells of the University of Utah will return to the Corvallis Knights for the 2019 season.
Knight and Wells are two of five new signees for the Knights, the three-time West Coast League defending champion. Also signing were Utah pitcher Zachary McCleve, Gonzaga catcher Stephen Lund and future Zag pitcher William Kempner.
Knight is a 5-foot-9, 180-pound freshman who hit .212 (33-156) for the Knights in 2018, with 18 RBIs and 15 stolen bases. He was the Oregon 5A Player of the Year at Crescent Valley High School in 2018, the Mid-Willamette Conference Player of the Year and all-state in 2017 and 2018.
Wells is a junior right-hander from West Linn, Ore., who transferred from Linn-Benton Community College, where he was a first-team NWAC South Region all-star in 2017. He was a combined 4-2 with two saves for the Knights in 2017 and 2018, with 33 strikeouts in 25.2 innings.
McCleve is a 6-4, 190-pound righty from Cyprus HS in West Valley City, Utah. He was 6-2, 2.70 in 11 games for Cyprus in 2018, with 69 strikeouts in 57 innings.
Lund is a 6-foot, 195-pounder from Verona High School in Verona, Wisc. He was an all-league selection, played club ball for GRB Academy, and earned honorable mention Perfect Game All-American honors. He played nine games for the Pierre Trappers in the Expedition League in 2018 and hit .513 with six doubles and a homer in 39 at-bats.
"Stephen is a premier defensive catcher who comes from one of the top club teams in the Midwest," GU coach Mark Machtolf said. "We think he has a chance to push for playing time early in his career."
Kempner is a 6-foot, 210-pound righty from Valley Christian HS in San Jose. He was 3-0, 2.07 in 11 games in 2018, with a save and 15 strikeouts in 20.1 innings.
Welcome to the team, guys!
————–
Time to update the stats of our three alums in the Arizona Fall League, for games through Nov. 5.
Pitcher Stephen Nogosek (2013) of Scottsdale is 0-0, 3.68 in seven games, with seven strikeouts in 7.1 innings. The Oregon product is in the Mets' organization.
Pitcher Chase Johnson (2011) of Scottsdale is 0-0, 4.76 in six games, with five strikeouts in 6.2 innings. The Cal Poly product is in the Dodgers' organization.
Pitcher Ben (Wetzler) Holmes (2011) of Glendale is 1-1, 2.29 in five games, with 23 strikeouts in 20.1 innings. The Oregon State product is in the Dodgers' organization.
Please click here for more info on the AFL.
————–
Our Aug. 16 championship-night crowd of 1,286 upped the season's final total to 48,622 in 33 events, an average of 1,473 per opening.
We will welcome our 500,000th fan at some point next season. The Knights have drawn 467,789 fans since moving to Corvallis for the 2007 season.
————–
That's all for today. Have a great week and we will see you on Nov. 13.