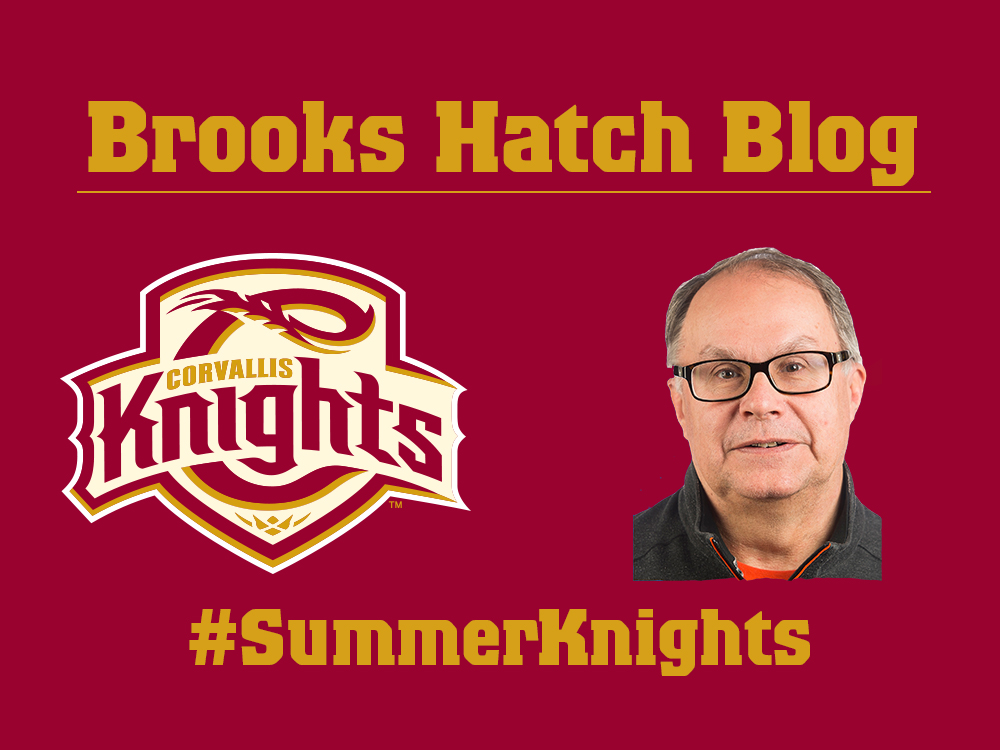 Brooks Hatch Blog: Knights Announce Initial Signings for 2019
Happy Wednesday, everyone, from the world-wide headquarters (WWHQ) of the Corvallis Knights, your 2016-2017 and 2018 West Coast League champions!
————–
We have announced our first signings for the 2019 season. The newest Knights are future Cal Poly shortstop Brooks Lee and San Francisco sophomore outfielder Nick Yovetich.
Lee is a senior at San Luis Obispo High School, and the son of Cal Poly head coach Larry Lee. A 6-foot-1, 180-pound switch-hitter, he is rated as the No. 21 high school prospect in the country by Baseball America and was a third-team Underclass Perfect Game All-American.
Lee hit .462 (48-104) as a junior in 2018, with nine doubles, three triples, three homers and 35 RBIs. He is hitting .450 (90-200) in 61 career games, with 15 doubles, four triples, four homers and 53 RBIs.
Yovetich is a 6-4, 215-pounder from Big Sky High School in Missoula, Mont. He hit .241 (20-83) in 44 games as a freshman in 2018, with three triples, two homers, eight RBIs and five stolen bases.
Yovetich was a four-year letterman at Big Sky HS and earned all-state honors as a senior and junior. He was the MVP of the 2017 Montana state high school tournament and his Missoula Mavericks' team won the 2017 American Legion state championship.
Welcome to the team, guys!
We will have more signings to announce in the near future.
————–
Time to update the stats of our alums in the Arizona Fall League.
Pitcher Stephen Nogosek (2013) of Scottsdale is 0-0, 0.00 in four games, with four strikeouts in four innings. The Oregon product is in the Mets' organization.
Pitcher Chase Johnson (2011) of Scottsdale is 0-0, 6.75 in four games, with five strikeouts in four innings. The Cal Poly product is in the Dodgers' organization.
Pitcher Ben (Wetzler) Holmes (2011) of Glendale is 1-1, 2.45 in three games, with 13 strikeouts in 11 innings. The Oregon State product is in the Dodgers' organization.
Please click here for more info on the AFL.
————–
Our Aug. 16 championship-night crowd of 1,286 upped the season's final total to 48,622 in 33 events, an average of 1,473 per opening.
We will welcome our 500,000th fan at some point next season. The Knights have drawn 467,789 fans since moving to Corvallis for the 2007 season.
————–
That's all for today. Have a great week and we will see you on Oct. 31.