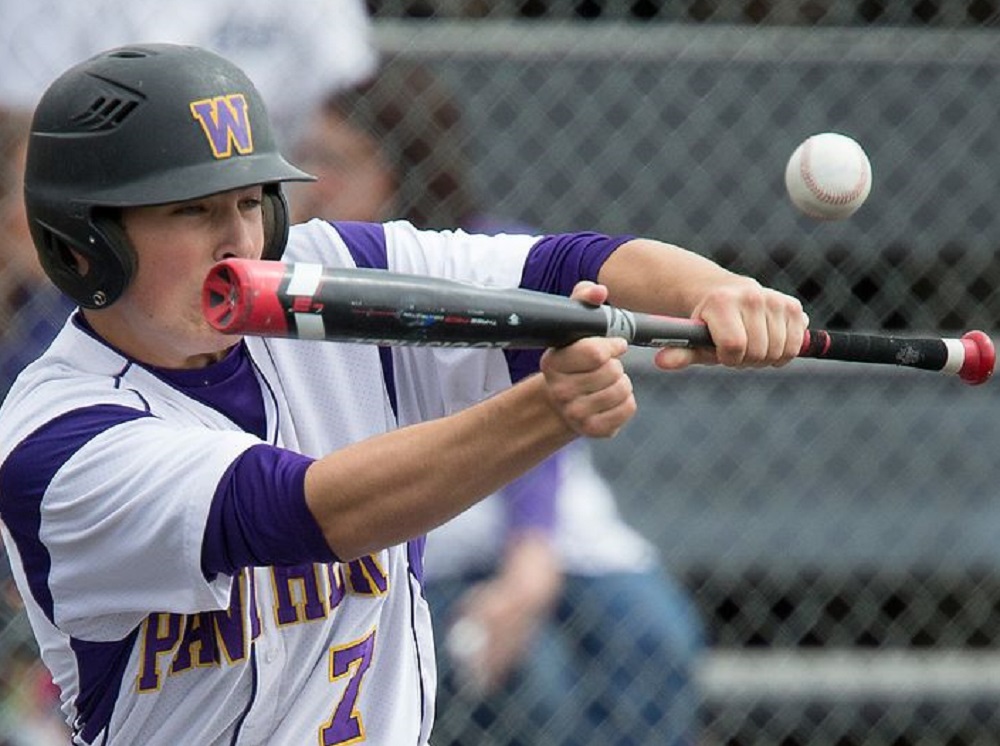 Brooks Hatch Blog: Knights Sign Wenatchee Valley Infielder Ben McKay
Happy Tuesday, everyone, from the world-wide headquarters (WWHQ) of the Corvallis Knights, your 2016-2017 West Coast League champions!
————–
The Knights have signed infielder Ben McKay (pictured, above), a 5-foot-11, 190-pound sophomore from Wenatchee Valley College in Wenatchee, Wash., his hometown. He will join the team in Victoria.
McKay hit .328 (64-195) in 46 games for WVC this spring, with 13 doubles, nine triples, two homers, 35 RBIs and 12 steals in 13 attempts. He was an Eastern Region all-star. He played at Wenatchee High School.
He hit .059 (1-17) in six games with Bellingham earlier this summer as a 10-day signee.
Welcome to the team, Ben.
————–
Outfielder Cody Hawken took second to Ron Brown of Port Angeles at the West Coast League All-Star Game Saltwater Splashdown Home Run Derby at Port Angeles on Monday night. It was held at the Hollywood Beach Pier in downtown Port Angeles.
Brown won by going 5-for-5 in the derby equivalent of overtime after they tied following two rounds. Hawken went 4-for-5.
For more information on the Home Run Derby, click here. For more details on the All-Star Game, please click here.
————–
Six Knights will play for the South Division team for the 2018 West Coast League All-Star Game. The 10th annual midsummer classic is scheduled for 6:35 p.m. on Tuesday at Civic Field in Port Angeles, Wash. The Port Angeles Lefties are the host team.
The all-star Knights are second baseman Chad Stevens  and outfielder Cody Hawken (Portland); center fielder Chandler Anderson (Utah); catcher Cole Hamilton (Linn-Benton CC), and right-handed pitchers Landen Bourassa of San Francisco and Eli Morse of Portland, a late injury replacement for Daniel Slominski of the University of San Francisco.
Knights' head coach Brooke Knight and assistants Ed Knaggs, Kellen Camus and Youngjin Yoon will coach the South team, comprised of players from Corvallis, Bend, Walla Walla, Cowlitz and Portland. The North Division team features players from Yakima Valley, Bellingham, Wenatchee, Victoria, Port Angeles and Kelowna.
Bourassa (4-1, 2.58) is the scheduled starter for the South Division. He and five others are tied for the WCL lead in victories. For more on that development, click here.
————–
After the All-Star Game, we hit the road for three games at Victoria on Saturday, Sunday and Monday. Our next home games are July 24-26 vs. Kelowna, and July 27 vs. the Haysville Hammers.
We have some great promotions scheduled for that four-game homestand.
The July 24 game vs. Kelowna is the 106.3 KLOO-FM Battle of the Interns Night, presented by Snap Fitness. It's also a 2Towns Tuesday, with special discounts on hard cider and $2 tacos. Game time is 6:30 p.m.
The July 25 game vs. Kelowna is Christmas in July, presented by the UPS Store. Wear your favorite ugly sweater, and join Santa at the ballpark. Stay after the game for a holiday-themed movie. It's also a Wine Wednesday, with special discounts on wine, $2 peanuts and $2 general admission tickets for seniors. Game time is 6:30 p.m.
The July 26 game vs. Kelowna is Portland Trail Blazers Night, presented by Washington Park Advisors. It's also a Block 15 Thursday, with special discounts on craft beer and $2 nachos. Game time is 6:30 p.m.
The July 27 nonleague game vs, Haysville is Alyrica Internet Cap Night. The first 750 fans will receive a free Knights cap. It's also a Fred Meyer Family Friday and Reading Club Night No. 3. Game time is 6:30 p.m.
Sunday's crowd of 1,850 for the series finale against Port Angeles raised the season attendance to 31,036 in 21 dates, an average of 1,478 per opening.
See you at Goss!
————–
Alum Adley Rutschman (2016) of Oregon State hit .321 (9-28) in eight games with Team USA. The team concluded its season on July 13 with a 2-0 victory over Cuba in Havana at the seventh annual International Friendship Series.
————–
Montgomery (AA Southern, Rays) outfielder Dalton Kelly was 2-for-4 with two RBIs, two runs and a triple in an 11-7 win over Chattanooga on Monday to earn Corvallis Knights Minor League Player of the Day honors. He played at UC Santa Barbara.
Honorable mention goes to:
Norfolk (AAA International, Orioles) catcher Andrew Susac (2009) was 2-for-3 in an 8-1 loss to Buffalo. He played at Oregon State.
San Antonio (AA Texas, Padres) second baseman Peter Van Gansen (2013) was 2-for-4 with a run and a double in a 9-3 win over Midland. He played at Cal Poly.
Wisconsin (A Midwest, Brewers) first baseman KJ Harrison was 2-for-4 with a double and an RBI in a 9-2 loss to South Bend. Former OSU teammate Christian Donahue (2015) was 1-for-4 with an RBI for South Bend (Cubs).
Salem (A Northwest, Giants) pitcher Trenton Toplikar (2017) allowed one run in three innings and had two strikeouts in a 6-5 loss to Eugene. He played at UC Irvine.
————–
That's all for today. Have a great week, and we will see you back here on Friday.