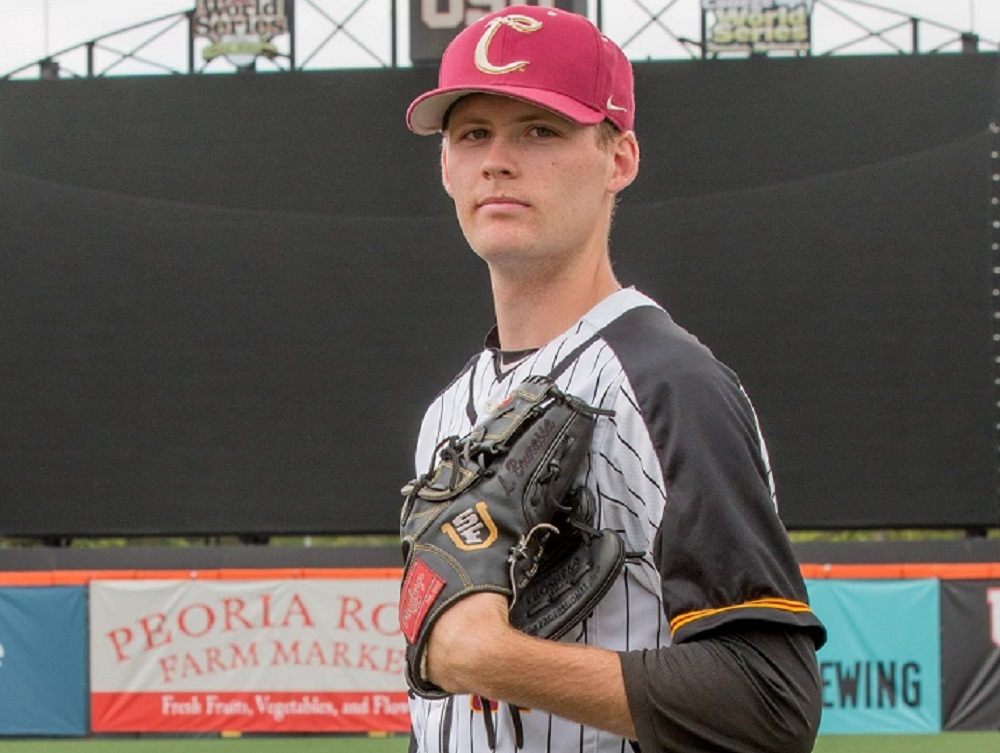 Brooks Hatch Blog: Five Knights on South Division All-Star Team
Happy Friday, everyone, from the world-wide headquarters (WWHQ) of the Corvallis Knights, your 2016-2017 West Coast League champions!
————–
Five Knights were named to the South Division team for the 2018 West Coast League All-Star Game, commissioner Rob Neyer announced Tuesday.
The 10th annual midsummer classic is scheduled for 6:35 p.m. on Tuesday at Civic Field in Port Angeles, Wash. The Port Angeles Lefties are the host team.
The all-star Knights are second baseman Chad Stevens (Portland); center fielder Chandler Anderson (Utah); catcher Cole Hamilton (Linn-Benton CC), and right-handed pitchers Landen Bourassa (pictured, above) and Daniel Slominski of the University of San Francisco.
Knights' head coach Brooke Knight and assistants Ed Knaggs, Kellen Camus and Youngjin Yoon will coach the South team, comprised of players from Corvallis, Bend, Walla Walla, Cowlitz and Portland. The North Division team features players from Yakima Valley, Bellingham, Wenatchee, Victoria, Port Angeles and Kelowna.
The Saltwater Splashdown Home Run Derby, held in conjunction with the All-Star Game, is scheduled for 6:35 p.m. Monday at the Hollywood Beach Pier in downtown Port Angeles. Each team's participant will be announced later this week.
For complete rosters and more information on the All-Star Game, please click here.
————–
The Chicago White Sox have promoted Knights' alum Nick Madrigal (2015) to Kannapolis (N.C.) of the long-A South Atlantic League after a brief stay in the rookie-level Arizona Rookie League.
The San Francisco Giants have promoted pitcher Ryan Walker (2015) to San Jose of the California League and pitcher Jake Wong (2016) to Salem-Keizer of the Northwest League.
Both right-handers, selected in this year's MLB draft, were in the Arizona Rookie League. Walker played at Washington State; Wong played at Grand Canyon.
————–
We have some nice promotions in our upcoming weekend series against Port Angeles.
Tonight is Barker Uerlings Insurance Star Wars Night, presented by Les Schwab & 106.3 KLOO-FM. Take advantage of photo opportunities with real Star Wars characters. And, don't miss Tyler's Amazing Balancing Act as seen on America's Got Talent, Ripley's Believe it or Not and ESPN. It's also a Fred Meyer Family Friday; game time is 6:30 p.m.
Saturday is a $1,000 Kids Dash for Cash Night presented by State Farm Insurance. All snow cones are $2. Game time is 6:30 p.m.
Sunday is Papa's Pizza Mascot Night presented by Jiffy Lube/Reading Club Night No. 2. The first 150 fans through the main gate get a free slice of pizza as we celebrate Mack the Knight's birthday! It's also a Kids Zone Sunday; all Junior Knights Club members are admitted free of charge. Game time is 3 p.m.
Our total attendance through 18 home dates is 26,161, an average of 1,453 per opening. Thanks to the best fans in the WCL!
See you at Goss!
————–
Alum Adley Rutschman (2016) of Oregon State is hitting .360 (9-25) in seven games with Team USA. The team's game against Cuba in Havana in the seventh annual International Friendship Series was rained out on Thursday; the teams play again on Friday and Saturday.
————–
Montgomery (AA Southern, Rays) outfielder Dalton Kelly was 2-for-5 with two doubles and an RBI in a 7-6 loss to Chattanooga on Thursday to earn Corvallis Knights Minor League Player of the Day honors. He played at UC Santa Barbara.
Honorable mention goes to:
Springfield (AA Texas, Cardinals) outfielder Blake Drake (2013) was 1-for-3 with two runs and a walk in a 6-5 loss to Arkansas. He played at Concordia.
————–
That's all for today. Have a great weekend, see you at Goss Stadium on Friday through Sunday for the Port Angeles series, and back here on Tuesday.