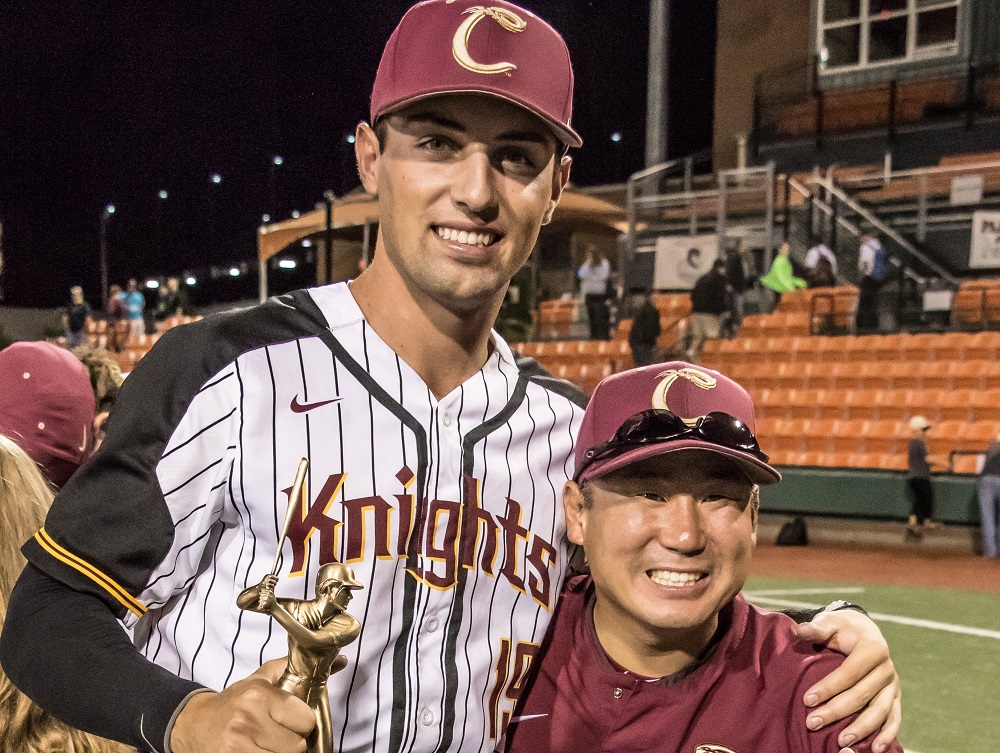 Alum Jordan Qsar Earns Appalachian League Player of the Week Honors
Happy Tuesday, everyone, from the world-wide headquarters (WWHQ) of the Corvallis Knights, your 2016-2017 West Coast League champions!
————–
Outfielder Jordan Qsar (pictured, above)of the Princeton Rays, our 2017 MVP, was named the Appalachian League Players of the Week for July 2-8 by Minor League Baseball. He posted a .407/.515/.889 slash line in six games, going 11-for-27 with two doubles, a triple, three home runs, 10 RBIs and eight runs scored.
Jordan took an 11-game hitting streak into Monday night's game, which he sat out. He has recorded a hit in all but two games in which he has played this season and is hitting .371 (23-62) with four doubles, a triple, four homers and 16 RBIs.
Princeton is Tampa Bay's affiliate in the Appalachian League. They selected Qsar, 22, in the 25th round of the 2018 draft. Please click here for more details. Congrats, Jordan!
————–
Knights' alum Mitch Haniger (2010), the right fielder for the Seattle Mariners, was selected to the American League All-Star team as a reserve on Sunday. The Midsummer Classic is scheduled for 4:30 p.m. PDT on July 17 at Nationals Park in Washington, D.C. It will be televised by FOX.
A former star at Cal Poly who was the 2012 Big West Conference Player of the Year, Haniger was hitting .273 (88-322) with 17 homers, 62 RBIs and 44 runs scored through Sunday's games.
Mitch was a first-team West Coast League all-star and was ranked as the WCL's No. 4 pro prospect by Perfect Game and the No. 5 pro prospect by Baseball America following the 2010 season, when he hit .311 (46-148) in 42 total games, with four homers, 23 RBIs and 11 stolen bases.
Originally drafted by Milwaukee in supplemental first round of the 2012 draft as the 38th overall pick, he was traded with pitcher Anthony Banda to Arizona for outfielder Gerardo Parra on July 31, 2014. He played for Arizona in 2016 and then was traded with second baseman Jean Segura and pitcher Zac Curtis to Seattle for pitcher Taijuan Walker and shortstop Ketel Marte on Nov. 23, 2016.
Please click here for more from TV station KSBY in San Luis Obispo, the home of Cal Poly.
Congrats to Mitch!
————–
We have some nice promotions in our upcoming weekend series against Port Angeles.
Friday is Barker Uerlings Insurance Star Wars Night, presented by Les Schwab & 106.3 KLOO-FM. Take advantage of photo opportunities with real Star Wars characters. And, don't miss Tyler's Amazing Balancing Act as seen on America's Got Talent, Ripley's Believe it or Not and ESPN. It's also a Fred Meyer Family Friday; game time is 6:30 p.m.
Saturday is a $1,000 Kids Dash for Cash Night presented by State Farm Insurance. All snow cones are $2. Game time is 6:30 p.m.
Sunday is Papa's Pizza Mascot Night presented by Jiffy Lube/Reading Club Night No. 2. The first 150 fans through the main gate get a free slice of pizza as we celebrate Mack the Knight's birthday! It's also a Kids Zone Sunday; all Junior Knights Club members are admitted free of charge. Game time is 3 p.m.
Monday night's crowd of 893 included WCL commissioner Rob Neer. It raised the season attendance to 26,161 in 18 dates, an average of 1,453 per opening. Thanks to the best fans in the WCL!
See you at Goss!
————–
Alum Cade Gotta (2011) has signed with Monclova in the Mexican League. The Steelers play at the Estadio de Beisbol Monclova, which has a capacity of 11,000 people. Here's a link to the team's website.
Cade was in the Miami organization, playing for Jacksonville in the double-A Southern League when his new opportunity arose. He originally signed with Tampa Bay and reached triple-A with Durham in 2017.
The Royals have moved catcher Nate Esposito (2012) back to Wilmington of the high-A Carolina League. He started the season with the NW Arkansas Naturals in the double-A Southern League.
————–
Vermont (A New York-Penn, A's) closer Slater Lee (2015) got the final out for his first save in a 10-9 win over Connecticut on Monday to earn Corvallis Knights Minor League Player of the Day honors. He played at Cal Poly.
Honorable mention goes to:
Lake County (A Midwest, Indians) reliever Dakody Clemmer (2015) got the final out for his first save in a 6-3 win over Williamsport. He played at Central Arizona CC.
————–
WCL alums Andrew Vaughn of Cal, a former Victoria HarbourCat, and Cadyn Grenier of Oregon State, a 2015 Bend Elk, both earned major college baseball awards for their 2018 college performances. Please click here for more information.
————–
The WCL's Moss Adams Player of the Week and Pitcher of the Week for July 2-8 are Virginia Tech junior-to-be outfielder Dalton Harum of the Port Angeles Lefties and VCU senior-to-be pitcher Curtis Bafus of the Wenatchee AppleSox.
Harum, who was third in the league in hitting with a .333 batting average entering Monday night's games, went 11-for-21 (.524) with six runs, three homers and seven  RBIs. Bafus tossed 13 innings over two starts, allowed one earned run while posting a 1-1 mark with 11 strikeouts.
For more details, please click here.
————–
That's all for today. Have a great week, see you back here on Friday, and at Goss Stadium on Friday through Sunday for the Port Angeles series.