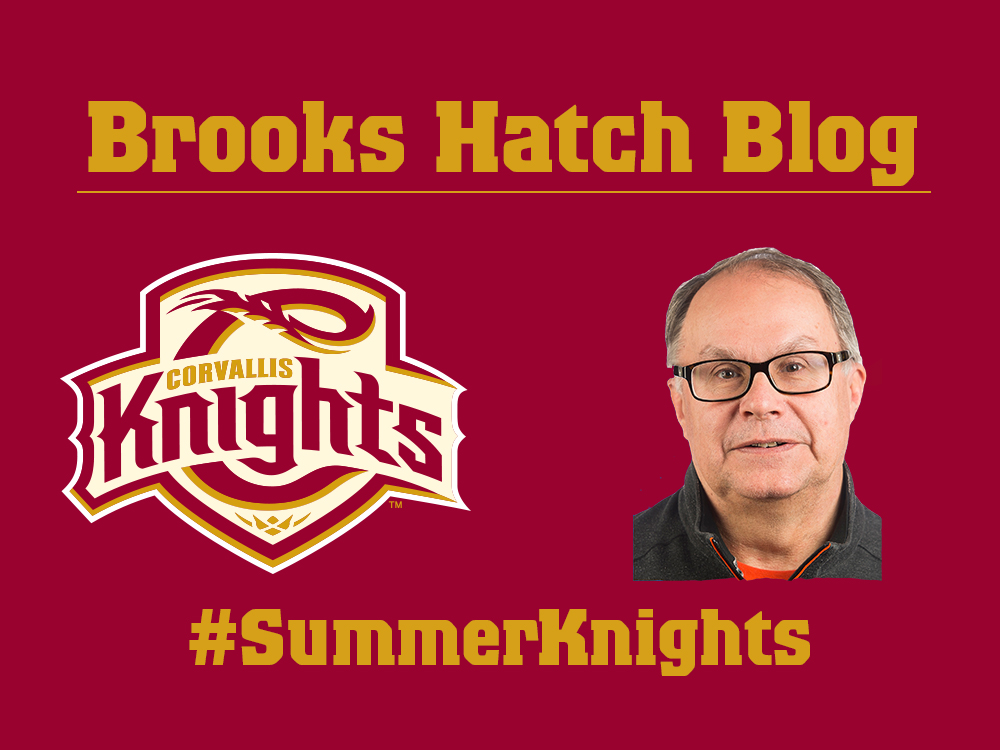 Brooks Hatch Blog: Stanford's Beck Earns Fourth All-American Award
Happy Friday, everyone, from the world-wide headquarters (WWHQ) of the Corvallis Knights, your 2016-2017 West Coast League champions!
————–
Corvallis pitcher Brendan Beck was named a second-team Freshman All-American by D1baseball.com on Thursday. It's the fourth such selection for the Cardinal right-hander, as he earned first-team honors from Collegiate Baseball, the NCBWA and Perfect Game. He was earned all-Pac-12 honorable mention honors.
Brendan was 8-0 with a 2.43 ERA in 17 games, with 38 strikeouts in 66.2 innings. Opponents hit just .225 against Beck, who is scheduled to make his first start for the Knights on Sunday afternoon against Victoria.
————–
We have some nice promotions in our upcoming homestand against Victoria.
Saturday is Heresco Chiropractic Baseball Giveaway Night. The first 500 fans receive a free baseball. All snow-cones are $2. Game time is 6:30 p.m.
Sunday is Mammoth Home Run Derby Day. Join us for our first fan home run derby. It's also a Kids Zone Sunday; all Junior Knights Club members are admitted free of charge. Game time is 3 p.m.
Monday is PopSocket Night. The first 250 fans get a Knights PopSocket. Game time is 6:30 p.m.
We've drawn 22,868 fans this season in 15 dates, an average of 1,525 per opening. Thanks to the best fans in the WCL!
See you at Goss!
————–
Alum Steven Kwan (2015), selected by Cleveland in the fifth round of the 2018 MLB draft, has signed. He has yet to be assigned to an affiliate team; the Indians' short-A club is the Mahoning Valley (Ohio) Scrappers in the New York-Penn League.
————–
Lynchburg (A Carolina, Indians) catcher Logan Ice (2014) homered, doubled, scored twice and drove in two runs in a 7-6 loss to Wilmington on Thursday to earn Corvallis Knights Minor League Player of the Day honors. He played at Oregon State.
Honorable mention goes to:
Albuquerque (AAA Pacific Coast, Rockies) closer DJ Johnson (2008-09) pitched a scoreless ninth inning to earn his 12th save in a 2-0 win over Tacoma. He played at Mt. Hood CC.
Reno (AAA Pacific Coast, Diamondbacks) closer Jimmie Sherfy (2011) pitched a scoreless inning, lowered his ERA to 1.90 and got the win in a 10-9 victory over Sacramento. He played at Oregon.
Springfield (AA Cardinals, Texas) outfielder Blake Drake (2013) was 1-for-3 with two runs, a double and a walk in a 4-2 loss to Frisco. He played at Concordia.
Princeton (R Appalachian, Rays) outfielder Jordan Qsar (2017) was 3-for-4 with a run, a double, an RBI and two walks in an 11-10 win over Burlington, raising his average to .389. He played at Pepperdine.
————–
That's all for today. Have a great weekend, see you at Goss for the Victoria series, and back here on Tuesday.