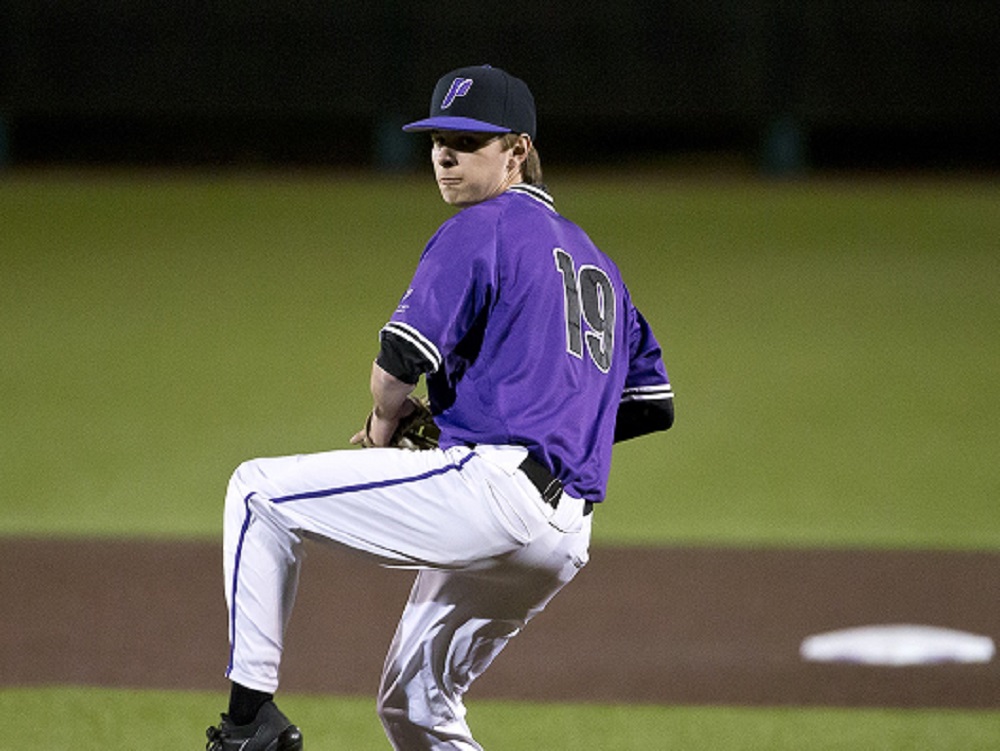 Brooks Hatch Blog: Knights Sign Portland Right-hander Connor Knutson
Happy Friday, everyone, from the world-wide headquarters (WWHQ) of the Corvallis Knights, your 2016-2017 West Coast League champions! Our May 30 opener with the Portland Sea Dogs is just 31 days away, so get ready for another great summer of Knights' baseball!
————–
We have signed pitcher Connor Knutson (pictured, above) of the University of Portland for the 2018 season, coach Brooke Knight announced Friday.
He is a 6-foot, 165-pound sophomore right-hander from Skyline High School in Sammamish, Wash. He is the nephew of former University of Washington head coach Ken Knutson, who now works for the Cleveland Indians.
Knutson is 3-2, 3.41 in 18 games this season, with five saves and 36 strikeouts in 29 innings. He will be the fourth member of the 2018 Pilots to play for the Knights this summer, joining pitcher Eli Morse, outfielder Beau Brundage and shortstop Chad Stevens, a returnee from the 2017 WCL championship team.
Knutson was a three-year letterman at Skyline and helped lead the team to the Washington 4A State Championship as a senior, when he earned first-team 4A all-state, first-team 4A all-KingCo and team MVP honors. He was second-team 4A all-KingCo in 2015 as a junior.
Welcome to the Knights, Connor.
————–
The Chicago White Sox recalled left-handed pitcher Jace Fry (2011) from Charlotte of the triple-A International League on Friday. He will join the team for the remainder of their four-game series with Minnesota in Chicago.
Fry was 0-0, 1.35 in five appearances at Charlotte this season, with 11 strikeouts in 6.2 innings. It will be his second stint in the majors; he also played briefly for the ChiSox at the end of the 2017 season.
The former Oregon State ace was named the top pro prospect in the WCL by Perfect Game and Baseball America following his 2011 season with the Knights, when he was 2-1, 1.40 in nine games, with 33 strikeouts in 36 innings.
————–
Alum Matt Boyd (2010) of the Detroit Tigers picked up his first win of the season on Tuesday in a 2-1 victory over Tampa Bay. One of the highlights was his strikeout of 2010 Knights' teammate Matt Duffy to end the top of the third with runners on the corners. Please click here for more on that story, and video of the Duffy strikeout, from MLB.com.
————–
Time to update the college stats of our 2018 position players. We will update the pitching stats next Friday.
JAMES ANDERSON: The Western Oregon infielder, a 10-day signee, is hitting .071 (1-14) in eight games, with no homers or RBIs.
AUSTIN BAEK: The George Fox catcher, a 10-day signee, hit .298 (39-131) in 41 games, with a homer and 20 RBIs. His season is over.
BEAU BRUNDAGE: The Portland outfielder is hitting .394 (67-170) in 43 games, with a homer and 19 RBIs.
COLE CABRERA: The Cal Poly outfielder is hitting .250 (7-28) in 20 games, with four RBIs.
COREY CONKLIN: The Eastern Kentucky infielder, a 10-day signee, is hitting .077 (1-13) in 15 games, with no homers or RBIs.
AUSTIN FEIST: The St. Martin's outfielder is hitting .337 (55-163) in 44 games, with five homers and 26 RBIs.
COLE HAMILTON: The Linn-Benton catcher is hitting .305 (29-95) in 31 games, with no homers and 21 RBIs.
CAMERON HASKELL: The Arizona infielder is hitting .000 (0-5) in seven games.
SEAN LITTLE: The Willamette infielder, a 10-day signee, is hitting .458 (11-24) in 10 games, with no homers and seven RBIs.
CHAD STEVENS: The Portland infielder is hitting .253 (40-158) in 43 games, with no homers and 14 RBIs.
ZAK TAYLOR: The Oregon State catcher/infielder is hitting .250 (24-96) in 35 games, with a homer and 10 RBIs.
ZACH WELLER: The Cal State-Fullerton infielder is hitting .069 (2-29) in 20 games, with no RBIs.
ELLIOT WILLY: The Oregon State outfielder is hitting .000 (0-1) in one game.
————–
Intern alum Jared Carr (2017) accepted a position in corporate sales for the Sacramento River Cats. He managed the 2017 Oregon All-Star Series and also was a valued Oregon State baseball student manager.
————–
Hartford (AA Eastern, Rockies) catcher Chris Rabago (2012-13) was 2-for-4 with a run, a double and an RBI in a 5-4 win over Portland on Thursday night to earn Corvallis Knights Minor League Player of the Day honors. He played at UC Irvine.
Honorable-mention went to:
Mobile (AA Southern, Angels) pitcher Greg Mahle (2012) pitched a perfect inning and lowered his ERA to 0.96 in a 4-1 loss to Chattanooga. He played at UC Santa Barbara.
Myrtle Beach (A Carolina, Cubs) pitcher Casey Bloomquist (2013) pitched 2.1 scoreless innings and struck out four in a 7-0 loss to Carolina. He played at Cal Poly.
————–
Our 2018 season and single-game tickets are now on sale! For more details or to order your tickets online, please click here. Tickets may also be purchased by calling us at 541-752-5656 or by visiting our office at 4th Street and Jefferson Avenue in downtown Corvallis. See you at the ballpark in 2018!
We also have three fireworks nights and tons of other promotions planned for this summer. Our entire promotional schedule is also available, by clicking here.
————–
The 2018 Wenatchee AppleSox will have 10 players with prior playing experience for the team, coach Kyle Krustangel announced in May 2.
They are Hunter Boyd, Connor McCord, Jake Taylor, Jacob Prater, Michael Spellacy, McCabe Cottrell, Gerald Hein, Steen Fredrickson, Jordan Rathbone and Grady Miller.
All except Rathbone and Miller played for the AppleSox in 2017. Rathbone played for the team in 2015 and 2016, while Miller played for his hometown team in 2016.
For more on that story, please click here for details from Our Sports Central.
————–
That's all for today. Have a great weekend, and we will see you on Tuesday.