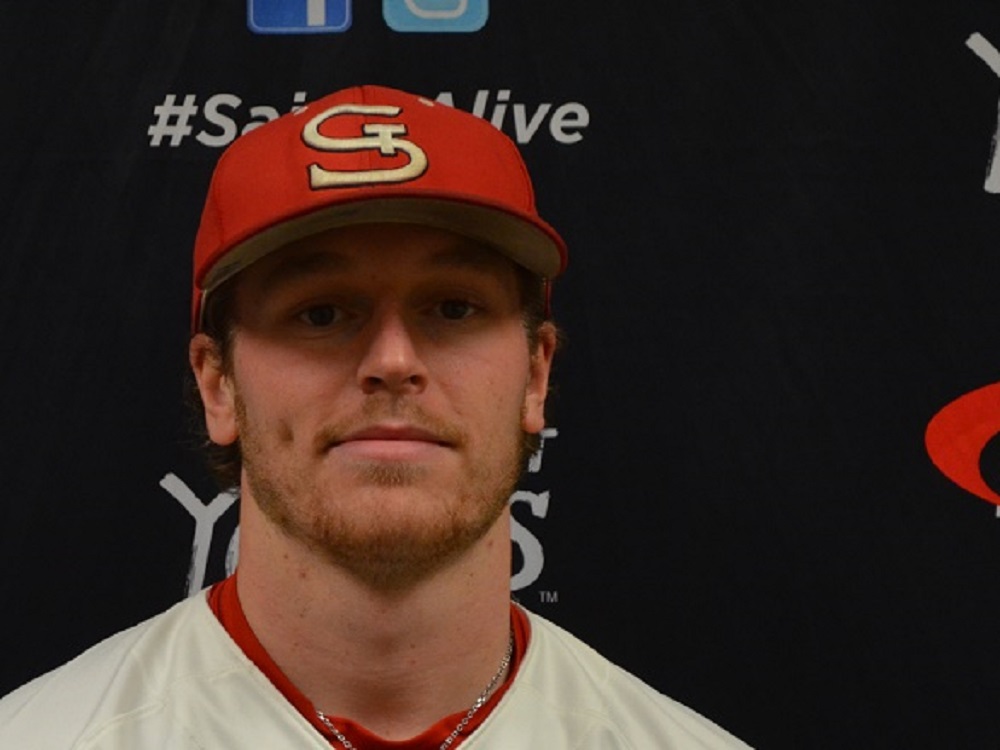 Brooks Hatch Blog: Shoup Named GNAC Pitcher of the Week
Happy Tuesday, everyone, from the world-wide headquarters (WWHQ) of the Corvallis Knights, your 2016-2017 West Coast League champions! Our May 30 opener with the Portland Sea Dogs is just 22 days away, so get ready for another great summer of Knights' baseball!
————–
St. Martin's University pitcher Aaron Shoup (pictured, above), a 2018 Knights' signee from Woodland, Wash., was named the Great Northwest Athletic Conference Pitcher of the Week for April 30-May 6.
The junior left-hander picked up the win in long relief in the Saints' 12-7 victory over Concordia on May 4. Entering the game with SMU down 6-2, Shoup allowed one run on three hits and four walks while striking out four in seven innings. It was Shoup's second win of the season.
Also, teammate Austin Feist, a junior outfielder from Burns who will also join the Knights this summer, earned first-team GNAC all-academic honors for the second year in a row. A business administration major, he has a cumulative 3.62 GPA.
————–
Alum Adley Rutschman (2016) of Oregon State was nominated for Pac-12 Player of the Week honors for April 30-May 6 but was not selected. Adley hit .563 (9-16), with seven RBIs, five runs and a double, as the Beavers went 3-0-1 in road games against Oregon and Washington State.
Pepperdine's Jordan Qsar (2017), our 2017 MVP, was nominated for Big West Conference Player of the Week honors for April 30-May 6 but was not selected. He hit .357 (5-14) in four games against Fresno State and San Francisco, with a double, three runs scored and three RBIs.
————–
Alum Jace Fry (2011) had a great first week with the Chicago White Sox following his May 3 recall from the Charlotte Knights, their affiliate in the triple-A International League.
The lefty pitcher from Beaverton via Oregon State is 0-0, 0.00 following two weekend appearances against the Twins, with no hits allowed and three strikeouts. He allowed just one baserunner.
————–
Buffalo (AA International, Blue Jays) pitcher Sam Gaviglio (2009) pitched six scoreless innings and had six strikeouts in a 7-3 loss to Rochester on Monday night to earn Corvallis Knights Minor League Player of the Day honors. He lowered his ERA to 1.86 and left with a 2-0 lead but was not involved in the decision. He played at Oregon State.
Honorable-mention went to:
Oklahoma City (AAA Pacific Coast, Dodgers) catcher Rocky Gale (2007, 2009) was 3-for-4 and raised his average to .314 in a 5-3 loss to Colorado Springs. He played at Portland.
Lakeland (A Florida State, Tigers) pitcher Austin Sodders (2014) had six strikeouts, allowed one earned run in seven innings and got a no-decision in a 3-2 win over Clearwater. He played at Riverside City College and at UC Riverside.
 Wisconsin (A Midwest, Brewers) catcher KJ Harrison (2015) had a solo homer in a 6-5 win over Lansing. He played at Oregon State.
————–
Our 2018 single-game and season tickets are now on sale! For more details or to order your tickets online, please click here. Tickets may also be purchased by calling us at 541-752-5656 or by visiting our office at 4th Street and Jefferson Avenue in downtown Corvallis. See you at the ballpark in 2018!
We also have three fireworks nights and tons of other promotions planned for this summer. Our entire promotional schedule is also available, by clicking here.
————–
The 2018 Wenatchee AppleSox will have players from 16 different college programs this summer, coach Kyle Krustangel announced on May 7. For more on that story, please click here for details from Our Sports Central.
The Walla Walla Sweets have added utility Matt Elser of Los Angeles Mission College and right-handed pitcher Adrian Chaidez of Cypress College to their roster for the upcoming season. For more on that story, please click here for details from Our Sports Central.
————–
That's all for today. Have a great week, and we will see you on Friday.