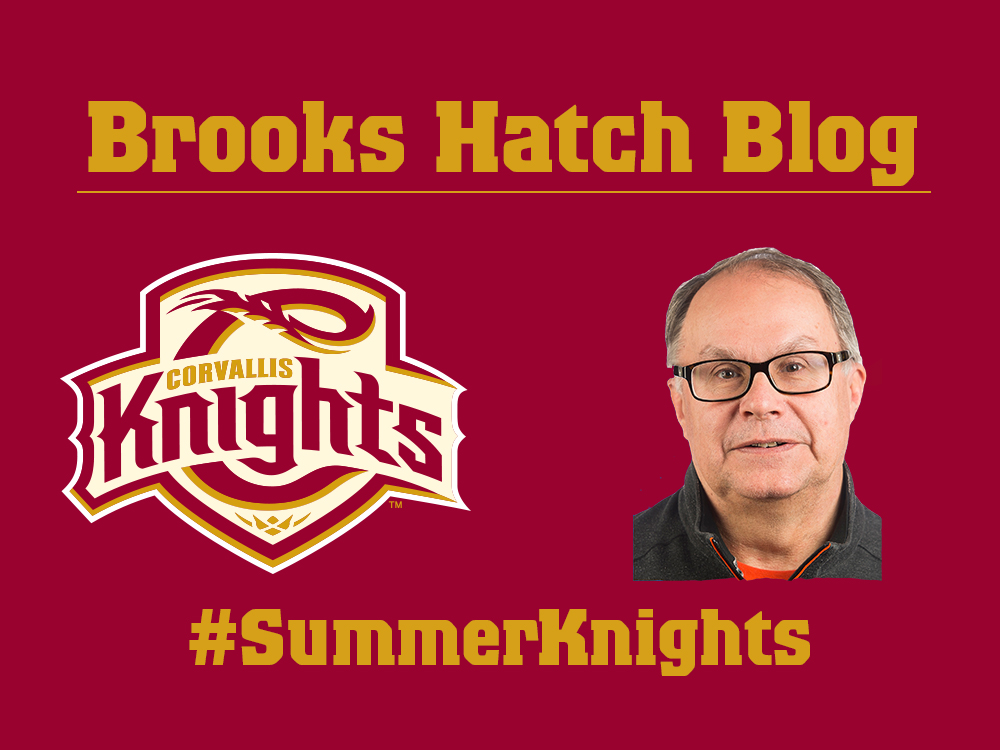 Brooks Hatch Blog: Stanford, Boise State, Cal Poly Players Sign
Happy holidays, everyone, from the world-wide headquarters (WWHQ) of the Corvallis Knights, your 2016, 2017, 2018 and 2019 West Coast League champions!
————–
We have signed Stanford infielder Adam Crampton for the 2020 season. He is a 6-foot-162-pounder from Oakland Tech High School in Oakland, Calif.
He was the 2019 San Francisco Chronicle's Metro Area Player of the Year after batting .551, with a .986 slugging percentage, 19 extra-base hits (four homers, three triples, 12 doubles), 35 runs and 21 stolen bases in 22 tries.
"He literally makes one or two plays a game that has the crowd gasping and opposing players and coaches shaking their heads," Oakland Tech coach Bryan Bassette said. "He has major-league-caliber range and hands right now, and his arm would be considered a plus major-league arm at shortstop."
A four-year letterman, Crampton was the Oakland Athletic league MVP in 2017, 2018 and 2019 and was a first-team all-league selection all four seasons. He was also the Cal-Hi Sports East Bay Scholar Athlete of the Year, with a 4.02 grade-point average.
Crampton has played for the United States National Team at the U-12, U-14 and U-15 levels. He also played for the Zoots Baseball showcase team, coached by former major-league first baseman Jon Zuber.
"Adam's glove and baseball IQ are unmatched by his peers," Zuber said.
Welcome to the Knights, Adam.
————–
The Knights have signed Boise State pitchers Jay Baggs and Stuart Flesland for the 2020 season.
Flesland is a 6-foot-4, 177-pound freshman lefty from Colbert, Wash., who graduated from Mt. Spokane High School in Mead. Three-year letterwinner, he was a Greater Spokane League first-team all-star and second-team all-state choice as a senior, when he posted a 0.19 ERA.
He was also first-team all-GSL as a junior, with a 0.78 ERA. As a sophomore, he was second-team all-GSL and had six wins and two saves.
Flesland pitched briefly for the WCL's Yakima Valley Pippins in 2019 and was 0-2 in two starts, with seven strikeouts in seven innings. He pitched six scoreless, one-hit innings against Northwest Nazarene in a fall exhibition game, with eight strikeouts.
Baggs is a 6-5, 229-pound right-hander from San Clemente HS in San Clemente, Calif.  A three-sport athlete who also lettered in football and basketball, he was a South Coast League all-star in baseball and an all-league tight end in football.
Boise State is restarting its baseball program this spring after a lengthy hiatus, under veteran coach Gary Van Tol. The Broncos will play in the Mountain West Conference.
Welcome to the Knights, guys.
————–
We have signed pitchers Andrew Thorpe and Derek True and middle infielder Taison Corio of Cal Poly for the 2020 season.
Thorpe is a 6-foot-4, 195-pound right-hander from Washington High School in Desert Hills, Utah. True is a 6-2, 180-pound righty from Santa Barbara HS in Carpinteria, Calif. Both are freshmen.
Corio is a 5-11, 170-pound sophomore switch-hitter from De La Salle HS in Concord, Calif. He played at San Joaquin Delta College in 2019.
Thorpe was the Utah 4A MVP in 2019, when he led Desert Hills to the state championship by going 7-1 with a 0.54 ERA as a pitcher and a .350 batting average as a position player. A three-year letterman who earned all-Utah honors each season, he was 20-4, 0.97 in 27 career appearances, with 83 strikeouts in 143.2 innings.
He played for the Peninsula Oilers in the Alaska Baseball League in 2019 and was 2-2 with two saves, a 2.48 ERA and 17 strikeouts in 25.1 innings in 10 appearances.
True had nine wins and a 2.20 ERA in 13 games as a high school senior, with 75 strikeouts in 57.1 innings. He was a two-time Channel League all-star.
Corio hit .358 in 45 games and was a Big 8 Conference first-team all-star at San Joaquin Delta in 2019, with three homers, 38 RBIs and 24 steals in 30 attempts. He hit .438 and was first-team all-league in 30 games as a De La Salle senior, with two homers and 13 RBIs.
Welcome to the Knights, guys.
————–
An update on alum Stephen Nogosek (2013): The New York Mets' reliever has been assigned to Syracuse in the triple-A International League. He was originally designated for assignment on Dec. 16 when they signed veteran starter Rick Porcello.
Nogosek made his MLB debut in 2019 and was 0-1, 7.94 in six games, with four strikeouts in 5.2 innings. He spent most of the season at AA Binghamton and AAA Syracuse and was a combined 3-0, 1.05 in 36 games, with four saves and 51 strikeouts in 51.1 innings.
He was a two-time Pac-12 all-star at Oregon and was selected by Boston in the sixth round of the 2016 MLB draft. He was traded to the Mets during the 2017 season.
————–
Our 2020 schedule has now been finalized. We will open the season against the Portland Sea Dogs on June 2 on Weyerhaeuser Science, Engineering and Art Day. For the complete home schedule, please click here. For the complete schedule, please click here.
The Knights set a franchise record for total attendance in 2019 by drawing 59,357 fans to Goss Stadium in 36 regular-season and playoff games. We averaged 1,721 fans per regular-season game, and 1,071 fans for the four playoff games.
Thanks to the best fans in the West Coast League.
The WCL All-Star Game is scheduled for July 20 at Paul Thomas Sr. Field in Wenatchee. New AppleSox head coach Ian Sanderson and staff will coach the North Division's team and the 2019 West Coast League champion Corvallis Knights coaching staff led by Brooke Knight will coach the South Division. For more details, please click here.
————–
That's all for today. See you next year!