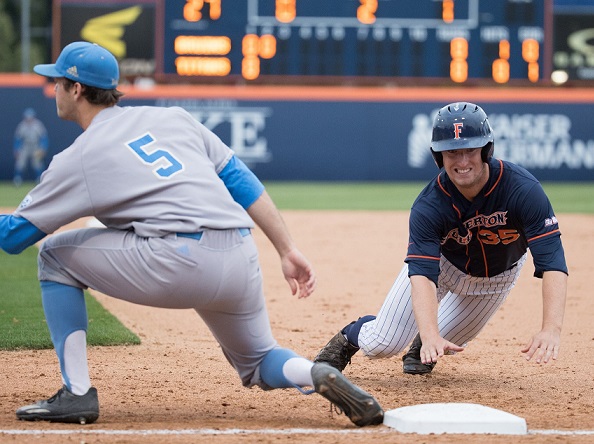 Brooks Hatch Blog: Knights Sign Fullerton Infielder Zach Weller
Happy Friday, everyone, from the world-wide headquarters (WWHQ) of the Corvallis Knights, your 2016-2017 West Coast League champions!
—————
We have signed Cal State-Fullerton sophomore third baseman Zach Weller (pictured, above) for the 2018 season. He is a 6-foot-2, 205-pounder from Coronado High School in Coronado, Calif.
Weller hit .225 (9-40) in 20 games as a freshman in 2017, with two homers, 11 RBIs and 11 runs scored. He had three multi-hit games, and three multi-RBI games.
Weller played shortstop at Coronado, where he was a 2016 teammate of incoming Knights' catcher Briley Knight. He was named Coronado's Top Athlete, and was a first-team CIF-San Diego section and a first-team all-state selection as a senior.
Welcome to the Knights!
—————
The Portland Pickles, formerly the flagship franchise in the Great West League, will join the West Coast League for the 2018 season, it was announced Tuesday. The Pickles will replace the Gresham GreyWolves, who will operate as an independent franchise in 2018.
The Pickles were founded in 2015 and play their home games at Walker Stadium in SE Portland's Lents Park. They will play in the South Division with the Knights, Bend, Cowlitz and Yakima Valley.
"The Pickles brand is outstanding," Cowlitz owner Tony Bonacci said. "They have done an excellent job connecting in their community and they really know how to have fun.
"We're thrilled to welcome the Pickles to the WCL. We'll benefit greatly from their location, energy and leadership."
The Pickles following has grown tremendously as Portland's attendance took off in 2017 ranking 18th in attendance at 1,684 per game for all North American summer collegiate baseball teams as compiled by Ballpark Digest.
For more on this development, please click here for a story from the WCL website, and click here for a story from The Oregonian.
Welcome to the WCL!
————–
Former Knights intern Michael Paul has been named a new deputy district attorney for Linn County. Please click here to read more on that story.
—————
Knights' Chief Operating Officer Holly Jones is leading a "Coast for Kids" drive through Eugene's Active 20-30 club. So far, about 500 coats had been donated toward the target of 2,000. The drive ends on Monday.
With the need for new or gently used coats growing with each cooling day, she is hoping that more residents of Eugene and other participating Willamette Valley communities step up. Coats are needed in sizes ranging from newborn to adult.
The adult sizes are for teens. New coats or used ones that are
clean and free of damage or missing buttons are preferred. Cash donations are even better.
Please help if you can. For more details, please click here.
—————
We are celebrating our five WCL Championships with 50 percent off all merchandise, excluding the 2017 WCL championship shirts. The offer is valid at our office, located on Jefferson Avenue in downtown Corvallis, or via phone orders.
The sale lasts through Tuesday. Don't miss out! Please click here to check out our inventory.
—————
We are now hiring our 2018 interns. The positions will begin in January and run through August. Available positions include:
Community events and youth programs
Box office operations and ticket sales
Marketing strategy and advertising operations
Promotions, in-game entertainment and social media
Partnership marketing and account management
Digital content and video production
Stadium DJ, videoboard operator and digital content creation
Hospitality and concessions operations
Stadium operations and Kid Zone management
Merchandise operations and sales
Statistician and press box leader
The deadline to apply is Nov. 3. For more information, please click here.
—————
That's all for today. Have a great weekend, and we will see you on Tuesday.