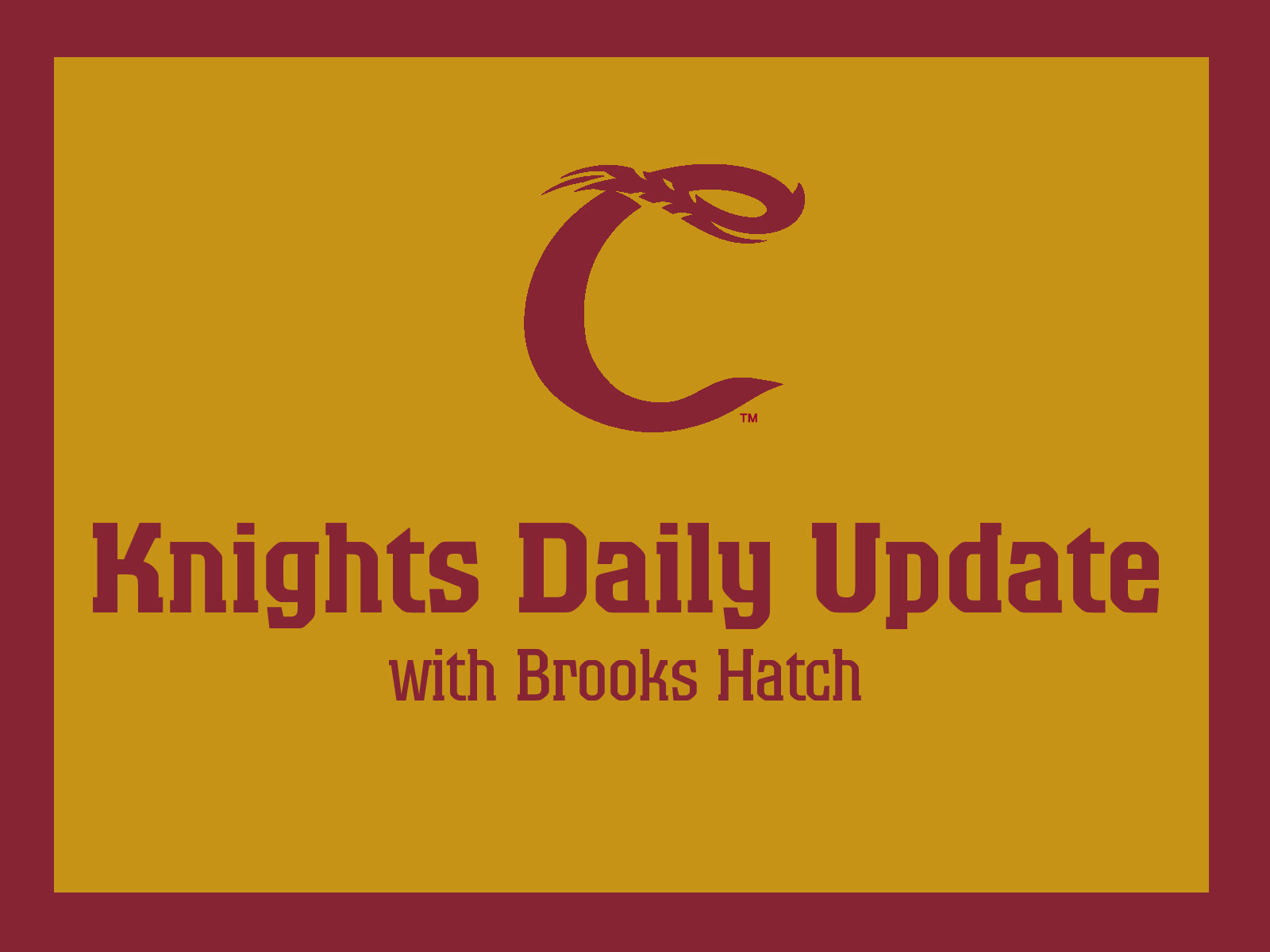 Brooks Hatch Blog: Roman Garcia Named Appy Player of Week
Happy Monday, everyone, from the world-wide headquarters (WWHQ) of the Corvallis Knights, your 2017 South Division playoff and 2016 West Coast League champions!
—————
We hope history repeats itself when we host the Victoria HarbourCats tonight in Game 2 of the West Coast League Championship Series.
We faced elimination last week when we returned home from Yakima Valley trailing the Pippins 1-0 in the best-of-3 South Division playoffs. But we won two games in a row to advance to the finals for the ninth time in franchise history.
We will need a similar comeback to defeat the HarbourCats and to claim our fifth WCL championship. Victoria won the series opener 5-4 on Aug. 12 when it scored twice in the last of the ninth to erase a 4-3 deficit.
Game 2 is set for 6:40 tonight at Goss Stadium. If necessary, a winner-take-all Game 3 would be played at 6:40 p.m. Tuesday, also at Goss Stadium.
Corvallis (42-22 overall) coach Brooke Knight is confident the Knights – who earned home-field advantage throughout the playoffs by posting the WCL's best regular-season record (34-20) – can do it again and repeat as WCL champions.
"We have a veteran team that has proven itself to be very resilient," Knight said. "We have enough pitching left to win two games; our club is focused after Saturday night's loss and we play very well at home."
Our projected starter is righty Dakota Donovan (1-1, 5.55). Others available candidates are right-handers Cole Spear (3-2, 6.60), Trenton Toplikar (3-0, 4.81), Darren Nelson (2-1, 1.25) and Dom Baker (1-0, 2.70), each of whom has at least five days rest since his last start.
Connor Redmond (1-2, 3.44) started Game 3 of the Yakima Valley series on Aug. 9 and might not be available until Tuesday. Louis Crow (0-1, 5.60) also has starting experience. All are right-handed.
Relievers Cameron Richman (1-0, 3.60), Miles Glazier (2-0, 1.44), Cole Johnson (2-0, 3.91), Kolby Somers (2-1, 3.45) and Trevor Wells (3-1, 2.53) are also fresh, as neither pitched in Game 1. Glazier, Somers and Johnson are left-handed.
The Knights have played in the Championship Series nine times in 11 seasons since relocating to Corvallis from Gresham before the 2007 season. We defeated Wenatchee in 2008 and 2013, Walla Walla in 2011, and Bellingham in 2016. Their finals losses were to Moses Lake (2007), Wenatchee (2009, 2012), and Bellingham (2015).
Tickets for tonight's game are now available by clicking here. See you at the ballpark!
—————
First baseman Roman Garcia (2016) of the Greeneville Astros was named the Appalachian League Player of the Week for Aug. 7-13. The University of San Diego product hit .429 (9-21) six games, with three homers and five RBIs.
His big night was against Elizabethton on Aug. 11, when he was 3-for-4 with two homers, two runs and three RBIs. For the season, Garcia is hitting .261 (29-111) in 32 games, with five doubles, a triple, six homers and 20 RBIs.
Congrats to Roman, who was selected in the 19th round of the 2017 MLB draft. Fore more on the award from the Appalachian League website, please click here.
—————
Tampa Bay has assigned righty pitcher Matt Andriese (2009) to Charlotte of the high-A Florida State League on a rehab assignment. He's been sidelined since May 31 with a strained groin muscle. The 2009 WCL Pitcher of the Year, Matt was 5-1, 3.42 in eight games before going on the DL, with 55 strikeouts in 61 innings.
—————
Our season attendance total is 50,379 through 34 openings, a decrease of 2,312 fans from last year through a corresponding number of home dates. That's an average of 1,482 fans per game.
We will have at least one more home game, and possibly two.We probably can't break our franchise record of 53,803 fans, set last summer in 35 home dates, but 2017 will be our No. 2 all-time year, attendance-wise.
We finished 39th overall in the country in attendance for league games only; click here for the national numbers. For the league-by-league roundup, please click here.
—————
Montgomery (AA Southern, Rays) outfielder Cade Gotta (2011) was 2-for-3 with a run, an RBI and a walk in a 9-4 win over Jackson on Sunday to earn Corvallis Knights Minor League Player of the Day honors. He raised his average to .304. Teammate Dalton Kelly (2014) was 1-for-4 with a double, a run and an RBI. Cade played at San Diego, Dalton at UC Santa Barbara.
Honorable mention goes to:
Lancaster (A California, Rockies) DH Chris Rabago (2012-13) was 3-for-5 with an RBI in a 12-8 loss to Lake Elsinore. He played at UC Irvine.
Jacksonville (AA Southern, Marlins) third baseman Taylor Ard (2009) was 1-for-4 with a solo homer, two runs and a walk in a 9-3 win over Mississippi. He played at Mt. Hood CC and at Washington State.
Helena (R Pioneer, Brewers) first baseman KJ Harrison (2015) was 2-for-4 with a run and an RBI in a 7-2 win over Grand Junction. He played at Oregon State.
Lake County (A Midwest, Indians) catcher Logan Ice (2014) was 1-for-2 with two RBIs and a walk in a 7-0 win over Lansing. He played at OSU.
Aberdeen (A New York-Penn, Orioles) pitcher Cameron Bishop (2015-16) struck out six and gave up two runs in four innings and got a no-decision in an 8-3 win over West Virginia. He played at UC Irvine.
—————
That's all for today. See you at the ballpark tonight. If the Knights lose, the Blog will take a break until late August. If we win, we'll see you back here on Tuesday, and at the ballpark on Tuesday night.