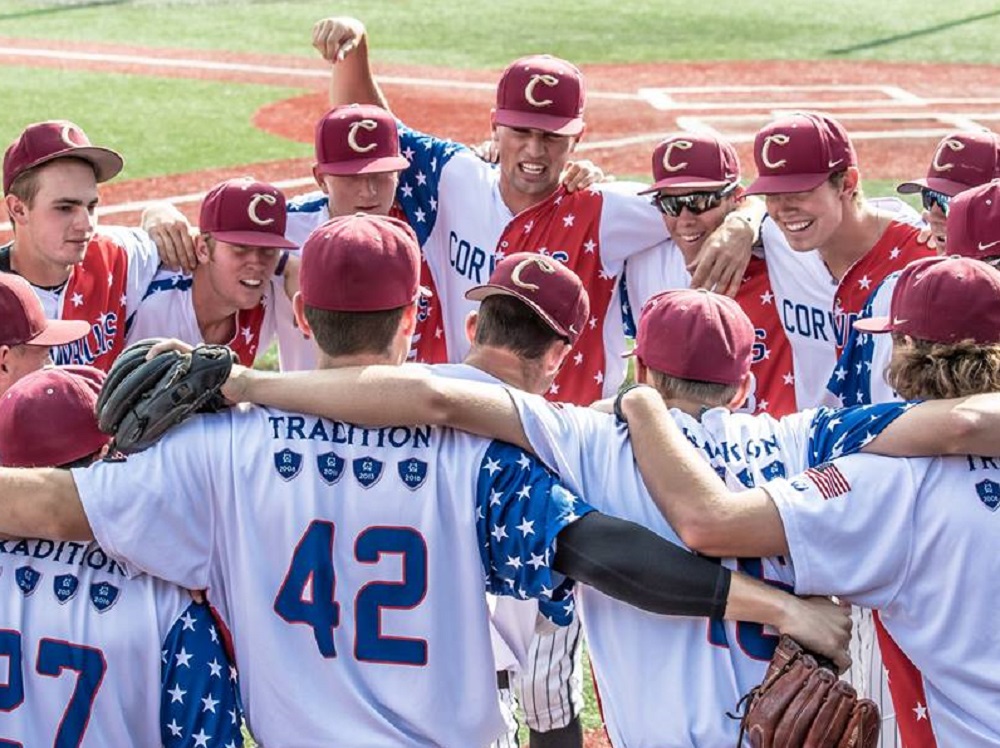 Brooks Hatch Blog: Knights to Face Victoria in Championship Series
Happy Friday, everyone, from the world-wide headquarters (WWHQ) of the Corvallis Knights, your 2017 South Division playoff and 2016 West Coast League champions!
—————
Reliever Kolby Somers was our unlikely hero in the Knights 3-2 victory over Yakima Valley last night in the decisive Game 3 of the WCL South Division playoff series hosted at Goss Stadium.
An incoming Oregon freshman from Century High School in Hillsboro, the lefty retired all six Pippins he faced in the eighth and ninth innings to post his first save of the summer. He struck out two and needed only 16 pitches in a lights-out performance that eliminated the Pippins and capped a tremendous home-field comeback by the defending WCL champions.
Corvallis (42-21) now advances to face Victoria in the best-of-3 WCL Championship Series, which starts at 6:35 p.m. Saturday at Royal Athletic Park in Victoria. The HarbourCats swept Kelowna 11-5 and 8-2 to sweep their North Division playoff series and earn their first berth in the finals.
We will host Game 2 on Monday, August 14 and Game 3 (if necessary) on Tuesday, August 15. Both games will start at 6:40 p.m. It will be our ninth championship appearance in 11 seasons in Corvallis; we are 4-4 all-time in the finals.
Tickets for Monday night's game are now available by clicking here. See you at the ballpark on Monday night!
—————
Victoria won the North Division's second-half championship and finished 29-25 the WCL. The HarbourCats led the West Coast League in attendance (51,264), averaging 1,899 per game. Corvallis was second at 39,592 (league games only), an average of 1,466 per opening.
Victoria is managed by former major leaguer Brian McRae, the son of ex-MLB player/manager Hal McRae. We split the regular-season series with Victoria, as each team took 2 of 3 on the road.
Each series was different. We clobbered Victoria 12-4 and 14-4 in the final two games at Royal Athletic Park; Victoria handed us back-to-back shutout losses in the last two games at Goss Stadium.
Victoria led the WCL in batting with a .293 team average, was second in homers (45) and in RBIs (296). The HarbourCats was eighth in pitching, with a 5.08 team ERA. We were second in pitching, with a 4.30 ERA, and 10th in hitting, with a .254 team average.
Victoria had five North Division all-stars: Outfielder Hunter Vansau (.359, 8-33) of Mississippi State and pitchers Jack Owen (4-1, 1.02) of Auburn, Adam McKillikan (5-3, 4.03), Indigo Diaz (1-0, 4.12) of Iowa Western and Travis Kuhn (1-2, 4.39, 9 saves) of San Diego. Owen led the WCL in ERA; Vansua was fifth in average, fourth in homers and 10th in RBIs.
Other standouts are UNC-Wilmington catcher Cole Weiss (.293, 2-15); Purdue infielder Harry Shipley (.290, 1-20); San Diego outfielder Kevin Collard (.320, 3-24) and two-way player Noah Prewett (.342, 2-12) of San Diego.
The Cats playoff roster has been led by future San Diego catcher Shane McGuire, Mississippi State first baseman Harrison Bragg and former Arizona State outfielder Andrew Shaps. McGuire hit .451 in the regular season over 82 at bats with 4 homers and 26 RBIs; Shaps hit .441 with 2 HR and 21 RBI. Bragg blasted 7 homers in the regular season and finished with 27 RBIs while hitting .277.
Another HarbourCat that can really hit is Taiwan product Po-Hao Huang. He homered in Victoria's 11-5 North Divisional Series clinching win at Kelowna and hit .280 for the season.
Saturday night's game at Royal Athletic Park will be broadcast on KEJO 1240 AM; please click here for a link to Mike Parker's call.
The Victoria HarbourCats partner with Go LIVE Broadcasts to provide live pay-per-view broadcasts of all of the team's home games. Go LIVE offers a television caliber, three-camera video production and audio play-by-play.  For the past two seasons, Shaw TV has presented the HarbourCats Game of the Week on cable television across south Vancouver Island, using Go LIVE's production.
—————
Our bullpen was outstanding throughout the Yakima series. It gave up just one earned run in 10.2 combined innings, a 0.88 ERA, even though closer Chase Kaplan (Kansas), Louis Crow (San Diego) and Cason Cunningham (Linfield) were all unavailable.
Jacob Fricke (Western Oregon) and Trevor Wells (Linn-Benton CC) allowed one unearned run in the final 4.2 innings of a 9-3 loss at Yakima on Tuesday. Hazahel Quijada threw two scoreless innings and got the save in an 8-4 win on Wednesday night, and Miles Glazier and Somers allowed one in four innings on Thursday.
—————
Thursday night's Game 3 of the South Division playoffs drew 753 fans, raising our season total to 50,379 through 34 openings, a decrease of 2,312 fans from last year's attendance through a corresponding number of home dates. That's an average of 1,482 fans per game.
We will have at least one more home game, on Monday night. We probably can't break our franchise record of 53,803 fans, set last summer in 35 home dates, but 2017 will be our No. 2 all-time year, attendance-wise.
—————
Time to update the stats of our alums in minor league baseball. We did the position players on Friday; today we do the pitchers.
CAMERON BISHOP (A Aberdeen, New York-Penn): The lefty from UC Irvine (2015-16) is 0-0, 0.77 in three games, with 13 strikeouts in 11.2 innings.
CASEY BLOOMQUIST (A Myrtle Beach, Cubs): The righty from Cal Poly (2013) is 3-5, 7.04 in 25 games, with two saves and 47 strikeouts in 61.1 innings.
JUSTIN CALOMENI (A Boise, Cubs): The righty from Cal Poly (2014) is 0-0, 0.00 in one game, with no strikeouts in one inning.
NICK DURON (A Lowell, Red Sox): The righty from Clark CC (2014) is 2-4, 34.42 in nine games, with 25 strikeouts in 36.2 innings.
TREVOR FRANK (A Lake Elsinore, Padres): The righty from UC Riverside (2012) is 3-1, 4.06 in 34 games, with seven saves and 54 strikeouts in 44.1 innings.
JACE FRY (AA Birmingham, White Sox): The lefty from Oregon State (2011) is 0-1, 3.22 in 27 games, with three saves and 43 strikeouts in 36.1 innings.
SAM GAVIGLIO (AAA Tacoma, Mariners): The righty from Oregon State (2009) is 3-5, 3.55 in nine games, with 40 strikeouts in 58.1 innings.
TED HAMMOND (A Everett, Mariners): The righty from Seattle U (2015) is 0-0, 5.31 in 14 games, with 15 strikeouts in 20.1 innings.
BEN (Wetzler) HOLMES (A Jupiter, Marlins): The lefty from Oregon State (2011) is 0-5, 4.35 in 28 games, with 51 strikeouts in 62 innings.
CHASE JOHNSON (AAA Sacramento, Giants): The righty from Cal Poly (2011) is 0-2, 4.35 in six games, with nine strikeouts in 10.1 innings. He is on the 7-day disabled list.
DJ JOHNSON (AA Hartford, Rockies): The lefty from Mt. Hood CC (2008-09) is 1-1, 2.93 in 37 games, with three saves and 43 strikeouts in 55.1 innings.
SLATER LEE (ARL ATHLETICS): The righty from Cal Poly (2015) is 1-0, 3.95 in 10 games, with two saves and 13 strikeouts in 13.2 innings.
GREG MAHLE (AA Mobile, Angels): The lefty from UC Santa Barbara (2012) is 4-0, 3.26 in 22 games, with four saves and 27 strikeouts in 30.1 innings.
STEPHEN NOGOSEK (A St. Lucie, Mets): The righty from Oregon (2013) is 1-0, 3.60 in three games, with five strikeouts in five innings.
JIMMIE SHERFY (AAA Reno, Diamondbacks): The righty from Oregon (2011) is 2-0, 2.25 in 38 games, with 17 saves and 55 strikeouts in 44 innings.
AUSTIN SODDERS (A Lakeland, Tigers): The lefty from Riverside CC (2014) is 2-4, 1.90 in eight games, with 37 strikeouts in 52 innings.
RYLEY WIDELL (R Elizabethton, Twins): The lefty from Washington State (2016) is 0-1, 1.35 in four games, with 15 strikeouts in 13.1 innings.
—————
Greeneville (R Appalachian, Astros) first baseman Roman Garcia (2016) was 2-for-3 with a homer, an RBI and two runs in a 5-2 win over Elizabethton on Thursday night to earn Corvallis Knights Minor League Player of the Day honors. He played at San Diego.
Honorable mention goes to:
Lancaster (A California, Rockies) DH Chris Rabago (2012-13) was 2-for-2 with a run and a walk in a 5-4 win over Visalia, upping his average to .270. He played at UC Irvine.
El Paso (AAA Pacific Coast, Padres) catcher Rocky Gale (2007, 2009) was 3-for-4 with a double, a run and a walk in an 8-4 loss to Fresno.
San Antonio (AA Texas, Padres) outfielder Nick Torres (2012) was 1-for-1 with a run and an RBI in an 8-5f win over Springfield.
—————
That's all for today. Have a great weekend and we will see you back here, and at the ballpark, on Monday.