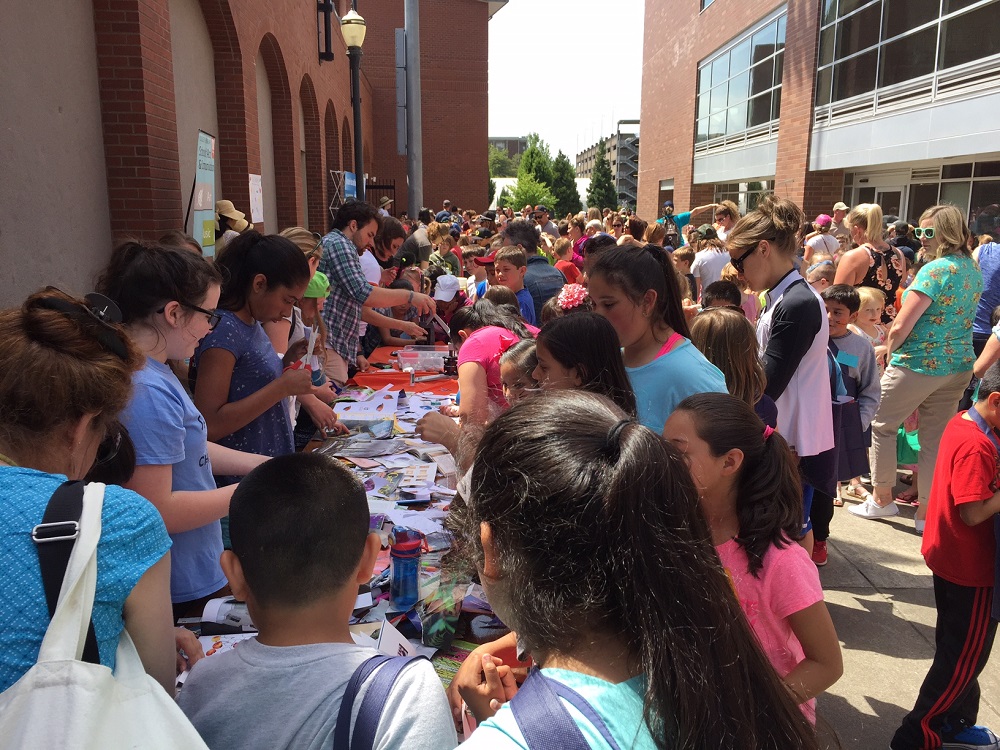 Brooks Hatch Blog: Knights Draw Record SEA Day Crowd
Happy Friday, everyone, from the world-wide headquarters (WWHQ) of the Corvallis Knights, your 2016 West Coast League champions!
————————-
We had a great turnout of 3,409 fans on Wednesday for our sixth-annual Science, Engineering & Art Day game at Goss Stadium. It was a SEA Day record.
And, we won 8-0 over the Portland Sea Dogs to improve to 4-0 on the young season. For more on SEA Day, please click here to read a story by Corvallis Gazette-Times reporter Lillian Schrock. Click here for a photo gallery from G-T photographer Amanda Loman.
————————-
Last night's game between the Knights and the Bellingham Bells at Joe Martin Field in Bellingham was rained out. The series will start at 6:35 p.m. Friday; the postponed game has been rescheduled as the opener of a Saturday doubleheader that starts at 4 p.m.
Our probable starting pitchers for the series are three left-handers: Austin Crowson of Lane, Cason Cunningham of Linfield and Ross Massey of Tulane. Crowson was slated to throw on Thursday.
————————–
Our flagship station, KEJO-AM 1240, won't be broadcasting the games because of a conflict with Oregon State's NCAA Super Regional against Vanderbilt. Please click here for information how to listen live.
————————–
Three alums are on Baseball America's list of the top 500 prospects for the 2017 MLB draft, which starts Monday. They are Oregon State first baseman K.J. Harrison (2015, # 69); Central Arizona JC lefty Ryley Widell (2016, # 186), and UC Santa Barbara shortstop Clay Fisher (2015, # 278). For a complete list of the top 500, click here.
—————————
We have some transactions to announce for our major-league Knights.
The Mariners have sent outfielder Mitch Haniger (2010) to Tacoma on an injury rehab. He has been on the DL since April 26 with a strained oblique. He was hitting .342 (27-79) in 21 games, with four homers and 16 RBIs. Mitch played at Cal Poly and was the Big West Conference Player of the Year in 2012.
The Rockies have placed lefty pitcher Tyler Anderson (2009) on the 10-day disabled list, retroactive to June 1, with left knee inflammation. He is 3-5, 5.85 in 11 games, all starts, with 59 strikeouts in 60 innings. Tyler played at Oregon and was the first Corvallis Knight to be selected in the first round of the MLB draft, in 2012.
The Tigers optioned lefty Matt Boyd (2010) to Toledo of the triple-A International League on June 3. He was 2-5, 5.69 in 11 games, all starts, with 37 strikeouts in 55.1 innings. Matt played at Oregon State.
——————————
Greenville (A South Atlantic, Red Sox) closer Stephen Nogosek (2013) allowed one run in two innings, had two strikeouts and earned his 11th save in a 5-3 win over Hickory on Wednesday night to earn Corvallis Knights Minor League Player of the Day honors. He played at Oregon.
Honorable mention goes to:
San Antonio outfielder Nick Torres (2012) was 1-for-3 with two runs and a walk in an 8-6 win over Midland. He played at Cal Poly.
——————————
Victoria pitcher Claire Eccles became the first woman to play in a WCL game on Wednesday night, in a 9-0 loss to Wenatchee. She pitched the eighth and ninth innings and allowed two runs on one hit. Click here for more on that story.
——————————-
That's all for today. See you on Monday.