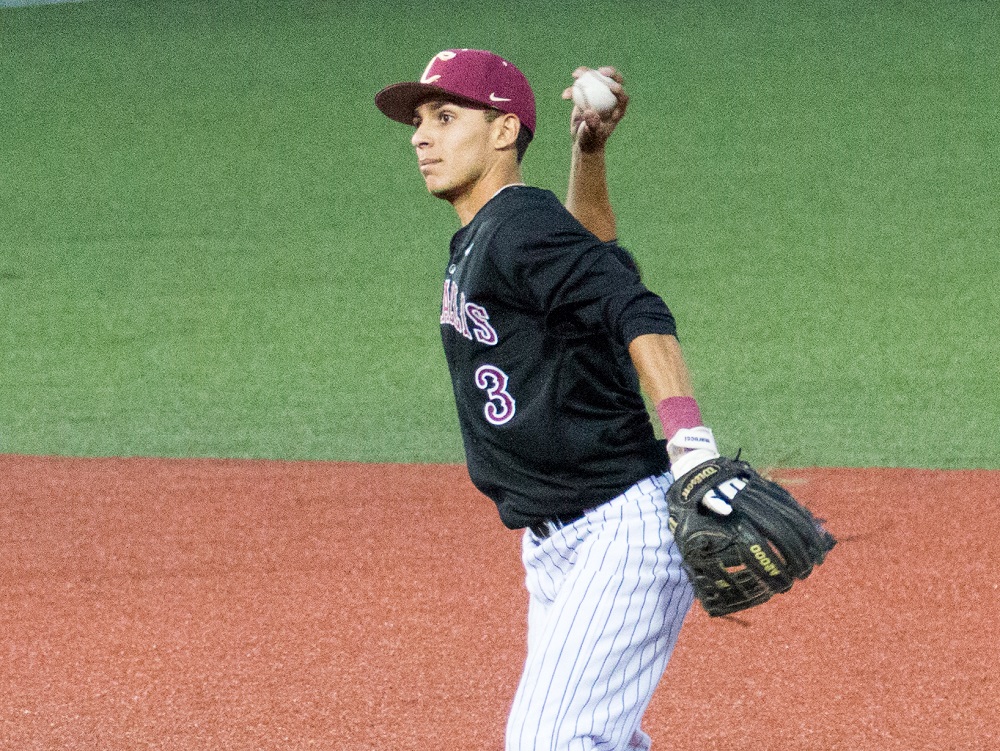 Brooks Hatch Blog: Alum Nick Madrigal Named Pac-12 POY
Happy Monday, everyone, from the world-wide headquarters (WWHQ) of the Corvallis Knights, your 2016 West Coast League champions!
—————
Alum Nick Madrigal (2015) of #1-ranked and Omaha bound Oregon State was named the Pac-12 Player of the Year and the Pac-12 Defensive Player of the Year in a vote of the coaches.
Madrigal earned both honors after batting .377 with 18 doubles, two triples, four home runs, 31 runs batted in and 15 stolen bases during the regular season. Defensively, he played both shortstop and second base and made just four errors. He had a .981 fielding percentage.
Alum K.J. Harrison (2015) of OSU was also first-team all-Pac-12. Alums Stephen Kwan (2016) and Adley Rutschman (2016) earned honorable-mention; Kwan joined Madrigal on the All-Defensive team.
—————
Eight current or former Knights earned All-Academic honors from the Pacific-12 Conference on May 30.
Infielder Andy Atwood (psychology) was a second-team selection. He played for us in 2016.
Outfielder Christian Donahue (business), first baseman K.J. Harrison (business), outfielder Stephen Kwan (business), infielder Nick Madrigal (sociology) and catcher/infielder Zak Taylor (psychology) earned honorable mention. Harrison also earned first-team CoSIDA All-District 8 academic honors.
Also earning honorable mention were Washington State pitchers Trenton Dupre and Ryan Walker.
Walker, Donahue, Harrison and Madrigal played for us in 2015; Dupre, Kwan and Taylor played for us in 2016. Taylor will also join us this summer when OSU's season is complete.
To be eligible student-athletes must have a 3.0 GPA, and position players must have participated in at least 50 percent of their team's regular-season contests. To be eligible, student-athletes may also not be in their first year at their respective schools.
—————
San Antonio outfielder Nick Torres (2012) was 2-for-3 with a run and an RBI in a 4-2 win over Corpus Christi on Sunday night to earn Corvallis Knights Minor League Player of the Day honors. He played at Cal Poly.
Honorable mention goes to:
Reno (AAA Pacific Coast, Diamondbacks) reliever Jimmie Sherfy (2011) pitched .2 scoreless innings, had a strikeout and earned his seventh save in a 7-5 win over Sacramento. He played at Oregon.
Birmingham (AA Southern, White Sox) pitcher Jace Fry (2011) pitched two scoreless innings and had one strikeout in a 5-2 loss to Mobile. He played at Oregon State.
Montgomery (AA Southern, Rays) outfielder Cade Gotta (2011) was 2-for-4 with two RBIs in a 5-4 loss to Chattanooga. He played at San Diego Christian.
—————
Seven West Coast League alums were named to Baseball America's All-America teams released this week.
Honorees include first-team All-Americans David Banuelos of Long Beach State, the Big West Defensive Player of the Year who played for the Bellingham Bells in 2016, and Pac-12 Player of the Year Nick Madrigal of Oregon State, who set the WCL single-season mark for steals with 40 for the Corvallis Knights in 2015.
Also named to the first team was outfielder Keston Hiura of UC Irvine, the 2017 Big West Player of the Year, who tore apart WCL pitching for the Wenatchee AppleSox over the summer of 2015 hitting .356 with 21 doubles, 6 triples, 6 homers and 42 RBIs to earn first-team all-WCL honors.
Former Bend hurler Jake Thompson of Oregon State was also a first-tdeam selection. Thompson pitched for the Elks in 2014.
Washington catcher Joey Morgan (Medford Rogues) was selected to the second team. UCLA pitcher Griffin Channing (Wenatchee) and Oregon ace David Peterson (Medford Rogues) were third-team selections.
—————
Washington State junior outfielder Derek Chapman of the Bend Elks and Corban junior pitcher Caleb Henry of Bend were named the West Coast League Player and Pitcher of the Week today for the week of June 5-11.
Chapman, a left-handed hitter, went 14-for-28 (.500) with a homer, triple, three doubles, three steals, six runs scored, six walks and eight RBIs. He posted a .588 OBP and 1.374 OPS as Bend went 5-2 to open the season.
Henry earned a win in relief in the Elks season-opening 4-3 victory vs. Walla Walla last Monday and earned a second victory as a starter against Cowlitz this past Friday. He tossed two scoreless innings against the Sweets at Vince Genna Stadium, and twirled seven innings of shutout baseball at David Story Field.
In total, the rising senior right-hander threw nine innings, earned two wins and did not allow a run while allowing only two hits.
—————
That's all for today. See you on Tuesday.