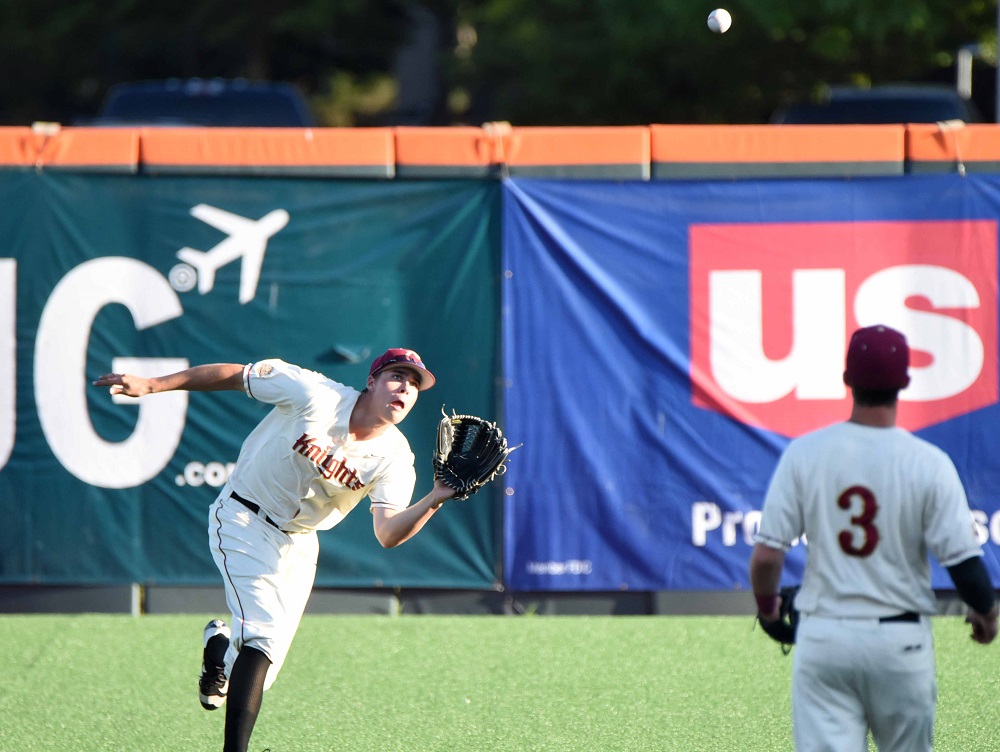 Brooks Hatch Blog: Hawken Named West Coast League Player of the Week
Happy Tuesday, everyone, from the world-wide headquarters (WWHQ) of the Corvallis Knights, your 2016-2017 West Coast League champions!
————–
Corvallis left fielder Cody Hawken (pictured, above) was named the Moss Adams Player of the Week for June 11-17, West Coast League commissioner Rob Neyer announced Monday.
A rising senior at the University of Portland, Hawken led Corvallis to a 5-1 week, as the right-handed hitter went 10-for-21 (.476) with eight runs scored, three doubles, a triple, three stolen bases and seven RBIs. Cody currently leads the WCL with a .433 batting average.
USC rising sophomore John Beller of the Portland Pickles earned Pitcher of the Week honors. For more details, please click here.
————–
Alums Trenton Toplikar (20167) of UC Riverside and Jake Wong (2016) of Grand Canyon have signed with the San Francisco Giants. Toplikar was selected in the 16th round, Wong in the third. Both are right-handed pitchers.
San Francisco's short-season Class A affiliate is the Salem-Keizer Volcanoes, so we may see them playing in the area this summer.
Tampa Bay has signed utility Jordan Qsar (2017) of Pepperdine, our 2017 MVP and the 2018 West Coast Conference Player of the Year. He was a 25th-round pick.
Pitcher Tanner Howell (2016-17) of Dixie State has signed with Minnesota, who selected him in the 35th round of the draft. He will most likely be sent to Elizabethton in the short-season Rookie-level Appalachian League.
The Padres have signed lefty Hazahel Quijada (2016-17), their 17th-round pick. San Diego's short-season Class A affiliate is the Tri-City Dust Devils of the Northwest League.
Best of luck to everyone, we'll be following your pro careers.
Former Aloha Knights' left-hander Marc Rzepczynski (2006) has signed a minor-league contract with Cleveland. He was released by Seattle earlier this season.
Alum Justin Calomeni (2014) of Cal Poly was released by Colorado. He played two seasons in their minor-league organization. Alum Matt Hague (2005) was released by the Washington Nationals.
————–
We are almost at full strength for the summer.
Pitcher Abbott Haffar of UC Riverside joined us on Saturday and played a huge role in our 9-5 win over Cowlitz, with three scoreless innings of relief. Pitcher/infielder Brendan Beck and pitcher Jacob Palisch of Stanford joined the club on Sunday.
Pitcher Connor Redmond and outfielder Cole Cabrera of Cal Poly and pitchers Miles Glazier (UC Irvine) and Kolby Somers (Oregon) arrived Monday. Cabrera, Beck and Glazier played in their first game on Monday, the 4-4, 11-inning nonleague tie with the Gresham GreyWolves.
————–
Monday's homestand finale against Gresham attracted a crowd of 1,226 to Goss Stadium. That raised our total attendance to 12,665 on eight dates, an average of 1,583 per opening.
————–
Remember, we have partnered with Go LIVE  Broadcast to live stream Knights home games (plus playoffs) this season.
We also have two more fireworks nights and tons of other promotions planned for this summer. Our entire promotional schedule is also available, by clicking here.
————–
Mahoning Valley (A New York-Penn, Indians) pitcher Dakody Clemmer (2015) pitched 2.1 scoreless innings, had two strikeouts and got the win in a 4-1 victory over State College on Monday night to earn Corvallis Knights Minor League Player of the Day honors. He played at Central Arizona College.
Honorable mention goes to:
Albuquerque (AAA Pacific Coast, Rockies) closer DJ Johnson (2008-09) pitched a scoreless ninth for his 10th save in a 3-2 win over Nashville. He played at Mt. Hood CC.
NW Arkansas (AA Texas, Royals) catcher Nate Esposito (2012) was 1-for-3 with a run in an 11-10 win over Arkansas. He played at Oregon State and Concordia.
————–
That's all for today. Have a great week, Go Beavers, and we will see you back here on Friday.