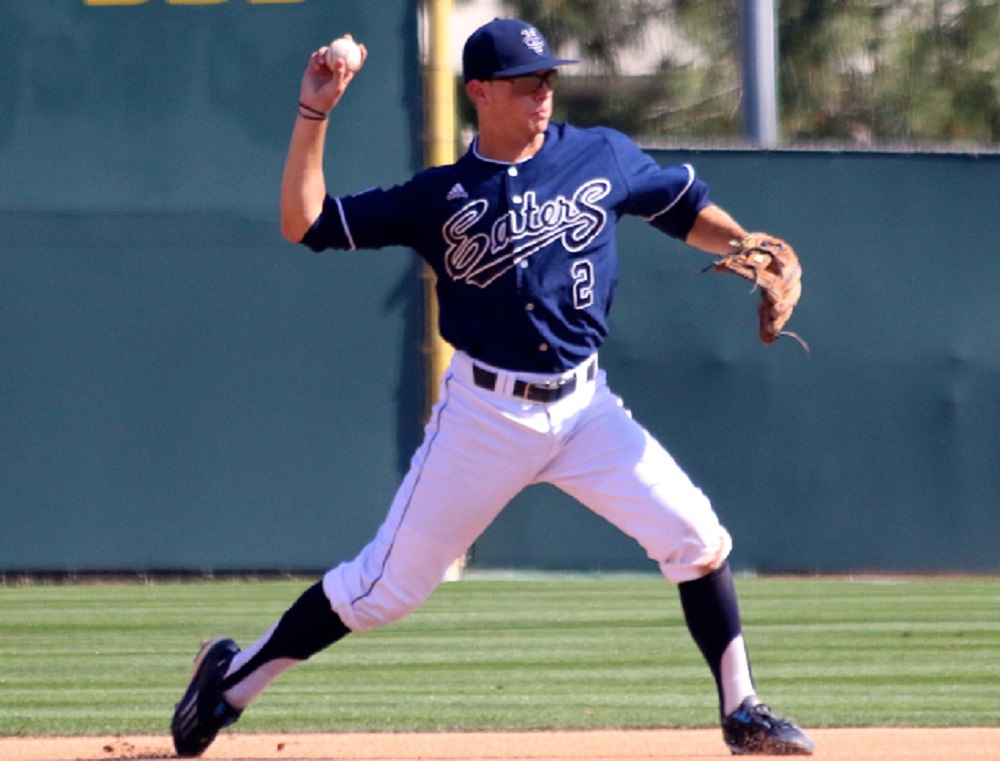 Brooks Hatch Blog: Alum Cole Kreuter Signs With St. Louis Cardinals
Happy Friday, everyone, from the world-wide headquarters (WWHQ) of the Corvallis Knights, your 2016-2017 West Coast League champions!
————–
Alum Cole Kreuter (2015-16, pictured, above) of UC Irvine has signed with the St. Louis Cardinals. He was selected in the 36th round of the MLB draft. Best of luck to Cole, we'll be following your pro career.
The Los Angeles Angels have promoted lefty Greg Mahle (2012), our 2012 MVP, from Mobile of the double-A Southern League to Salt Lake of the triple-A Pacific Coast League. He played at UC Irvine.
Several alums who had not yet been assigned to minor-league affiliates have learned their 2018 destinations.
Pitcher Slater Lee (2015) is with Vermont, Oakland's affiliate in the short-A New York-Penn League. He played at Cal Poly.
Outfielder Jordan Qsar (2017), our 2017 MVP, is with Princeton, Tampa Bay's affiliate in the rookie-level Appalachian League. He played at Pepperdine.
Pitcher Tanner Howell (2016-17) is playing for the rookie-level Gulf Coast League Twins. He played at Dixie State.
Catcher Andy Cosgrove (2015) is back with Elizabethton, Minnesota's affiliate in the rookie-level Appalachian League. He played at Washington and at North Carolina State.
————–
Alum Nick Madrigal (2015) was one of four national semifinals for the American Baseball Coaches Association's Rawlings Gold Glove Award for second basemen. However, he did not win the award, which went to Michael Massey of Illinois. He has not committed an error all season.
————–
The Knights open an eight-game homestand on Tuesday by hosting the Portland Pickles, a South Division rival in its first season in the league.
Tuesday is Keep Portland Weird Night. The first 100 fans get a free pickle, commemorating our first game against the Pickles. It's a 2Towns Tuesday, with special discounts on hard cider and $2 tacos. Game time is 6:30 p.m.
Wednesday vs. Portland is HOPE Night, presented by 107.9 FM. Special discounts on wine, with $2 peanuts and $2 senior GA tickets. Game time is 6:30 p.m.
Thursday vs. Portland is Harry Potter Night. Wizard Wand specialty tickets are available. Special discounts on craft beer, and $2 nachos. Game time is 6:30 p.m.
Friday vs. Walla Walla is Capes & Crowns/Law Enforcement Night, and a Fred Meyer Family Friday. Wear your favorite costume and join the pre-game parade. Game time is 6:30 p.m.
Saturday vs. Walla Walla is ZOOperstars! Night, featuring the popular inflatable characters. Snow-cones are $2. Game time is 6:30 p.m.
Sunday vs. Walla Walla is Philomath Night, presented by the Philomath Chamber of Commerce. Junior Knights Club members are admitted free; blueberry sundaes and cotton candy are $2. Note the special Sunday game time of 3 p.m.
Monday vs. the Mid-Valley Southpaws American Legion team is Pioneer and 99.9 KRKT Military Appreciation Night. All active and retired military personnel will be admitted free of charge. Hot dogs and fountain sodas are $2. Game time is 6:30 p.m.
Tuesday vs. the Utah Marshalls is our annual Oregon State Credit Union Fireworks Night. It's a 2Towns Tuesday, with special discounts on hard cider and $2 tacos. Note the special 7:15 p.m. starting time.
See you at Goss Stadium!
————–
The West Coast League, Clark County, Wash., and the cities of Ridgefield, Vancouver, Camas, Battle Ground, Washougal, and La Center, Wash., announced the addition of a West Coast League expansion team in the Clark County market on Thursday.
The team will begin play in the June, 2019. It's home facility will be the Ridgefield Outdoor Recreation Complex (RORC), currently under construction and scheduled for completion in Sept., 2018.
It is anticipated that the yet-unnamed team will play in the League's Southern Division, together with Bend, Corvallis, Cowlitz, Portland, and Walla Walla.
Please click here for more details.
————–
Remember, we have partnered with Go LIVE  Broadcast to live stream Knights home games (plus playoffs) this season. Click here for full details.
We also have two more fireworks nights and tons of other promotions planned for this summer. Our entire promotional schedule is also available, by clicking here.
————–
Montgomery (AA Southern, Rays) first baseman Dalton Kelly (2014) was 2-for04 with two runs, two RBIs and a homer in a 6-5 loss to Birmingham on Thursday night to earn Corvallis Knights Minor League Player of the Day honors. He played at UC Santa Barbara.
Honorable mention goes to:
Hartford (AA Eastern, Rockies) catcher Chris Rabago (2012-13) was 2-for 4 in a 3-2 loss to Akron. He played at UC Irvine.
Princeton (R Appalachian, Rays) outfielder Jordan Qsar (2017) was 1-for-3 with an RBI and a walk in a 5-4 loss to Kingsport. He played at Pepperdine.
————–
That's all for today. Have a great weekend, Go Beavers, and we will see you back here on Tuesday.