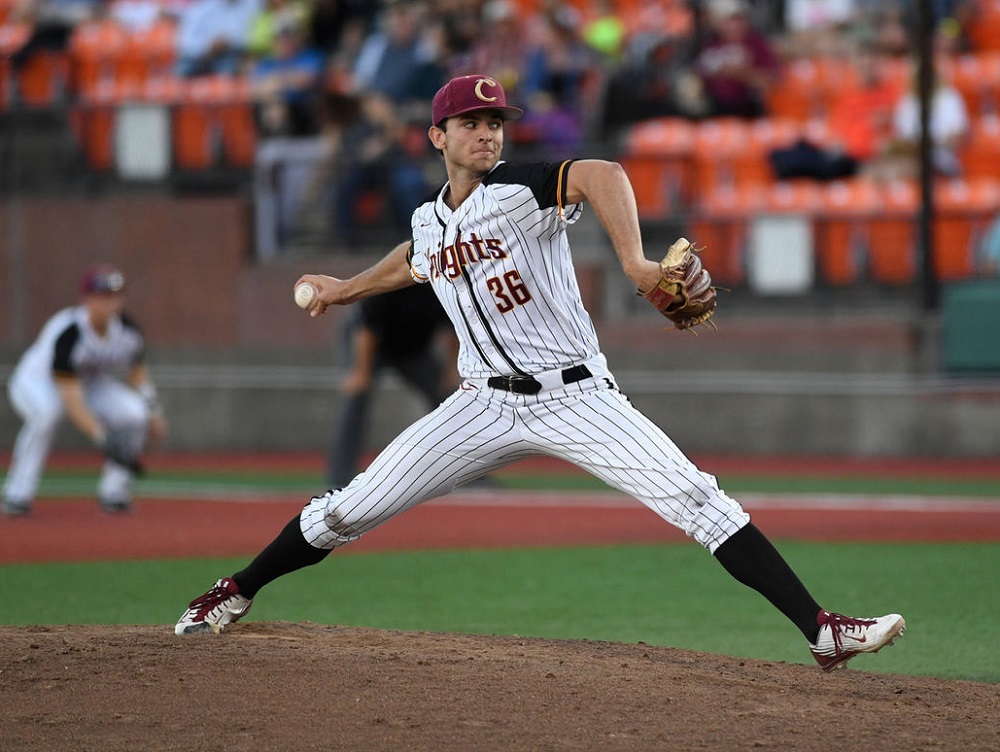 Alum Trenton Toplikar Shines for Salem-Keizer in Professional Debut
Happy Tuesday, everyone, from the world-wide headquarters (WWHQ) of the Corvallis Knights, your 2016-2017 West Coast League champions!
————–
Alum Trenton Toplikar (2017, pictured above) of UC Riverside made his professional debut on Monday night and pitched 1.1 scoreless innings for the Salem-Keizer Volcanoes in a 6-5 loss to Hillsboro at Ron Tonkin Stadium in Hillsboro. The Volcanoes are San Francisco's affiliate in the short-season Class A Northwest league.
The St. Louis Cardinals assigned alum Cole Kreuter (2015-16) of UC Irvine to the Cardinals in the rookie-level Gulf Coast League. He made his pro debut over the weekend.
The Giants have assigned drafted alum pitchers Jake Wong (2016) to the Arizona Rookie League Giants Black team, and draftee Ryan Walker (2015) to the ARL Giants Orange team. Wong played at Grand Canyon, Walker at Washington State.
The San Diego Padres have assigned ex-UC Riverside pitcher Hazahel Quijada (2016-17) to the ARL Padres 2 team.
Infielder Clay Fisher (2015) of UC Santa Barbara hasn't signed with Baltimore, who took him in the 12th round.
————–
Knights' utility player Briley Knight was named the South's Most Outstanding Player at the Freightliner Oregon All-Star Series at Goss Stadium this past weekend. The Crescent Valley High School grad, bound for Utah this fall, was 3-for-5 on Sunday, with a homer, triple, three RBIs and three runs scored.
Briley has played catcher, several infield positions and center field for us so far. He was the Oregon 5A Player of the Year after leading CV to second place in the state playoffs.
————–
We open an eight-game homestand tonight by hosting the Portland Pickles, a South Division rival in its first season in the league.
Tonight is Keep Portland Weird Night. The first 100 fans get a free pickle, commemorating our first game against the Pickles. It's a 2Towns Tuesday, with special discounts on hard cider and $2 tacos. Game time is 6:30 p.m.
Here's how the remainder of the homestand shapes up:
Wednesday vs. Portland is HOPE Night, presented by 107.9 FM. Special discounts on wine, with $2 peanuts and $2 senior GA tickets. Game time is 6:30 p.m.
Thursday vs. Portland is Harry Potter Night. Special discounts on craft beer, and $2 nachos. Game time is 6:30 p.m.
Friday vs. Walla Walla is Capes & Crowns/Law Enforcement Night, and a Fred Meyer Family Friday. Wear your favorite costume and join the pre-game parade. Game time is 6:30 p.m.
Saturday vs. Walla Walla is ZOOperstars! Night, featuring the popular inflatable characters. Snow-cones are $2. Game time is 6:30 p.m.
Sunday vs. Walla Walla is Philomath Night, presented by the Philomath Chamber of Commerce. Junior Knights Club members are admitted free; blueberry sundaes and cotton candy are $2. Note the special Sunday game time of 3 p.m.
Monday vs. the Mid-Valley Southpaws American Legion team is Pioneer and 99.9 KRKT Military Appreciation Night. All active and retired military personnel will be admitted free of charge. Hot dogs and fountain sodas are $2. Game time is 6:30 p.m.
July 3 vs. the Utah Marshalls is our annual Oregon State Credit Union Fireworks Night. It's a 2Towns Tuesday, with special discounts on hard cider and $2 tacos. Note the special 7:15 p.m. starting time.
See you at Goss Stadium!
————–
The June 18 game against Gresham attracted a crowd of 1,226 to Goss Stadium. That raised our total attendance to 12,665 on eight dates, an average of 1,583 per opening.
————–
Remember, we have partnered with Go LIVE  Broadcast to live stream Knights home games (plus playoffs) this season. Click here for details.
We also have two more fireworks nights and tons of other promotions planned for this summer. Our entire promotional schedule is also available, by clicking here.
————–
Montgomery (AA Southern, Rays) first baseman Dalton Kelly (2014) was 2-for-4 with a double, a run scored and two RBIs in an 8-7 win over Birmingham on Monday night to earn Corvallis Knights Minor League Player of the Day honors. He played at UC Santa Barbara.
Honorable mention goes to:
Lynchburg (A Carolina, Indians) catcher Logan Ice (2014) was 1-for-4 with an RBI in a 6-5 loss to Wilmington. He played at Oregon State.
Wisconsin (A Midwest, Brewers) first baseman KJ Harrison (2015) was 1-for-5 with a double and two RBIs in a 9-0 win over Quad Cities. He also played at OSU.
————–
Maryland rising senior infielder Taylor Wright of the Kelowna Falcons and Pacific Lutheran rising sophomore pitcher Justin Armbruester of the Bellingham Bells were named the WCL's Moss Adams Player of the Week and Pitcher of the Week for June 18-24, commissioner Rob Neyer announced.
Wright went 12-for-24 (.500) with seven runs, three steals, two homers and nine RBIs. Taylor is hitting .304 with two homers and 11 RBIs heading into Tuesday's games.
Armbruester only gave up one hit over two relief appearances including a 4-inning stint at Cowlitz where he was credited the win. Justin did not allow a run, walked one and struck out eight for the week.
Congrats to both players. Please click here for more details.
————–
That's all for today. Have a great week, Go Beavers, and we will see you at the ballpark, and back here on Friday.