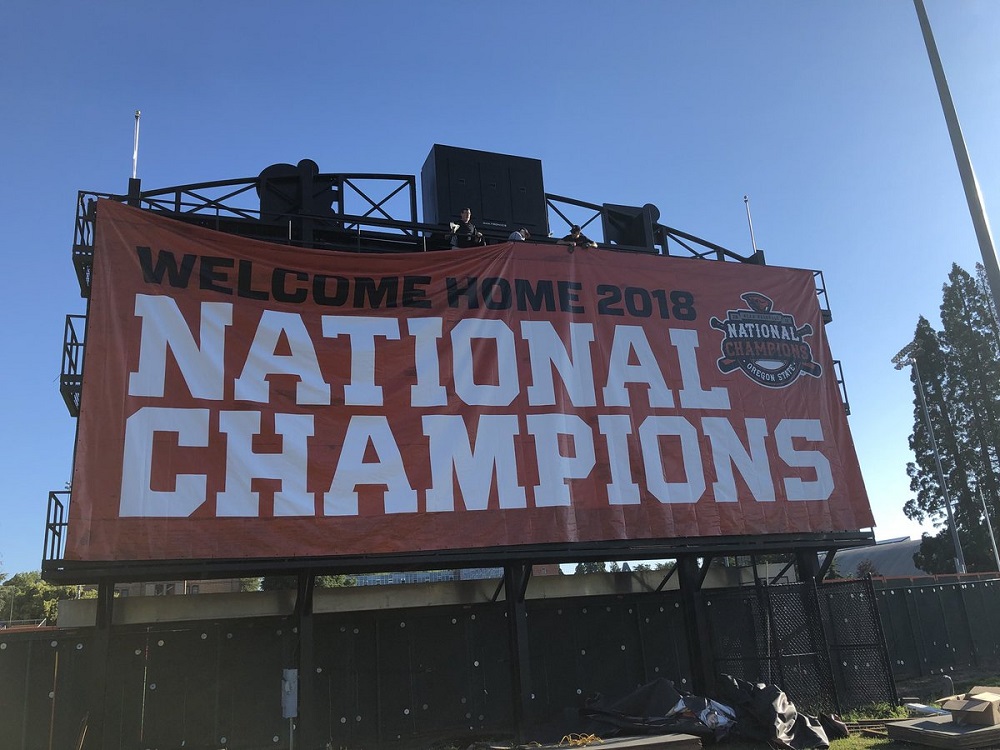 Brooks Hatch Blog: OSU Victory Party Forces Change in Schedule
Happy Friday, everyone, from the world-wide headquarters (WWHQ) of the Corvallis Knights, your 2016-2017 West Coast League champions!
————–
Check out the new signage (pictured, above) on the back of the Goss Stadium scoreboard!
Oregon State's wonderful accomplishment has led us to postpone tonight's scheduled game with Walla Walla so the NCAA-champion Oregon State baseball team can host a victory party at Goss Stadium. Come on over this afternoon and join the celebration! Gates will open at 3:30 p.m. and the party will start when the Beavers arrive; their ETA is about 4 p.m. Note
So, the Knights open a key WCL series with South Division co-leader Walla Walla at 6:30 p.m. on Saturday. Daniel Slominski (0-0, 1.92) is the scheduled starter for the Knights; Walla Walla's probable is undetermined. It will be ZOOperstars! Night, featuring the popular inflatable characters. Snow-cones are $2. Game time is 6:30 p.m.
Friday's game has been rescheduled for 12:30 p.m. Sunday as the opener of a doubleheader. Tickets for Friday's game will be honored for both games on Sunday.
Sunday's doubleheader vs. Walla Walla is Philomath Night, presented by the Philomath Chamber of Commerce. Junior Knights Club members are admitted free; blueberry sundaes and cotton candy are $2. Note the special doubleheader game time of 12:30 p.m.
See you at Goss!
————–
The Arizona Diamondbacks recalled alum Jimmie Sherfy (2011) from triple-A Reno on Thursday. He's back in the majors for the second time this season; he was 0-0 with a 0.00 ERA in two innings over three appearances earlier this season.
————–
Alum Ben (Wetzler) Holmes (2011) was released by the Miami Marlins earlier this week. He played for Jacksonville in the double-A Southern League and for Jupiter in the single-A Florida State League this season.
Ben signed with the Marlins in 2014 after a great career at Oregon State. He was 14-17 lifetime in 115 minor-league games, with 281 strikeouts in 343.1 innings.
He was second-team all-WCL for us in 2011, when he went 0-0, 0.47 in 12 games, with two saves and 16 strikeouts in 19 innings as a setup guy for closer Mark Trentacosta.
————–
The homestand concludes with two nonleague games.
Monday vs. the Mid-Valley Southpaws American Legion team is Pioneer and 99.9 KRKT Military Appreciation Night. All active and retired military personnel will be admitted free of charge. Hot dogs and fountain sodas are $2. Game time is 6:30 p.m.
Tuesday vs. the Utah Marshalls is our annual Oregon State Credit Union Fireworks Night. It's a 2Towns Tuesday, with special discounts on hard cider and $2 tacos. Note the special 7:15 p.m. starting time.
See you at Goss Stadium!
————–
Thursday's crowd of 1,035 raised total attendance to 15,755 in 11 dates, an average of 1,432 per opening.
————–
Wisconsin (A Midwest, Brewers) first baseman KJ Harrison (2015) was 2-for-4 with a double and a run in a 4-1 win over Clinton on Thursday night to earn Corvallis Knights Minor League Player of the Day honors. He played at Oregon State.
Honorable mention goes to:
Albuquerque (AAA Pacific Coast, Rockies) reliever DJ Johnson (2008-09) struck out the only batter he faced and earned a hold in a 3-1 win over Sacramento. He played at Mt. Hood CC.
Oklahoma City (AAA Pacific Coast, Dodgers) catcher Rocky Gale (2007, 2009) went 2-for-5 with a run and raised his average to .309 in a 10-9 loss to Nashville. He played at Portland.
Princeton (R Appalachian, Rays) outfielder Jordan Qsar (2017) was 2-for-5 with an RBI in a 12-5 loss to Bristol. He played at Pepperdine.
————–
That's all for today. Have a great weekend, remember our revised schedule, and we will see you at the ballpark, and back here on Tuesday.