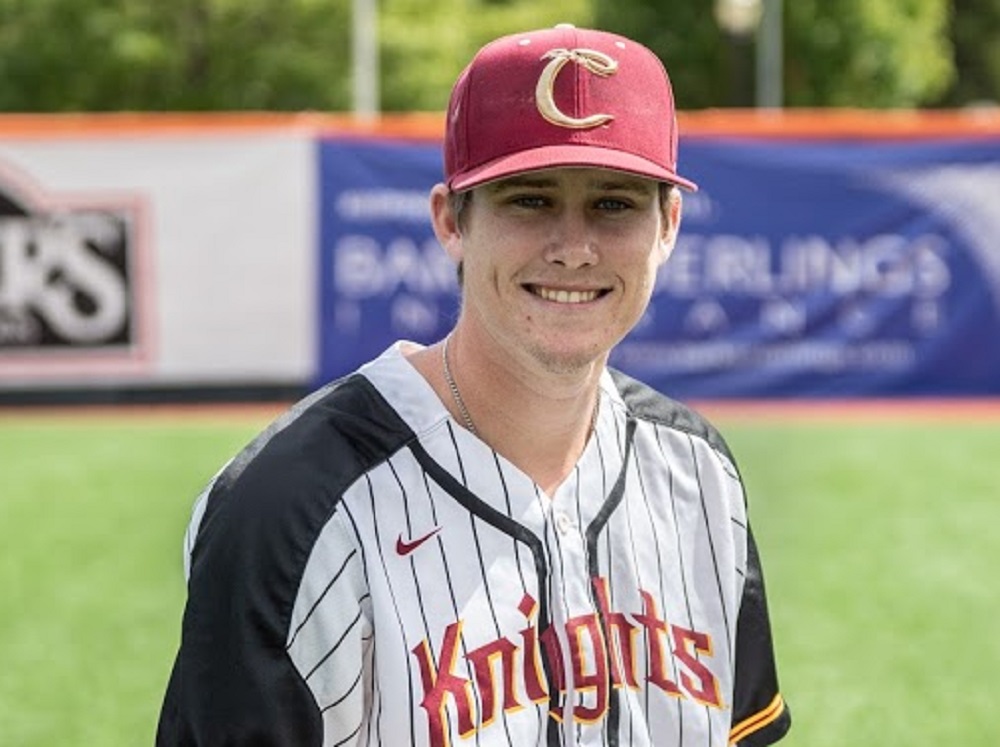 Brooks Hatch Blog: Connor Redmond Returning in 2020
Happy Wednesday, everyone, from the world-wide headquarters (WWHQ) of the Corvallis Knights, your 2016, 2017, 2018 and 2019 West Coast League champions!
————–
More good news to report about our 2020 team.
Pitcher Connor Redmond (pictured, above) of Montana State-Billings will return in 2020 for his fourth season with the Knights.
A 6-foot-3, 195-pound right-hander from Danville, Calif., Connor will be a redshirt junior in 2020. He played at Cal Poly for two seasons, sat out a year, and then enrolled at MSU-Billings this fall.
Connor was 1-1, 2.74 in seven total games with the Knights in 2019, with 24 strikeouts in 23 innings. He was the winning pitcher in a 6-2 victory at Victoria in Game 1 of the WCL Championship Series.
He was 2-1, 3.70 for the Knights in 2018, and was the winning pitcher in a 5-1 victory over Kelowna in the decisive Game 2 of the Championship Series. He went 1-2, 3.72 in six games in 2017, with 22 strikeouts in 30 innings.
He is 2-0, 1.50 in three career playoff games, with 15 strikeouts in 18 innings.
Connor will tie catcher Dane Lund (2012-15) for the most consecutive seasons with the Knights when he appears in a 2020 game.
Welcome back!
————–
Eastside Catholic High School in Sammamish, Wash., will retired the jersey of alum Matt Boyd (2010) on Saturday in a ceremony at the school. A left-handed pitcher, he graduated from ECHS in 2009, then played at Oregon State before making it to the majors with the Toronto Blue Jays in 2015.
Congrats to Matt, one of three MLB players from our 2010 club. Matt Duffy of Tampa Bay and Mitch Haniger of the Mariners also played on that team.
————–
Twelve Knights alums played in the major leagues this season: Arizona pitcher Jimmie Sherfy (2011); Colorado pitcher DJ Johnson (2008-09); Mets pitcher Stephen Nogosek (2013); Los Angeles Dodgers/Tampa Bay catcher Rocky Gale (2007, 2009); Chicago White Sox pitcher Josh Osich (2008); Colorado pitcher Tyler Anderson (2009); Detroit pitcher Matt Boyd (2010); Seattle outfielder Mitch Haniger (2010); Tampa Bay infielder Matt Duffy (2010); Chicago White Sox pitcher Jace Fry (2011); Toronto pitcher Sam Gaviglio (2009), and Arizona pitcher Matt Andriese (2009).
A total of 316 West Coast League alums appeared in affiliated baseball this past season. For a complete list of WCL professionals, please click here.
————–
The Knights set a franchise record for total attendance this season by drawing 59,357 fans to Goss Stadium in 36 regular-season and playoff games.
We averaged 1,721 fans per regular-season game, and 1,071 fans for the four playoff games. Thanks to the best fans in the West Coast League.
————–
Some news from elsewhere in the West Coast League:
Adam Geaslen has been named head coach of the Bellingham Bells. He served as an assistant on coach Bob Miller's staff during the 2018 and 2019 seasons and will assume the head coaching duties of the Bells effective immediately. Please click here for more information, from Our Sports Central.
————–
That's all for today. See you on Oct. 16!