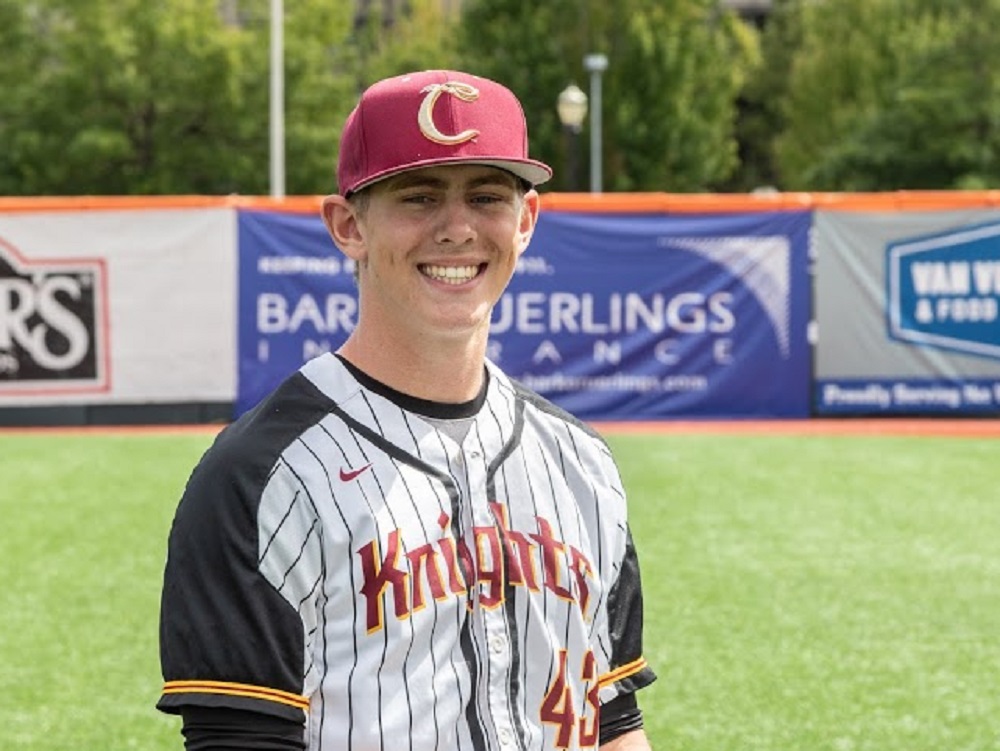 Brooks Hatch Blog: Arnsdorf Returning for 2020 Season
Happy Wednesday, everyone, from the world-wide headquarters (WWHQ) of the Corvallis Knights, your 2016, 2017, 2018 and 2019 West Coast League champions!
————–
Good news to report about our 2020 team.
Corban University right-handed pitcher Jackson Arnsdorf (pictured, above) will return to the Knights next summer. He is a 6-foot-4, 210-pound junior from Astoria High School in Astoria, Ore.
Originally a 10-day signee, Jackson earned a full-time position with the 2019 Knights and went 5-1, 2.14 in 11 total games, with 36 strikeouts in 42 innings.
Arnsdorf earned second-team all-West Coast League honors. He, teammate David Watson and three others tied for second in the WCL with five wins.
Arnsdorf was 3-4, 6.53 in 11 games at Corban in 2019, with two saves and 23 strikeouts in 30.1 innings. He was 2-2, 4.50 in 12 games in 2018, with 17 strikeouts in 22 innings.
He played for the Spearfish (S.D.) Sasquatch in the Expedition League in 2018 and was 1-3, 8.20 in 13 games. He had 47 strikeouts in a team-leading 60.1 innings.
He played in the 2017 state 4A All-Star Series following his senior year at Astoria, when he earned all-state and all-Cowapa League honors.
Welcome back, Jackson!
————–
We have also signed Washington State junior pitcher Michael Newstrom for the 2020 season. He is a 5-foot-10, 210-pound lefty from Puyallup High School in Puyallup, Wash.
A two-year letterman, he was 0-1, 8.41 in 21 appearances in 2019, with a save and 14 strikeouts in 20.1 innings. He was 1-2, 7.71 in 18 appearances as a freshman in 2018, with 10 strikeouts in 14 innings.
Newstrom played for the WCL's Portland Pickles in 2018 and 2019. He was honorable-mention all-WCL in 2018, when he was 3-3, 2.30 in 13 games, with 58 strikeouts in 47 innings. His 2019 season was cut short and he went 0-2, 3.31 in only six appearances, with 22 strikeouts in 19 innings.
Newstrom was a two-time all-state selection at Puyallup High and was the South Puget Sound League's Pitcher of the Year as a senior. He was also a three-time SPSL all-star and played with the Kansas City Royals Area Code.
Welcome to the Knights, Michael!
————–
Twelve Knights alums played in the major leagues this season: Arizona pitcher Jimmie Sherfy (2011); Colorado pitcher DJ Johnson (2008-09); Mets pitcher Stephen Nogosek (2013); Los Angeles Dodgers/Tampa Bay catcher Rocky Gale (2007, 2009); Chicago White Sox pitcher Josh Osich (2008); Colorado pitcher Tyler Anderson (2009); Detroit pitcher Matt Boyd (2010); Seattle outfielder Mitch Haniger (2010); Tampa Bay infielder Matt Duffy (2010); Chicago White Sox pitcher Jace Fry (2011); Toronto pitcher Sam Gaviglio (2009), and Arizona pitcher Matt Andriese (2009).
A total of 315 West Coast League alums appeared in affiliated baseball this past season. For a complete list of WCL professionals, please click here.
————–
Some news from elsewhere in the West Coast League:
The Victoria HarbourCats have announced the first two waves of signings for the 2020 season. Please click here and click here for more information, from Our Sports Central.
Kyle Krustangel, current head coach at Yakima Valley College who also has West Coast League coaching and playing experience, is the new manager of the Yakima Valley Pippins. Please click here for more information, from Our Sports Central.
————–
That's all for today. See you on Oct. 9!