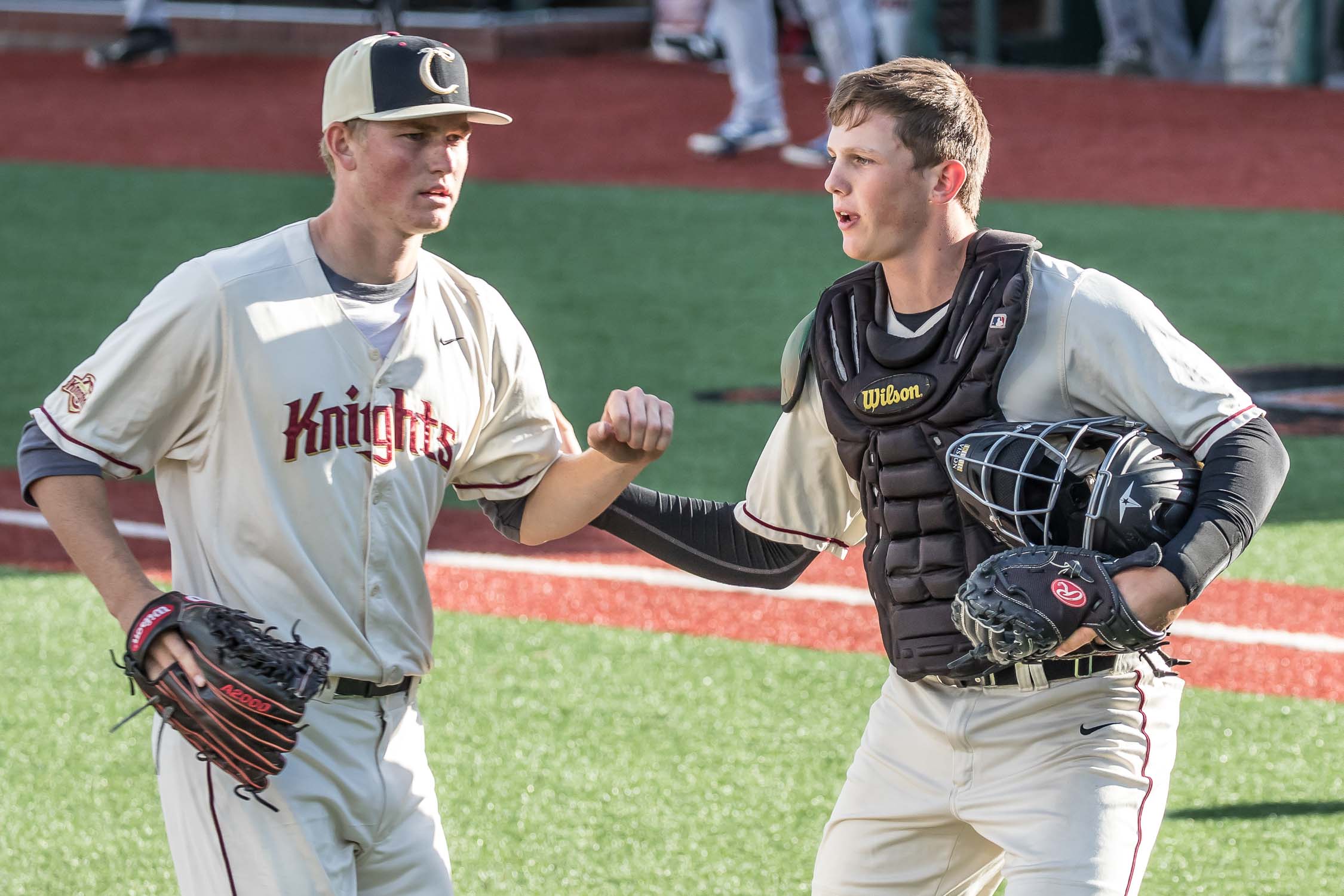 Brooks Hatch Blog: Collegiate Baseball Honors Alum Adley Rutschman
Happy Wednesday, everyone, from the world-wide headquarters (WWHQ) of the Corvallis Knights, your 2016-2017 and 2018 West Coast League champions!
————–
Alum Adley Rutschman (2016, pictured above), a junior catcher at Oregon State, has been projected to be the 2019 National Player of the Year and a first-team All-American by Collegiate Baseball.
Adley earned preseason honors after batting .408 with a school-record 102 hits and 83 RBIs in 2018, helping the Beavers capture the NCAA championship. He hit nine home runs, had 22 doubles and walked 53 times.
Congrats to Adley!
————–
We have signed pitcher/infielder Trace Hokkanen of Mt. Hood Community College to a 10-day contract for the 2019 season.
He is a 6-foot-3, 2005-pound sophomore right-hander from Beaverton Highh School in Beaverton, Ore. He hit .283 (32-113) in 36 games in 2018, with a homer and 21 RBIs as a position player and was 3-2, 2.56 in 10 games as a pitcher, with 24 strikeouts in 45.2 innings.
Hokkanen was a second-team NWAC South Region all-star selection as a utility player. He was first-team 6A all-state and a Metro League all-star as a Beaverton senior in 2017.
————–
First baseman Alex Burg (2008) has signed with the San Diego Padres as a free agent for the 2019 season. The Washington State alum was the MVP of our 2008 WCL championship team.
Burg played at Oklahoma City, the Dodgers' affiliate in the triple-A Pacific Coast League in 2018 and hit .234 (11-47) in 34 games, with a homer and four RBIs.
He has also played in the San Francisco, Miami and Texas organizations in a 10-year minor-league career. He was selected in the 24th round by the Giants in 2009.
————–
The Lake Erie Crushers of the independent Frontier League have re-signed alum Cody Lenahan (2013) for the 2019 season. The Portland alum hit .252 (67-266) in 72 games for the Avon, Ohio, franchise in 2018, with seven homers and 41 RBIs.
————–
Former Knights' pitcher Jorge Perez (2012-13, 2015) is pitching for the Adelaide Bite in the Australian Baseball League. He is 1-0 with a 1.26 ERA through nine  games, with 16 strikeouts in 14.1 innings. Please click here for more news about the ABL.
————–
We are thrilled to announce our 2019 regular-season schedule. Next summer's slate features 32 home dates and gets started at 10 a.m. on Wednesday, May 29, with our eighth annual Science, Engineering & Art Day game at Goss Stadium.
After a nonleague series at the Humboldt Crabs, we open the West Coast League schedule at Walla Walla on June 4. We host the Haysville Hammers at Linn-Benton on June 12 in a non-league game; our WCL home opener is June 14, against the Cowlitz Black Bears.
Like last season, start times for Monday-Saturday games is 6:30 p.m. Sunday games will start at 3 pm. Fireworks games will have special start times, either 7:15 p.m. or 7:05 p.m.
The Knights 2019 home schedule features six Thursday games, six Friday games, five Saturday games, five Sunday games, one Monday game, four Tuesday games and five Wednesday games.
Reserve the best seats in the house for the 2019 season now by emailing [email protected]; by calling (541) 752-5656, or by clicking here. Purchase your 2019 season tickets before Dec. 31, 2018 to get 2018 prices.
Next year's new season ticket prices will be announced the first week in January.
The schedule:
MAY: 29, Portland Sea Dogs. 31, at Humboldt Crabs.
JUNE: 1-2, at Humboldt Crabs. 4-6, at Walla Walla. 7-9, at Victoria. 12, Hayesville Hammers (@ LBCC). 14-16, Cowlitz. 18-20, Bellingham. 21, Gerding Construction. 22-24, at Yakima Valley. 25-27, Ridgefield. 28-30, Yakima Valley.
JULY: 1, Hayesville Hammers. 2-3: Portland. 4, at Portland. 5-7, at Ridgefield. 8-10, at Port Angeles. 11, Mid-Valley Southpaws. 12-14, Kelowna. 18, Chaffey Baseball. 19-21, Walla Walla. 22-23, All-Star Game, at Bend. 24, at Portland. 25, Portland. 26, at Portland. 27-29, at Bend. 30-31, Bend.
AUGUST: 1, Bend. 2-4, at Cowlitz. 6-8, at Bellingham. 9-11: Wenatchee.
————–
That's all for today. Have a great week and we will see you on Dec. 26.