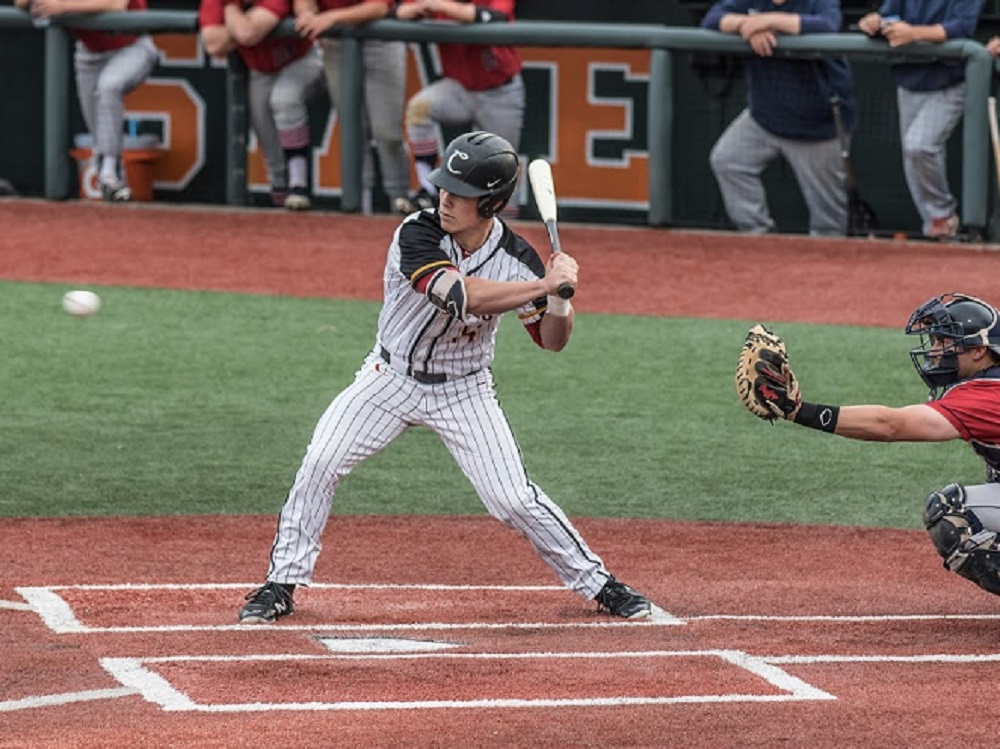 Brooks Hatch Blog: Haffar, Weller returning for 2019 season
Happy Wednesday, everyone, from the world-wide headquarters (WWHQ) of the Corvallis Knights, your 2016-2017 and 2018 West Coast League champions!
————–
UC-Riverside pitcher Abbott Haffar is returning to the Knights for the 2019 season. He is a 6-foot-1, 185-pound right-hander from Simi Valley High School in Simi Valley, Calif.
Haffar was a key member of our 2018 championship pitching staff. He was 3-0 with a 0.71 ERA in 10 games, with two saves and 27 strikeouts in 25.1 innings. He was 1-0 with one save and a 0.00 ERA over 4.1 innings in the playoffs.
He is the seventh member of the 2018 team to sign for 2019. He joins pitchers Connor Knutson (Portland), Connor Redmond (Cal Poly) and Trevor Wells (Utah), and infielders Zach Weller (Cal State Fullerton), Trace Tammaro (Portland) and Briley Knight (Utah, pictured above).
Infielder Andy Atwood (Texas Rio Grande), a member of the 2016 WCL champions, is also returning.
Welcome back, Abbott!
————–
We have also signed pitcher Jackson Arnsdorf of Corban University to a 10-day contract for the 2019 season. He is a 6-foot-4, 210-pound sophomore right-hander from Astoria High School in Astoria, Ore.
He was 2-2, 4.50 in 12 games for the Warriors in 2018, with 17 strikeouts in 22 innings. He pitched six scoreless innings in his lone start, a 13-1 win over the University of British Columbia. He allowed seven hits and had four strikeouts and just one walk.
Arnsdorf played for the Spearfish (S.D.) Sasquatch in the Expedition league last summer and was 1-3, 8.20 in 13 games. He had 47 strikeouts in a team-leading 60.1 innings.
He played in the 2017 state 4A All-Star Series following his senior year at Astoria, when he earned all-state and all-Cowapa League honors.
Welcome to the Knights, Jackson!
————–
Our Corvallis Knights holiday sale is scheduled for 4-6 p.m. on Thursday in our downtown office on Jefferson Avenue. All merchandise will be marked down to $13!
Nike West Coast League Championship tee-shirts are available by clicking here. And season tickets are available at 2018 prices through Dec. 31, 2018, by calling at 541-752-5656, in person at the office, or online by clicking here.
————–
Former Knights' pitcher Jorge Perez (2012-13, 2015) is pitching for the Adelaide Bite in the Australian Baseball League. He is 0-0 with an 1.98 ERA through seven games, with 17 strikeouts in 13.2 innings. Please click here for more news about the ABL.
————–
We are thrilled to announce our 2019 regular-season schedule. Next summer's slate features 32 home dates and gets started at 10 a.m. on Wednesday, May 29, with our eighth annual Science, Engineering & Art Day game at Goss Stadium.
After a nonleague series at the Humboldt Crabs, we open the West Coast League schedule at Walla Walla on June 4. We host the Haysville Hammers at Linn-Benton on June 12 in a non-league game; our WCL home opener is June 14, against the Cowlitz Black Bears.
Like last season, start times for Monday-Saturday games is 6:30 p.m. Sunday games will start at 3 pm. Fireworks games will have special start times, either 7:15 p.m. or 7:05 p.m.
The Knights 2019 home schedule features six Thursday games, six Friday games, five Saturday games, five Sunday games, one Monday game, four Tuesday games and five Wednesday games.
Reserve the best seats in the house for the 2019 season now by emailing [email protected] or by calling (541) 752-5656. Purchase your 2019 season tickets before Dec. 31, 2018 to get 2018 prices.
Next year's new season ticket prices will be announced the first week in January.
The schedule:
MAY: 29, Portland Sea Dogs. 31, at Humboldt Crabs.
JUNE: 1-2, at Humboldt Crabs. 4-6, at Walla Walla. 7-9, at Victoria. 12, Hayesville Hammers (@ LBCC). 14-16, Cowlitz. 18-20, Bellingham. 21, Gerding Construction. 22-24, at Yakima Valley. 25-27, Ridgefield. 28-30, Yakima Valley.
JULY: 1, Hayesville Hammers. 2-3: Portland. 4, at Portland. 5-7, at Ridgefield. 8-10, at Port Angeles. 11, Mid-Valley Southpaws. 12-14, Kelowna. 18, Chaffey Baseball. 19-21, Walla Walla. 22-23, All-Star Game, at Bend. 24, at Portland. 25, Portland. 26, at Portland. 27-29, at Bend. 30-31, Bend.
AUGUST: 1, Bend. 2-4, at Cowlitz. 6-8, at Bellingham. 9-11: Wenatchee.
————–
The Bellingham Bells have hired Dylan Tyrer as the "Voice of the Bells" for the 2019 season. Tyrer comes to the Pacific Northwest with four years of collegiate play-by-play experience; he is currently an announcer for Big Ten Network Plus's coverage of Ohio State baseball, basketball, hockey, volleyball, soccer and wrestling.
Please click here for more on that story, from Our Sports Central.
Jason Sperling, an Edmonton native who has been involved in many areas of the Victoria sports scene, has joined the Victoria HarbourCats and will be heavily involved in the season ticket drive for the 2019 West Coast League season.
Please click here for more on that story, from Our Sports Central.
————–
That's all for today. Have a great week and we will see you on Dec. 19.