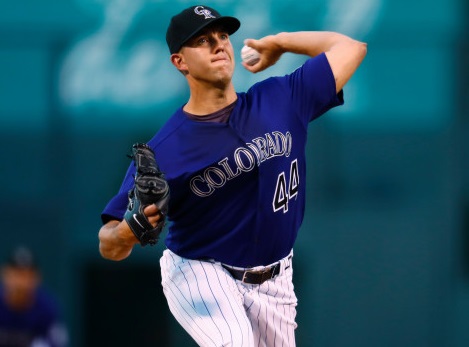 Brooks Hatch Blog: Alum Tyler Anderson Gets Win in Return to MLB
Happy Tuesday, everyone, from the world-wide headquarters (WWHQ) of the Corvallis Knights, your 2016-2017 West Coast League champions!
—————
Alum Tyler Anderson (2009) returned to major-league action on Monday night, pitched four scoreless innings and got victory in Colorado's 5-4 win at Arizona. He had been on the 60-day disabled list following left-knee surgery and had not pitched since June 25.
He entered the game in relief when starter Kyle Freeland was struck in the left shoulder by a line drive off the bat of J.D. Martinez.  He allowed an inherited runner to score but otherwise was almost flawless.
"He did an incredible job, especially coming into that situation there," Freeland said of Anderson. "He came in cold, had to warm up quickly and he hasn't pitched up here in a while.
"He did an absolutely incredible job of picking me up, picking our team up and giving us a chance to win."
The University of Oregon product, the first Corvallis Knight to be selected in the first round of the MLB draft (2011), allowed one hit and had four strikeouts. He is now 4-5 this season, with a 5.75 ERA and 67 strikeouts in 67.1 innings over 14 appearances.
—————
The independent Frontier League's regular season ended on Sept. 3. Alum Cody Lenahan (2013) of the Lake Erie Crushers hit .227 (70-309) in 84 games, with 11 homers and 50 RBIs. He played at the University of Portland.
—————
Former intern Ross Parker (2016) is now working for the Frisco RoughRiders as a partner services intern. Frisco is the Texas Rangers' affiliate in the double-A Texas League. Ross was president/general manager Bre Miller's partnership marketing intern in 2016, and went to Oregon State.
—————
Pretty slow news day; things should start to pick up shortly as we begin to announce our signings for the 2018 season. In the meantime, have a great day, and we will see you on Friday.