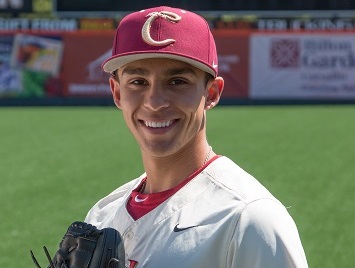 Brooks Hatch Blog: Alum Nick Madrigal No. 2 Prospect in 2018 MLB Draft
Happy Friday, everyone, from the world-wide headquarters (WWHQ) of the Corvallis Knights, your 2016-2017 West Coast League champions!
————–
Alum Nick Madrigal (pictured above in 2015), an Oregon State junior middle infielder, is ranked as the No. 2 college prospect in the 2018 MLB draft by Baseball America.
He was the Pacific-12 Conference Player of the Year, the Pac-12 Defensive Player of the Year, and an All-American in 2017, when he helped lead OSU to a 56-6 record, the Pac-12 title and to the College World Series.
Nick was our MVP and earned first-team all-WCL honors in 2015, the summer before his freshman season at OSU.
Stanford junior pitcher Tristan Beck, the older brother of 2018 Knights' signee/Stanford freshman Brendan Beck, was ranked No. 22 on Baseball America's list.
————–
We are thrilled to introduce the perfect gift for the baseball fan in your family, the Knights Holiday Home Run Package. For more information, please click here or call (541) 752-5656.
————–
We open the 32-game 2018 home season with our seventh annual Science, Engineering & Art Day game against the Portland Sea Dogs at Goss Stadium at 10 a.m. Wednesday, May 30. We then hit the road for Kelowna, B.C., to open WCL play against the Falcons on June 6.
We start the WCL home schedule on Tuesday, June 12, against the Wenatchee AppleSox. For more on the schedule, and a complete list of home games, please click here. For a story from the WCL, and a spreadsheet showing the entire league schedule, please click here.
See you at Goss! Opening day is just 182 days away!
————–
Our 2018 season tickets are now on sale! You can save $10 when you renew or purchase new tickets by Dec. 31. For more details or to order your tickets online, please click here.
Tickets may also be purchased by calling us at 541-752-5656 or by visiting our office at 4th Street and Jefferson Avenue in downtown Corvallis. See you at the ballpark in 2018!
—————
Harvard star right fielder/designated hitter Jake Suddleson will return to the Walla Walla Sweets in 2018. He had a .523 slugging percentage and was responsible for creating nearly a run a game.
Suddleson hit .295, led the team in home runs (6) and RBI (39), and his OPS (.888) was third-best in the lineup. He was named a North Division All-Star and earned honorable mention all-WCL honors despite missing nearly two weeks of games early in the season while in concussion protocol.
For more on that story from Our Sports Central, please click here.
—————
That's all for today. Have a great weekend and we will see you again on Tuesday.