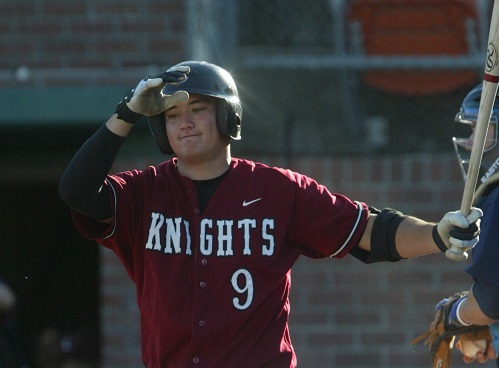 Brooks Hatch Blog: Alum Alex Burg Re-signs with Long Island Ducks
Happy Tuesday, everyone, from the world-wide headquarters (WWHQ) of the Corvallis Knights, your 2016-2017 West Coast League champions!
————–
The Long Island Ducks of the independent Atlantic League have re-signed alum Alex Burg (pictured above, in 2008) for the 2018 season. He is a catcher from Washington State who was the MVP of our 2008 WCL championship team.
Alex hit had 12 homers, 42 RBIs, 48 runs and 20 doubles for the Ducks in 2017 and helped lead them to the Liberty Division championship. He played in the Atlantic League All-Star game and hit .348 (8-23) in the playoffs, with two homers and three RBIs.
For more on the story, please click here.
Congrats to Alex, who played for seven years in the San Francisco, Texas and Miami minor-league organizations after being drafted by the Giants in 2010. He reached triple-A in 2013, 2015 and 2016 and hit .260 in 552 career minor-league games, with 69 homers and 277 RBIs.
————–
The Milwaukee Brewers have traded catcher Andrew Susac (2009) to the Baltimore Orioles. He has been placed on Baltimore's 40-man roster and will compete for a spot on the 25-man opening-day roster in spring training.
Here is more on that story from MLB.com. Congrats to Andrew for the chance at a fresh start with a new team.
————–
Our 2018 season tickets are now on sale! For more details or to order your tickets online, please click here.
Tickets may also be purchased by calling us at 541-752-5656 or by visiting our office at 4th Street and Jefferson Avenue in downtown Corvallis. See you at the ballpark in 2018!
————–
The Walla Walla Sweets have signed right-handed pitcher Justin Kelly shortstop Matt Richardson for the 2018 season. They are freshmen at Utah. For more on that story, from Our Sports Central, please click here.
————–
That's all for today. Have a great week, and we will see you again on Friday.