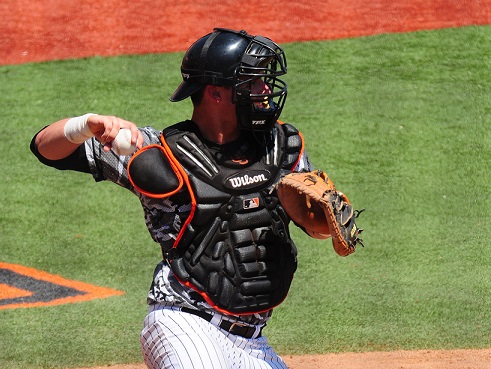 Brooks Hatch Blog: Alum Andrew Susac DFAed by Milwaukee Brewers
Happy Friday, everyone, from the world-wide headquarters (WWHQ) of the Corvallis Knights, your 2016-2017 West Coast League champions!
————–
Alum Andrew Susac (2009, pictured above) was designated for assignment earlier this week by the Milwaukee Brewers. The team now has seven days to trade, release or send Susac outright to the minors, if he clears waivers.
A catcher from Oregon State, the 27-year-old was acquired with minor-league pitching prospect Phil Bickford on Aug. 1, 2016 in a trade that sent reliever Will Smith to San Francisco. He struggled with injuries last year and spent most of the season at Class AAA Colorado Springs, where he batted .205 in 51 games with eight home runs, 35 RBI and .711 OPS.
Milwaukee GM David Stearns told the Milwaukee Journal Sentinel newspaper that felt he had adequate coverage at catcher with Manny Pina, Stephen Vogt, Jett Bandy and Christian Bethancourt, who signed a minor-league deal with an invitation to spring camp.
"We still believe (Susac) is a major-league player; we still believe he's a solid player," Stearns said. "But at this point we also think we have depth there, both on and off the (40-man) roster. That's why it was his name."
Andrew was rated as the WCL's top pro prospect following the 2009 season. He was San Francisco's second-round choice in the 2011 MLB draft and made his MLB debut with the Giants in 2013. He is a career .232 hitter in 104 MLB games, with seven honors and 35 RBIs.
————–
Another day, another preseason All-American honor for alum Nick Madrigal (2015), an Oregon State middle infielder who was our 2015 Most Outstanding Player.
Madrigal was named the first-team second baseman on Baseball America's preseason All-America team. It was the third such honor for Madrigal, who was earlier cited by Collegiate Baseball and D1Baseball.com.
He was a unanimous All-American in 2017 after being named the Pac-12 Conference's Player and Defensive Player of the Year. He hit .380 with four home runs and 40 RBIs in 2017, with 20 doubles, 16 steals and 27 walks to just 16 strikeouts.
Nick takes a .359 career batting average into 2018, with 31 doubles, seven triples, five home runs, 69 RBIs and 24 stolen bases.
Congrats to a deserving player, who was also a first-team West Coast League all-star in 2015.
————–
Our 2018 season tickets are now on sale! For more details or to order your tickets online, please click here.
Tickets may also be purchased by calling us at 541-752-5656 or by visiting our office at 4th Street and Jefferson Avenue in downtown Corvallis. See you at the ballpark in 2018!
————–
That's all for today. Have a great weekend, and we will see you again on Tuesday.