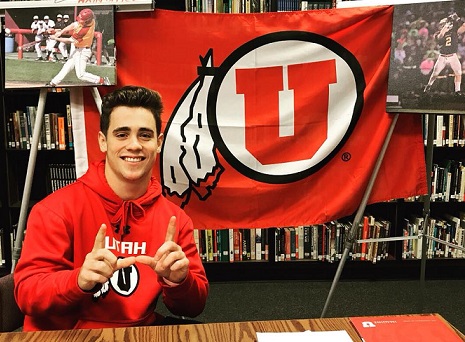 Brooks Hatch Blog: 2018 Knight Briley Knight Signs With Utah
Happy Friday, everyone, from the world-wide headquarters (WWHQ) of the Corvallis Knights, your 2016-2017 West Coast League champions!
————–
Crescent Valley High senior catcher Briley Knight, a 2018 Knights' signee and the son of head coach Brooke Knight, inked his letter-of-intent with the University of Utah on Wednesday in a ceremony at the school. For more on that story, please click here for full details from Corvallis Gazette-Times sportswriter Bob Lundeberg.
The G-T also did a feature story on Briley's career as a football player in Friday's paper, also by Bob Lundeberg. Please click here for that.
————–
Some news on some Knights' major-league/minor-league alums:
The Pittsburgh Pirates declined their 2018 option on catcher Chris Stewart (2001), a former Riverside City College standout who was our 2001 MVP. Stewart will receive $250,000 from the team, and is now a free agent.
Infielder Matt Hague (2005) has declared free agency. He played in the Minnesota organization in 2017.
—————
Our 2018 season tickets are now on sale! You can save $10 when you renew or purchase new tickets by Dec. 31. For more details or to order your tickets online, please click here.
Tickets may also be purchased by calling us at 541-752-5656 or by visiting our office at 4th Street and Jefferson Avenue in downtown Corvallis. See you at the ballpark in 2018!
—————
Brian McRae, the former MLB player entering his second year as head coach of the Victoria HarbourCats of the West Coast League, has named his coaching staff for the 2018 season. Please click here for more details.
Victoria also announced its first signings for 2018. Click here for details.
—————
The Walla Walla Sweets have named a new general manager, promoting assistant general manager Dan Ferguson to the post for the 2018 season. Team president Zachary Fraser, who had returned to the GM role for the 2017 season, will continue in his role as president of the Sweets and the Yakima Valley Pippins. Both WCL clubs share the same ownership. Click here for more details.
—————
That's all for today. Have a great weekend, and we will see you on Tuesday.