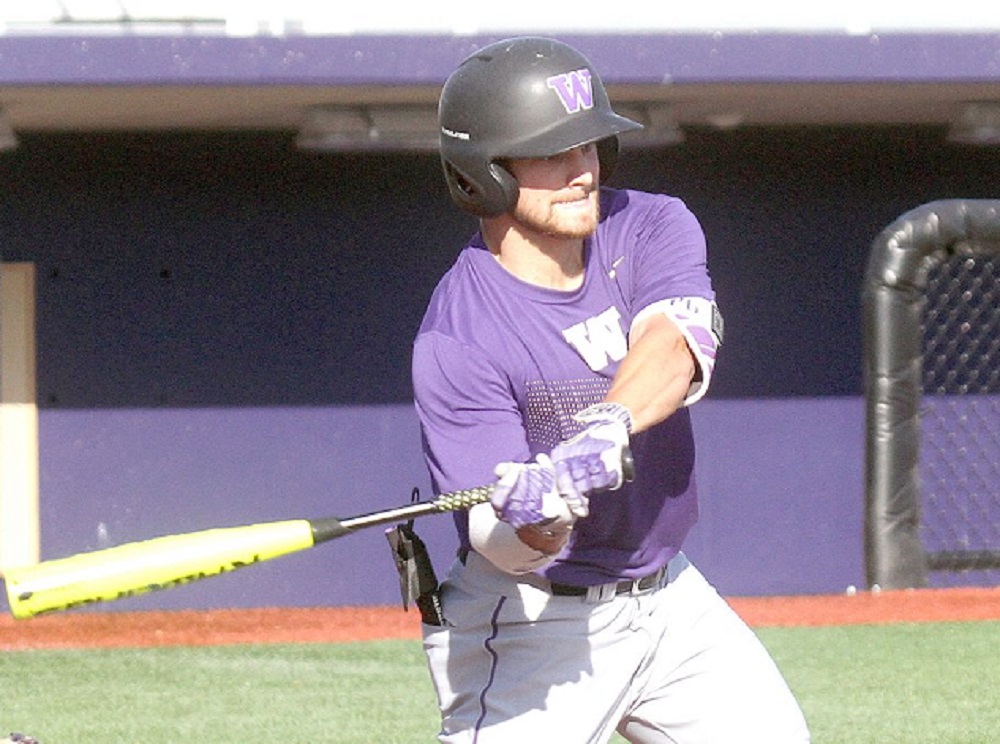 Brooks Hatch Blog: Kahle Has Big Week for Washington Huskies
Happy Friday, everyone, from the world-wide headquarters (WWHQ) of the Corvallis Knights, your 2016-2017 West Coast League champions!
————–
Alum Nick Kahle (2016, pictured above), a sophomore at the University of Washington, was nominated for Pacific-12 Conference Player of the Week for Feb. 19-25, but was not selected.
He hit .353 (6-17) in four games, with three doubles, three RBIs and three runs scored. He capped his week by going 4-for-4 in a 6-3 loss to UC Riverside on Feb. 25.
————–
Time for a quick update on Kevin Burke, our play-by-play announcer for the 2012 season following his final year at Virginia Tech.
Kevin is still in the sports business but is now working as an athletic communications specialist at High Point University, a Division I program in the Big South Conference.
He joined HPU on a full-time basis last July after spending most of the summer as a Communications and Public Relations Assistant for the Memphis Redbirds, the AAA affiliate of the St. Louis Cardinals. He'd worked at HPU as the play-by-play voice of women's basketball for several years before joining the school on a full-time basis.
Kevin is the primary contact for HPU's men's soccer, women's soccer and baseball programs. He also assists with the coverage of the men's basketball program as the secondary contact while continuing to perform other the play-by-play duties on the High Point Panthers Radio Network.
For more info on Kevin, please click here.
————–
Our 2018 promotional schedule has been released, and it's a great one.
Fireworks are planned for June 12, July 3 and Aug. 8. The World Famous ZOOperstars! will appear on June 30. We'll also have our customary Cap Night, Cowbell Night, and many of the other promotions you've come to know and love during our 11-year run at Goss Stadium.
For more information, please click here.
————–
Our 2018 season tickets are now on sale! For more details or to order your tickets online, please click here.
Tickets may also be purchased by calling us at 541-752-5656 or by visiting our office at 4th Street and Jefferson Avenue in downtown Corvallis. See you at the ballpark in 2018!
————–
The Walla Walla Sweets have signed Creighton junior infielder Jordan Hovey and junior right-handed pitcher Elijah Hill for the upcoming season. Click here for more details, from Our Sports Central.
The Sweets have also re-signed Gonzaga infielder Nick Nyquist for next season.  Click here for more details, again from Our Sports Central.
Also, the Yakima Valley Pippins have unveiled something special for their fifth season, a new-look alternative jersey to go along with their home whites and away grays. Please click here for more details, from Ballpark Business.
————–
That's all for today. Have a great weekend, and we will see you again on Tuesday.